Taos Ski Valley, NM – Taos Ski Valley is perhaps the last major North American ski resort still operated by its founding family. Swiss immigrant Ernie Blake developed this tough and remote area after World War II and succeeded in creating a unique ambience via small European-style family lodges and personalized service, particularly the ski school. I've skied Taos in 1984, 1993 and 2007, and was fortunate to stay three days at the St. Bernard Lodge in 1993 and spend two days with the ski school and marketing director Adriana Blake, Ernie's granddaughter, in 2007.
Taos Ski Valley
(photo: TSV)
Ernie Blake first taught skiing in Santa Fe, but as a licensed pilot flew over the northern New Mexico mountains and observed that the Taos Valley snowpack lasted longest in the state and decided to build his own area there. Taos is indeed the snowiest area in New Mexico, and its snow is similar in both quantity and very low water content to many of its Colorado neighbors.
The light and dry snow tends to accumulate gradually, and since Taos is steeper than most Colorado areas greater coverage is required. Many locals advise visitors of the "75-inch rule," which they believe is the necessary base depth for good skiing on much of the expert terrain. With the mountain's high altitude and predominantly north exposure snow preservation is superb. Advance booking before February is thus not recommend for experts, but conditions usually remain excellent all the way to the early April closing. In 1993 I skied three days during Taos' last week open and enjoyed a 130-inch base and nine inches of new snow on the second day. In February 2007 the base was 67 inches, but I was with instructors and guides who knew where the best conditions were.
While average annual snowfall is similar to that at Colorado ski resorts, Taos is far enough away from its neighbors to have more independent weather, which tends to be more volatile than in most of Colorado. Taos has had four very low snow seasons since 1999, but from 1992-1995 it was the only area in North America with above average snow in all four seasons. More recently, Taos missed out on the epic January of 2006 that dumped snow over most of the West, yet had above-average snowfall from Christmas through January 2007 when most areas had less than half of normal. So it pays to keep tabs on the Taos snow report at the official resort website www.skitaos.org, paying particular attention to the base depth and trail count by ability level.
Taos manages its steep terrain and fragile snowpack well. Even though skier density is fairly low, expert runs are opened in the early season on a rotating basis, typically for a couple of hours at a time, in order to avoid exposing rocks before the base gets up to the 75-inch range.
Cruising: The base area lifts #1 and #5 rise steeply above the intimidating moguls of Al's Run, but lead to two excellent long groomers, Porcupine and Powderhorn. In the 1980s chairs #7 and #8 were built to service intermediate terrain that does not require taking the long Rubezahl or Whitefeather return trails to the base.
Moguls: Taos is one of the premier mogul skiing areas of North America. There is serious bump skiing all over the place, ranging from fairly intermediate pitches to seriously steep. And some of them, like Al's, Snakedance and Longhorn, go on forever and test your conditioning, especially at the 10,000 foot-plus altitude. With the dry snow, low skier density and typical Taos skier profile, shape and spacing of bumps is excellent and hardpack is rare.
Steeps: Most accessible, but with a partially eastern exposure, are the steep drops to skier's right from Bambi off the top #2 and #6 lifts: Walkyries, Sir Arnold Lunn, Lorelei and Longhorn. These runs are steepest at the top but continue on in ungroomed and often variable snow for more than 2,000 vertical feet.
More visible and well-known are the numerous steeps dropping off the long ridgeline above the top lifts. The High Traverse into West Basin has been relocated to about a five-minute hike above the lifts. The traverse accesses four or five 35- to 40-degree chutes. To reach the farther West Basin chutes like St. Bernard or Thunderbird you must ascend approximately 15 minutes to the top of West Basin Ridge before traversing above the rocks that block the High Traverse past Stauffenberg.
Looking along the Highline Ridge toward Kachina Peak.
(photo: TSV)
After the 15-minute hike you can also turn east along Highline Ridge. The chutes and glades from Juarez to Corner Chute are steep but less constricted than those in the West Basin. Past Corner Chute, the ridge ascends about another 500 vertical feet to the 12,481-foot Kachina Peak.
Wide Open Spaces: The tree line in New Mexico is very high (thickly forested to 12,000 feet at Santa Fe), so the most open terrain is in Kachina Bowl, accessed by the approximately 45-minute total hike described above. In 1993 Kachina was completely wide open, while with half as much snowpack in 2007 it was a series of chutes between rock bands, but still not as steep or narrow as in West Basin. The Kachina chair ascends to the lowest section of Kachina Bowl and with a short traverse east you can reach the steeper but still short Hunziker Bowl.
Trees: The heavier snowfall and steep slide paths space out Taos' trees above 11,000 feet. The Highline Ridge trees are nicely spaced, as are some in the Walkyries/Lorelei areas. On steep terrain served by the lower lifts Taos has thinned some forest such as Jean's and Edelweiss glades. These tend to be mogulled but not as intensely as nearby trails like Inferno.
Powder: The powder is exceptionally dry, averaging about 6% water content, and with the box canyon configuration and weather volatility it can occasionally come in big dumps. The more typical three- to nine-inch snowfall can be challenging over a base of steep moguls. The best powder skiing is thus usually in the hike-to terrain of Highline Ridge, West Basin or Kachina Bowl.
Hiking and Backcountry: The hiking above the upper lifts #2 and #6 is key to some of Taos' best powder and steep skiing. At close to 12,000 feet it can be tough when you're fresh from sea level, and with the huge snowpack of 1993 I thought they should put a surface lift up there. I've changed my mind after the 2007 trip. The low density enforced by the hiking preserves the snow, prevents these areas from bumping up like many lower runs, and results in some great powder skiing after even modest snowfalls. After a five-inch overnight snowfall in 2007 and a 20-minute hike, Corner Chute was knee deep for 500 vertical feet, presumably with help from more small storms earlier in the week.
Crowds: The terrain distribution and remote location tend to make Taos an uncrowded and low density area. There are no high speed lifts, but the main chairs #1 and #2 ascend steep slopes covering lots of vertical in not that long a ride. Lift lines on the February 2007 Saturday with five inches of new snow were no more than five minutes long. While I do recall lift lines from President's weekend in 1984, Taos did not have the intermediate lifts #7 and #8 at that time. Only the lower parts of the Rubezahl or Whitefeather return trails to the base ever see much skier congestion.
Ski School and Service Tradition: Jean Mayer, now 73, has been the technical director of the Taos ski school since 1958. Of the more than 500 full-time employees at Taos Ski Valley, 108 have been there for more than 20 years, very unusual in the transient ski industry. "Old" and "traditional" does not mean "stuck in the past." Mayer embraced the shaped ski technology about four years earlier than the PSIA and Taos instruction is closely tied to getting the most out of the new equipment designs.
Our first Friday morning exercise with instructor Stuart was traversing while balancing on the uphill edge of the uphill ski. This helps break the traditional ski technique of staying nearly fully on the outside ski's inside edge while turning.
That afternoon we were with instructor Muggsy on some of Taos' more challenging terrain. First, we had the short hike up to the High Traverse to the West Basin runs, 35+ degree Spitfire in this case. Next time up we skied Reforma/Blitz, which Muggsy had probably selected as an example where we could follow his advice of making more rounded, fall line turns in the bumps.
Click image to open a full-sizen Taos Ski Valley trail map in a new browser window.
(image: TSV)
Intermediates: The quality of intermediate terrain is good, but there isn't as much of it as most Colorado ski resorts. I'd recommend a couple of ways for intermediates to get the most out of Taos. The obvious first method is to take advantage of the ski school, both for improving technique and for guidance to challenging but not over-your-head terrain. The other is to stay in the town of Taos and make the trip a combination of skiing and the Southwest cultural experience.
Novices: True novice ski terrain is limited to a small area at the base of the mountain. Under the guidance of Taos' ski school, most novices are able to ski connecting trails from the upper lifts by about the third day. For the "do it on your own" learning types, New Mexico's other ski areas lack the scale and challenge of Taos but have mostly easy and intermediate runs.
Children: Taos has always had a strong family orientation. My younger son Andrew was not quite four years old in 1993 and had a mix of daycare and some of his first turns on the bunny slopes. My already advanced eight year-old son Adam was in ski school each morning and skiing runs like bump marathons Walkyries and Longhorn and West Basin chutes Fabian and Stauffenberg. Shortly after that trip Taos built a spacious new children's center with four separate areas by age group. Ski school can start for children as young as three if potty-trained.
The Snowboard Ban: Taos is the most controversial of the four ski areas in the United States that still ban snowboarding. The other three (Alta, Deer Valley and Mad River Glen) are next door to areas (Snowbird, Park City and Sugarbush) with comparable terrain and snow conditions. But Taos has the most snow in New Mexico and probably has 80% or more of the state's lift-served expert terrain. Local snowboarders must often drive at least four hours north into Colorado for comparable challenge and snow.
So I asked Adriana about the policy, and she understood the fairness issue for locals. She also agreed with my estimate (based upon areas in California) that if Taos lifted its ban, there would be a temporary surge in snowboarders, but that terrain difficulty and layout (many runs accessed by hikes and/or traverses) would result in snowboarders ultimately comprising a mere 10-15% of total visitors.
But Adriana said the bottom line was economics, and that the Blakes have always studied their market closely. About 60% of Taos Ski Valley's target market is from the Southwest, with the Dallas metro area being the biggest single source of skiers. Most of the kids who snowboard in Texas families also ski, and are willing to ski when they go to Taos. Adriana said that if the kids/families in Dallas started to favor snowboarding anything like I've seen in California, Taos would lift the ban in a minute. The clientele that flies into Taos from greater distances are mostly repeat customers who are vociferously in favor of the snowboard ban.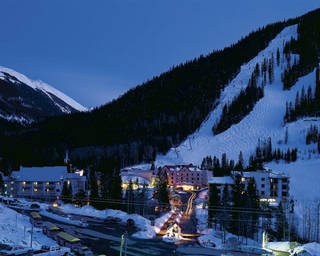 The village of Taos Ski Valley.
(photo: TSV)
Lodging and Other Considerations: Historically, Taos Ski Valley was dominated by small lodges where most people stayed on week-long packages including all meals and ski school. Only Jean Mayer's St. Bernard Lodge maintains that tradition today. With its perfect ski-in-ski-out location, gourmet French cuisine and attentive service, the St. Bernard is one of America's unique ski resort experiences that our family greatly enjoyed in 1993. Most of Taos Ski Valley is now being redeveloped with upscale condo hotels, such as the freshly remodeled Edelweiss that we visited for a dinner in 2007.
With just a few expensive lodging options at the base of the ski area, many people stay 15 miles away in the town of Taos. For some flatlanders the town's 7,000-foot sleep elevation can be more comfortable than the Ski Valley's 9,200. The town is very different from the typical ski resort with its Spanish and Native American art and culture. The 600-plus year old Taos Pueblo is unfortunately closed during most of the prime February/March ski months, but in 2007 we drove out to the Rio Grande Gorge, saw nine of D.H. Lawrence's "banned in London" paintings at the La Fonda Hotel, and browsed the numerous art galleries and shops in Taos Plaza.
Most destination visitors fly into Albuquerque, about a 2.5-hour drive from Taos. Some then take the opportunity to visit other New Mexico attractions along the way, such as the state capital in Santa Fe and the Anasazi ruins at Bandelier National Monument near Los Alamos. Just this month, however, American and Delta Airlines both announced that the airlines will begin direct air service into the Santa Fe Municipal Airport starting in late 2007 after Santa Fe's Municipal Airport attained Class 1 status under Part 139 of the Federal Aviation Regulations.
American Eagle, the regional affiliate of American Airlines, will add nonstop service between Santa Fe Municipal Airport and both Dallas/Fort Worth and Los Angeles International Airport starting December 13, 2007 aboard 44-seat Embraer ERJ-140 jets. Delta will introduce its first-ever nonstop flights between Santa Fe and the airline's western gateways in Los Angeles and Salt Lake City, effective Dec. 10, 2007 utilizing 50-seat Embraer regional jet aircraft.
In 1993 I made it a whirlwind state tour, also visiting White Sands and Carlsbad Caverns in southern New Mexico. If you're doing the "state tour," other ski areas like Ski Apache in the south near Ruidoso or Santa Fe a half hour east of the capital are worth a day of your time. But serious skiers wanting to ski multiple days should concentrate on Taos.
Taos Terrain Difficulty

Yellow

Black

Red

Blue

Green

10%

44%

19%

18%

7%
Snow Conditions

Lift-serviced

Season Std. Dev.

% Months Greater than 90 inches

% Months less than 30
inches

Avg. Max. Base Depth

Direction
of Exposure

Altitude

Season Avg.

N

E

W

S

Taos Ski Valley, el. 11,200 feet

9,207-11,819

264 in.

78 in.

5%

32%

96 in.

65%

20%

15%

0%