Girdwood, AK – Since the early 1990s, Alaska's Chugach range has become legendary for long and steep helicopter ski runs in a deep maritime snowpack. Most operators are based in Valdez, and the risk of poor weather and limited visibility leading to repeated no-fly days is well known. I was therefore attracted to Alyeska Resort, which offers lift-served and snowcat skiing alternatives to the heliskiing.
The top of Alyeska Resort's Chair 6 affords stunning views of Turnagain Arm.
Prime March and early April heliski weeks at Chugach Powder Guides are likely to be booked well in advance in Sunday-Saturday ($6,300) or Monday-Friday ($4,425) packages. In late March 2007 my 22-year-old son Adam and I could arrange eight days of skiing from Thursday-Thursday, so we were only able to reserve heliskiing for Saturday/Sunday, with standby options the other days. A formal weekend package is new for 2007-08, but is likely to result in a need to reserve weekend heliskiing well in advance as well.
The snowcat skiing is mostly reserved as a backup for package heli clients on no-fly days. Thus it's easy to get $190 standby snowcat skiing (typically about 10,000 vertical feet per day) on short notice when the helicopters are flying. There's also standby heliskiing (approximately $800 for 16,000 to 20,000 vertical feet), which is often available late in the week if weather has been good for several previous days.
It is important to realize that Alyeska's 1,000 lift served acres are relatively small for a weeklong destination trip. The snowcat terrain is also about 1,000 acres, so it will get tracked out if fresh snow fails to arrive for a few days. But when the helicopters aren't flying, chances are it's due to storm activity that will yield excellent powder in the lift-served and snowcat areas.
Alaska heliskiing does live up to its billing when weather is clear, and Chugach Powder Guides recently expanded their permit area from its Alyeska/Girdwood base south into the Kenai Peninsula. This separate area, accessible from the Seward Highway, gives them another opportunity to find clear flying weather. The synergistic combination of these three skiing options makes Alyeska/Chugach Powder Guides an outstanding expert skiing destination.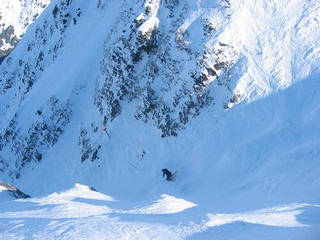 Gazing into the gut of Christmas Chute at Alyeska Resort.
Our experience resulted in two heli days, two snowcat days and four Alyeska lift-serviced ski days. On our Thursday in late March, a short weather break following two no-fly days allowed a half-day window of heli operations ahead of the next storm. There were no standby heli openings, but we were able to get standby snowcat skiing. There was a standby heli opening for us on Friday, but the weather never cleared. As it had snowed most of the night and through the morning we had great powder skiing following some of the CPG guides on Alyeska's 2,000 vertical-foot North Face.
Come Saturday, we had a reserved heli day but did not get out due to variable clouds and wind. Alyeska's North Face had chopped powder, but the broad High Traverse area that had been closed Friday opened for some fresh tracks. Fortunately, by Sunday our last reserved heli day dawned bluebird, the first in a week that featured several storms. Conditions were epic, the best of my lifetime 19 heli days.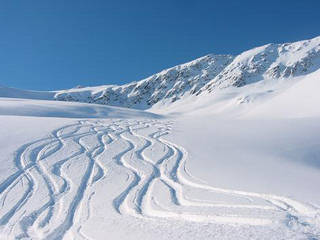 Heliskiing in Alaska yields turns that look like this.
Clear weather greeted us on Monday, and although no standby heli openings were available we got standby snowcat. Ditto for Tuesday, but we skied at Alyeska and watched the downhill training for U.S. Nationals. On the fourth consecutive clear day on Wednesday Adam scored a standby heli opening. Although some of the snow was not as deep as Sunday, thanks to settling they were able to ski some sustained pitches over 40 degrees. We returned to Alyeska for the final day on Thursday.
Alyeska's snow pattern most closely resembles that of the Pacific Northwest. It's located south of Anchorage and roughly 30 miles by air from the Pacific. The base area is very low and averages about 200 inches snow of snow annually with occasional rain. Snow is more than abundant in the popular mid-mountain area (1,350-2,750 feet), served by the ski resort's high speed chair 6. The snowcat skiing ranges from 1,500 to 3,000 feet with comparable snow to the lift service at similar elevation. The Chugach Mountains rise far above the lift service to over 6,000 feet, where average snowfall is in excess of 700 inches per year.
From Chugach Powder Guides' cat-skiing terrain, Alyeska's North Face and Turnagain Arm form a backdrop.
At the March equinox the sun at Alyeska is about as strong as in California or Colorado at the December winter solstice. With a cooler than normal March the snow preserved winter conditions, with only a touch of softening on direct south-facing slopes after three sunny days. The predominant exposure of most of Alyeska's lift service is west, and spring conditions emerge there on average around mid-April.
Alyeska is an unwise choice of destination in early season due to limited daylight, and heliskiing does not start until February. In March and April sunlight hours increase by seven minutes each day. Temperatures are moderated by proximity to the ocean and are similar to many western U.S. resorts. Only when you move well inland from Anchorage or Valdez are Alaskan winters bitterly cold.
Alyeska's North Face beneath the 2,050 vertical-foot tram is a sustained pitch of over 30 degrees for about three-quarters of its drop and thus was still mostly shaded in March. It provided good powder skiing early in our trip but was windpacked and nearly deserted by the time we left. The North Face can be closed after a melt/freeze cycle, or by rain on the lower mountain. Locals report that avalanche control work on the North Face after storms was more promptly completed under new management in 2007 than during prior seasons.
The snowcat terrain fall lines drop mostly east and west from two opposing ridges. Snow preserves well here except in some wind exposed areas. With heli terrain so vast, and situated an extra 3,000 feet in altitude above the lift-served and cat skiing terrain, I have little doubt that dry winter snow will preserve as long as Chugach Powder Guides can fly right up to their late-April closing date. The greatest risk factor for snow conditions at the heli operation appears to be wind effect.
Terrain Types
Click image to open a full-size Alyeska Resort trail map in a new browser window.
Cruising: There are a couple of groomed lines that emerge from Glacier Bowl at the top of chair 6. The lower mountain is divided by a closed ravine. The fall line from the bowl leads to the low intermediate Klondike run south of the ravine. Steeper groomers like Race Course and Sourdough are north of the ravine near chairs 1 and 4.
Moguls: With the high snowfall and low skier traffic, moguls are limited to a few confined fall lines, including gullies on the upper mountain and the short single black trail sections near chairs 1 and 4 lower down. Bigger bumps can form in confined entrances to and exits from the North Face.
New Year's Chute, left, and Christmas Chute.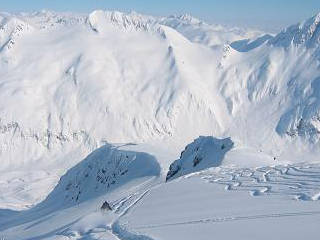 Heli-skiing with Chugach Powder Guides takes place at elevations higher than the lift-served skiing at nearby Alyeska Resort. (skier: Adam Crocker)
Steeps: While the North Face is consistently over 30 degrees under the tram, higher entrances reached via chair 6 are steeper and narrower. Most famous are the Christmas and New Year's Chutes just above the top of the lift. But the gate partway down to the top of the tram leads to several other fall lines defined by rock spines and pitches over 40 degrees.
The snowcat terrain does not have the sustained steeps of the North Face, but there are numerous short steep pitches through terrain features and glades.
I'm hardly qualified as an authority of Alaska's legendary heliskiing steeps after just one day. It had snowed most of the previous five days, so our guide Kent McBride was digging snow pits frequently and likely avoiding threatening terrain. Nonetheless, the sustained fall lines were the longest of my heli experience (nine runs totaling 28,000 vertical feet), and the quality of the waist-deep snow was such that it probably did not feel as steep as it really was. On my son Adam's second heli day three days later (seven runs and 21,000 vertical feet), he reported that thanks to settled snow they stepped up to several sustained pitches over 40 degrees that lasted for more than 1,000 vertical feet.
Wide Open Spaces: Almost everything at Alyeska is wide open alpine skiing, and even more so for the heliskiing at higher altitude. The snowcat skiing from 3,000 foot Sunnyside ridge is mostly alpine as well.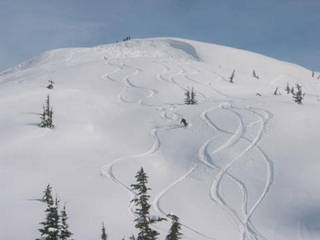 'Tree skiing' – Chugach style.
Trees: The northwest face of Alyeska between the tram and the west-facing bowls is thickly forested, but also has cliff bands and is closed to skiing. The best tree skiing is from 2,700-foot Notch Mountain in the snowcat area. Trees are scattered near the top but nicely spaced on the lower half of this face above the cat pickup at 1,500 feet.
My last two heliski runs dropped north to the Placer Valley at 50 feet above sea level, with scattered trees dotting the lower 1,000 vertical feet. On the final run at 550 feet one of our group triggered two slides, one on either side of him but fortunately not directly beneath him. Our guide Kent spent some time analyzing the slides, taking pictures, and also had the heli fly over it for a closer look. I think that it was rare for us to be heliskiing near any trees, for only cool weather and fresh snow allowed the conditions to be so good at such very low elevation.
Powder: The powder during our first two days at Alyeska was dense but forgiving, ideal on fat skis to prevent bottoming out on the sustained pitch of the North Face. As it was my first time there, I was following CPG guides. Snow was of a similar consistency on the first snowcat day. By the latter snowcat day the snow was deeper on the Notch Mountain side but wind affected on Sunnyside.
By contrast, powder on my heliski day was as good as it gets. Adam wore a down jacket to withstand cold temperatures, and as our first drop at 3,300 feet was sheltered from wind he unzipped the jacket a few inches for ventilation. Over the first 1,000 vertical of skiing there were so many face shots that Adam's jacket filled up with snow! He emptied it and kept it zipped thereafter.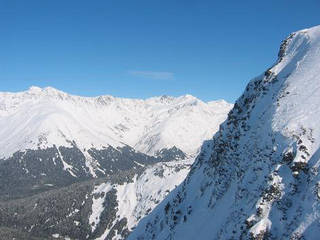 Alaska's Chugach Mountains.
Our first five runs were all on easterly aspects to the Skookum Glacier, and at least half of the more than 3,000 vertical feet was through waist deep snow with billowing smoke. The rest was merely excellent powder with not a hint of wind or sun effect right down to the glacier floor at 300 feet. A couple of the runs started as high as 4,200 feet. In general, heliskiers visiting Alaska are most impressed with the terrain, but for me it was quality of the snow.
Run number six was Ice Monkey, starting at 5,200 feet and dropping west from the same mountains. The snow was not as deep, but some of it was steeper and still produced the occasional face shot. The next run was west-facing at lower elevation, and near the bottom the mesmerizing effect of the powder perfection allowed some sun crust to catch us off guard.
Hiking and Backcountry: It's hard for me to imagine visiting skiers wandering unguided into the Alaska backcountry. The best of it is only helicopter accessible, but from what we saw it's well worth it.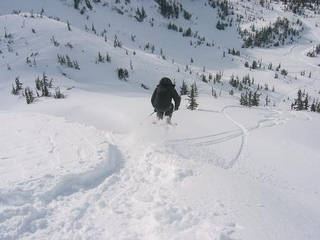 Skier Adam Crocker jumps for joy over Alaskan snow.
Crowds: My first two days at Alyeska had fresh powder and were the Friday and Saturday of the state spring break. Lift lines for the speedy four-minute tram and high-speed chair 6 nonetheless never exceeded five minutes. On blue sky days over the course of the next week, Alyeska felt deserted despite the U.S. National Championship races being held there. Skier traffic is concentrated on chair 6. It took two days to track out the powder on the North Face.
Intermediates: The quality of intermediate terrain is good, but there isn't a lot of it. I would not recommend Alyeska for a week of intermediate skiing. For a couple of ski days as part of a general tourism vacation to Alaska, it could be very worthwhile, and the scenery on a clear day is as good as at any ski area I've seen in the lower 48 states. The higher Chugach peaks and glaciers soar above, while ice-choked Turnagain Arm spreads out just a few miles below the base of the ski area.
Novices: True novice terrain is even more limited. There are two 300 vertical-foot lifts, one ascending from the main base area and the other from the Hotel Alyeska. Other winter activities such as snowmobiling, glacier hikes and dogsled tours are available near Alyeska/Girdwood. Wildlife tours can also be arranged, either on land or by boat from Whittier or Seward.
Children: Most families would find Alyeska only suitable for a general tourism vacation until children are older and develop strong skiing skills.
Alyeska Resort, as seen from Girdwood.
History, Lodging and Other Considerations: The original base area is at the south end of the town of Girdwood, 50 miles south of Anchorage. From 1980 to 2006, Alyeska was owned by Seibu Corporation of Japan. In 1994 Seibu built the Alyeska Prince Hotel a mile east of Girdwood, and then the tram from the hotel up the North Face. The hotel, now renamed Hotel Alyeska, is the most convenient place to stay for skiers using Chugach Powder Guides. The snowcats leave from the hotel, and CPG has a desk where skiers can check on weather/flying conditions each morning.
In its offset time zone Alyeska ski hours are from 10:30 a.m. to 5:30 p.m. daily. The late start is fortunate as most flights into Anchorage from the lower 48 states arrive near midnight. But if you're skiing with CPG, the thorough first day safety orientation is at 7:30 a.m. at the Hotel Alyeska. We rented a car for our trip because airport shuttles to Girdwood are a pricey $85 one way.
In 2007 new Alyeska owner John Byrne III started a facelift to the already luxurious Hotel Alyeska, along with some lower mountain trail and snowmaking improvements. In 2008 the lower mountain will get a high speed lift, not necessarily for crowds but to speed up what is often now a long and cold ride in the shade. Expansions of lift-served ski terrain as possible further into the future. The most obvious of these would be to use a new lift to annex Mt. Alyeska, which sits an additional 1,200 vertical feet above the existing lifts. Expansion into the existing snowcat terrain (don't worry, there's plenty of room to move the snowcats further east) would provide a more balanced mix of intermediate and advanced terrain than the upper steeps of Mt. Alyeska. These possibilities remain speculative as Alyeska still depends upon the local Anchorage market for most of its business.
Chugach Powder Guides is a thriving and expanding heliski operator. All of the skiing is in A-Star groups of four skiers plus a guide. In addition to the Girdwood and Kenai permit areas, CPG offers June weeks combining heliskiing and salmon fishing, dubbed "Kings and Corn", in the Tordrillo Mountains in the southern part of the Alaska Range. Starting in 2008 the Tordrillo heliskiing will be available for the first time for prime March/April powder as well.
Alyeska Resort Terrain Difficulty

Yellow

Black

Red

Blue

Green

13%

28%

34%

20%

5%
Snow Conditions

Lift-serviced

Season Std. Dev.

% Months Greater than 90 inches

% Months less than 30
inches

Avg. Max. Base Depth

Direction
of Exposure

Altitude

Season Avg.

N

E

W

S

Alyeska Resort, el. 1,400 feet

250-2,750

513 in.

127 in.

51%

11%

149 in.

47%

1%

41%

11%
---
For More Information: