A Guide to Chile's Northern Ski Resorts
Santiago, Chile – North American skiers and snowboarders looking for a summertime fix cast their gaze toward the Southern Hemisphere. While skiing is available in Australia, New Zealand and even South Africa and Lesotho, the biggest resorts and most dependable snow cover lie in South America.
Santiago, Chile's capital city in the country's central valley and one of Latin America's most modern metropolitan centers, is the most convenient gateway to Southern Hemisphere skiing. Skiing from Santiago doesn't require a connecting flight when flying from North America, as New Zealand and Argentina ski resorts do. Chile also offers more flexibility and choice among ski areas than Argentina.
In September 2007 I divided my time between Los Andes, an hour from Santiago and a little over an hour down the hill from Portillo, and the interconnected ski resorts of Valle Nevado, El Colorado and La Parva, located an hour and a half from Santiago. From Los Andes I also sampled two days with Valle El Arpa snowcat skiing.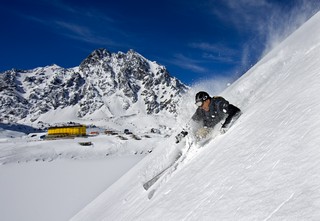 Skier Chris Purcell smiles through deep powder at Chile's Ski Portillo. (photo: Jonathon Selkowitz)
Portillo, and especially Arpa will appeal mostly to advanced and expert skiers. Valle Nevado, along with adjoining areas La Parva and El Colorado, is oriented more towards intermediates, though in combination the three ski resorts cover the largest skiable acreage in the Southern Hemisphere and do include some interesting off-piste terrain for advanced skiers and riders.
If you have at least two weeks available, Chile also offers worthwhile skiing further south, notably at Termas de Chillan, but as I had only 10 days I chose the areas most accessible from Santiago. For those in South America for other reasons, accessibility from Santiago makes even short ski trips viable.
Santiago is at the same 34-degree latitude as Los Angeles and has a very similar climate, averaging about 15 inches of rain per year concentrated in the winter months. From a skier's perspective, Santiago has two big advantages. Mountains are much higher; over 17,000 feet behind Valle Nevado, and South America's highest peak, the 22,841-foot Aconcagua, dominates the horizon while snowcat skiing at Arpa. Most ski terrain sits at over 9,000 feet, so all of the midwinter precipitation falls as snow and preserves well. Santiago's peak rain also
falls in June and July, coinciding with the coldest weather, while L.A.'s wettest months are January/February. Given the huge volatility of snowfall, the earlier wet season in Chile makes advance planning easier.
Valle Nevado (photo: Valle Nevado)
I had already analyzed South American snowfall after my trip to Las Lenas in 2005, and Portillo's statistics are very similar. The standard deviation of snowfall is much more than any of the North American areas I track, about 50% more than in the Sierra and double that of the Rockies. Snow tends to come in huge dumps of several feet with extended sunny spells in between, similar to but even more extreme than in the California Sierra. Only five of Portillo's past 38 ski seasons have recorded less than 90 inches of snow, while snowfall exceeded 450 inches in the four best years. Two of those were in strong El Niño years of 1972 and 1997, with a record 738 inches in 1972. The 45% correlation of Portillo annual snowfall to El Niño should lead one to be especially cautious of advance booking in La Niña years.
With the overall snowfall volatility I recommend waiting for June storms before booking for an August visit. July can be problematic thanks to South American holidays that bring crowds and high prices, similar to the bustling Christmas period at Northern Hemisphere resorts. In July I'd be more inclined to ski the Chilean resorts further south to try to avoid the crowds. Snowfall in the southern regions is reputedly more consistent and drought is less likely despite much lower altitude.
Skiers should expect spring conditions in September. Snowfall averages only half as much as in August, in contrast to February and March snowfall being relatively equal in Utah and Colorado. And at the Los Angeles/San Diego latitude the midday spring sun is high, leading to common melt/freeze conditions except on steep south-facing slopes. The clear spring weather at such high altitude can create outstanding corn snow conditions when the snowpack is deep.
Season snowfall in 2007 was close to average at the resorts near Santiago, but no new snow fell after August 20 and my first ski day was September 6, so spring and its varying effects were in full force at all of the ski areas visited.
PORTILLO
The Hotel Portillo is like a snowbound cruise ship high in the Andes Mountains. (photo: Guy Wenborne)
Portillo holds a prominent place in the history of Southern Hemisphere skiing. The first hotel and lifts were built in 1949 as it was located on the only railroad line crossing the Andes between Chile and Argentina. The Chilean government first operated the area, but encountered difficulty and sold it to North Americans Bob Purcell and Dick Aldrich in 1962. They improved the hotel and built lifts to service the terrain that is skied today. Portillo's reputation in ski history was secured when it hosted the only World Alpine Championships in the Southern Hemisphere in 1966. The Purcell family is now in its third generation of ownership.
The 1910 railroad was replaced by a paved road in the 1960s. Even though it remains the only road connection to Argentina, it can still be shut down by big storms. With open ski terrain along the lower slopes of sheer mountains rising thousands of feet above, extensive avalanche control is needed. The unique "Va et Vient" slingshot poma lifts were designed for Portillo's higher slopes after earlier chairlift towers were destroyed in a 1965 avalanche. The rebuilt Juncalillo chairlift's path now passes over the highway instead of the more exposed ski runs.
Click image to open a full-size Portillo trail map. (image: Ski Portillo)
The ski area has two sides. Roca Jack faces east, with its steeps draining to the Juncalillo groomed trail heading south 1,000 feet below the hotel base. The El Plateau/Condor side faces west. In between sits the stunningly scenic Laguna del Inca, overlooked by the Hotel Portillo. The sustained clear weather produced excellent corn snow on both groomed and off-piste, timed by switching sides after lunch each day.
Portillo's coverage held up fairly well during the warm spell. The key loss was the traverse skier's right of Roca Jack, which provides access to at least four long fall lines. For 2008 Portillo has installed the new Caracara slingshot poma lift to ensure more consistent access to some of these slopes. On the other side, the Lake Chutes end on Laguna del Inca, and if you can't skate across the lake you have to climb back up about half of what you just skied. Midwinter 2007 was fortunately a cold one and the lake was still frozen during the warm days I skied.
Cruising: There are groomed runs connecting all the chairs, but only two long groomers have sustained pitch. Juncalillo is the longest, and it was draped in nearly effortless corn in the late mornings on each of my two ski days. The Plateau run hides in morning shade throughout its upper half and is used by several national ski teams for summer training in early morning. It's in the sun by noon, however, when it opens to the public. Snowmaking on Portillo's groomed runs ensure that it can operate from July 1 through mid-September to host the racers in dry years.
Moguls: Garganta, which drops through an opening in the cliff under the Plateau chair, sported the most substantial moguls while I was at Portillo. There were also a few near the top of Roca Jack, but people tended to spread out a few hundred feet lower down. Lack of moguls on the wider slopes is due to very low skier density.
Portillo's Laguna del Inca (photo: Gabriela Hales)
Wide Open Spaces: Portillo's upper slingshot poma lifts serve broad expanses of open terrain. From Roca Jack the Primavera area lies to skier's left, and lower down its fall line turns north toward the lake. Halfway down the lift on skier's right the fall line turns south toward Juncalillo. From the Condor slingshot poma the broad Plateau Superior stretches out to skier's left. This area has a southwest tilt, so some of its steeper sections retained winter snow through the warm weather. At the lower skier's left of Plateau Superior you can reach Portillo's other slingshot poma, Las Vizcachas, which accesses the easternmost edge of Portillo's lift-served terrain.
Steeps: The open terrain at the top of all three slingshot pomas starts out fairly steep before gradually mellowing out. The steep fall lines in the Lake Chutes, skier's right from the Condor lift, are more sustained for over 1,000 vertical feet. This area takes a bit of exploration to find the best entrances. I did one each day, and there are undoubtedly numerous options with a deeper snowpack. The chutes skier's right of Roca Jack house the area's longest steeps. The traverse is straightforward and the new Caracara lift provides additional access this season. I could also visualize some short but very steep and narrow slots opening up in the Plateau cliffs on either side of Garganta in big snow years.
Trees: The tree line in Chile is far below the base of these ski areas. Cactus and other desert vegetation similar to that found in Arizona and New Mexico lines the access roads leading to the resort.
Powder: Portillo has a reputation for excellent powder skiing. While I did enjoy any during my visit, it's not difficult to see the reasons why it has its reputation. The low capacity of the slingshot poma lifts would restrict traffic in the upper bowls even if Portillo were crowded. Some open spaces with good powder fall lines could last several days with skier density this low. There appears to be less wind affect compared with Arpa and Valle Nevado, which is often a concern with massive storms dropping snow on open terrain. With the bowls on opposing east and west faces, it is possible that some storms could wind blast one side but deposit blown-in powder on the other.
Hiking and Backcountry: From Roca Jack or Las Vizcachas you could easily extend a high traverse south and ski to the road. As an alternative, in the Lake Chutes head farther out and have a longer skate back on the lake. A few hundred feet above the lifts the mountains become steeper and hold less snow, but for the ambitious there is the Super C Couloir. The Super C requires a two- to three-hour climb from the top of Roca Jack at 10,980 feet to well over 13,000. From the road below, the Super C appears to be very steep and narrow for at least 3,000 vertical feet before reaching more open slopes for another 3,000 feet.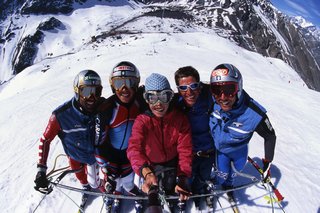 Riding one of Portillo's unique slingshot poma lifts five abreast. (photo: Paul Morrison)
Crowds: The hotels at Portillo only provide accommodation for 500 people and Portillo does not receive many day skiers. I thus hardly ever waited in line for more than a couple of minutes despite the low capacity lift system. The unique slingshot pomas work somewhat like a tram, with one set sending people up the hill at high speed while the other empty one comes back down. Each set has four or five poma discs side by side, so despite the high speed, lift capacity is very low with only four or five people going up the hill at a time. I could visualize substantial lift lines on powder days, but with the tradeoff that the powder would get tracked out very slowly. The other lifts are all conventional double and triple chairlifts.
Intermediates, Novices and Children: The compact base area, with most hotel guests on one week all-inclusive packages, would be very family friendly. The caveat is that most of the terrain is off-piste and requires at least strong intermediate skills. The 433 vertical-foot Las Lomas chair serves Portillo's beginner runs.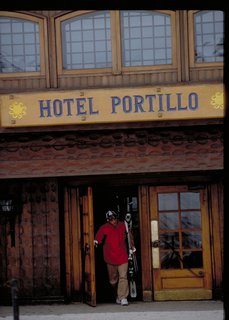 The Hotel Portillo sits steps from the slopes. (photo: Fred Foto)
Lodging and Logistics: Advance reservations at the Hotel Portillo require a one week stay with lifts and all meals included. Shorter stays are possible in late season, but only on very short notice. Also at the base are the Octagon (four bunks per room with bath) and Inca Lodge (dorm-style), which attracts a young and lively crowd. An all-inclusive week between July 28 and Sept. 8 in 2007 cost about $2,000 at Hotel Portillo, $1,150 at Octagon and $600 at Inca Lodge. Octagon and Inca Lodge guests do have access to the Hotel Portillo's pool and restaurant. For lunch the independent Tio Bob restaurant is a short ski from the top of the Plateau chair.
Portillo has a retro ambience that is increasingly rare in modern skiing and that some skiers value highly. The atmosphere is preserved by the ongoing Purcell family ownership, somewhat akin to the Blake family at New Mexico's Taos Ski Valley. By reputation the hotel rooms are plain and fairly small, but food and service are excellent. The lodges at Alta would be another good analogy.
A week, however, may be more time than first-time visitors to Chile may want to spend at one ski area. Portillo has interesting terrain but is limited in its size and in the spring conditions I experienced half a week would have been plenty of time. I thus planned a 10-day tour in Chile through Santiago Adventures. While skiing Portillo we stayed in Los Andes, which is a little more than an hour down the hill in the Aconcagua Valley. While we had hired a car and driver from Santiago Adventures, Los Andes is a viable option for Portillo skiers with a rental car. We stayed at Casa St. Regis, a hacienda popular with ski groups that includes breakfast and dinner. After one of our ski days we visited the hot springs and spa at Termas El Corazon, which is a more luxurious lodging option near Los Andes.
SKI ARPA SNOWCAT SKIING
The other reason to stay in Los Andes is for Ski Arpa snowcat skiing. Arpa is also just over an hour's drive into the mountains from Los Andes, but on a secondary road, the last 13km of which are unpaved. Four wheel drive is advisable for rental cars, but most skiers are picked up at their hotels in Los Andes. Daytrips that include transportation can also be arranged with pickup from Santiago hotels.
Austrian Toni Sponars has been teaching skiing in Aspen for 50 years, but he purchased more than 5,000 acres for skiing in Chile in 1983. He was unsuccessful in bringing lift service to Valle El Arpa, but in 2003 opened his terrain for snowcat skiing.
Despite its spectacular view of Aconcagua, Arpa is farther from the crest of the Andes than Portillo and thus receives less snow. Statistics shown adjust my other snow data to a consensus average of 200 inches, but with the same pattern of snowfall as Portillo.
Click image to open a full-size Valle El Arpa trail map. (image: Ski Arpa)
For each of our runs Arpa's snowcat ascended the Quebrada road to 11,800-foot Cerro Blanca. From its ridgeline, there are four huge bowls draining directly south (away from sun in the Southern Hemisphere) back to the cat road or base area. Despite three weeks since the last snowfall, the steeper sections held some smooth windpacked chalk and at high elevation had generally not experienced a melt/freeze cycle. Lower down it was more difficult to find optimally softened spring corn than at Portillo. On the sides of the bowls with east or west exposure the snow was not as deep or smooth as on Portillo's Roca Jack or Lake Chute runs.
A high wind event three days following the last storm also contributed to variable snow surfaces on our two-day visit to Arpa. Windblown sastrugi decorated the ridgelines between the bowls, and also probably affected the sides of the lower bowls before the warm weather set in.
Wide Open Spaces: Arpa's bowls are wide open skiing at its best. Fall lines are continuous for anywhere from the 1,800 vertical-foot La Vega to 3,000 vertical feet flowing down Exhibition on our last run each day. Most of our runs fed the 2,300-vertical Ratonera Bowl as the snowcat road had already burned off below that. From the bottom of Exhibition on our last run each day there was a short five-minute walk across a scree field to the Arpa base and our cars.
Steeps: Numerous steep shots drop from the top of the ridge into the expansive bowls. Three of our eight runs dropped through the Las Monjas chutes of varying width. A longer and wider variety of steeps is accessible after a 10 to 15 minute hike up Alto del Arpa. On our second day we skied a 40-degree, 500 vertical-foot couloir from Alto del Arpa into El Cirque to start our last run.
Arpa's refuge high atop Cerro Blanco. (photo: Ski Arpa)
Powder: The terrain is ideal for powder skiing, and it's easy to understand the enthusiastic reports from those who have experienced Arpa in fresh snow. But with the 200-inch average and extreme Andes volatility deep powder should be viewed as a bonus and not necessarily an expectation at Arpa.
Hiking and Backcountry: The Alto del Arpa hike is necessary to reach Arpa's most extreme terrain. When the snow is safe and settled I recommend doing this for at least one run a day. With fresh snow, all of the bowls are accessible by straightforward traverses, and I suspect most skiers would prefer to maximize vertical under those conditions.
Intermediates and Standard of Service: In addition to my expert son Adam, I had an intermediate friend Richard with me, who had his hands full with the variable snow conditions. Toni Sponars skied with Richard full time for both days while his guide Rob showed the rest of us (three skiers the first day and five the next) some more challenging lines. I was impressed with the excellent service customized to each group and the conditions of the day. I've read elsewhere that with strong groups and excellent conditions, it is common to get in some extra runs.
Riding Ratonera at Arpa. (photo: Ski Arpa)
Reservations, Prices and Logistics: Arpa requires a minimum of four customers each day to operate. The 2007 price was $150 for four runs totaling 10,000 to 12,000 vertical feet, with extra runs a very reasonable $20 each. Depending on the number of skiers, expect to pay $200 for a day package including transport from Santiago. That extra distance makes for a long day, so I preferred to base in Los Andes.
Arpa does not rent skis, and I strongly recommend bringing your own gear to South America, as the inventory of rentals in Santiago or at the ski areas is not as comprehensive as in U.S. or European resorts. This applies particularly to specialty skis like the fats you may want at a place like Arpa.
I recommend reserving a day or two at Arpa and retaining some flexibility for more if there is fresh snow. The unpaved portion of the access road will take longer to excavate after big dumps than the highway to Argentina, so it's likely you'll be skiing some powder at Portillo while waiting for Arpa to open.
VALLE NEVADO, LA PARVA & EL COLORADO
These three ski areas lie directly east of Santiago. The road is paved but is slower and narrower than the route from Los Andes to Portillo. It therefore operates one-way uphill from 8 a.m. to 2 p.m. on weekends and holidays, and one-way downhill from 2 p.m. to 10 p.m. It's 32km to reach 8,000 feet, where the road forks 8km north to La Parva at 8,880 feet or 13km south to the Valle Nevado hotels at 9,900 feet.
El Colorado is the oldest ski area here, with a main base at 9,000 feet and ski runs rising to a conical peak at 10,900. A couple of easy runs drop down to the town of Farellones at 8,200. Starting in the 1950s La Parva was developed north of El Colorado and its base area is occupied primarily by locally owned condos. The La Parva ski area sprawls deeper into the Andes, up to 12,000 feet behind the El Colorado cone. Finally, Valle Nevado was developed by the French in the style of their purpose-built resorts and opened in 1988. Valle Nevado also rises to 12,000 feet but is slightly less expansive than La Parva.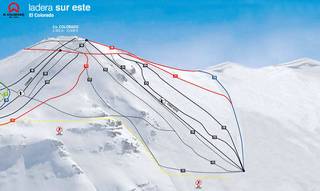 Click each image to open a full-size trail map. (images: El Colorado, La Parva and Valle Nevado, respectively)
The top of La Parva's Tortolas chair sits just above Valle Nevado's Valle del Inca poma, and short trails connect the El Sol run at Valle Nevado to El Colorado's backside Cono Este T-bar. The border between La Parva and El Colorado is primarily comprised of a deep canyon containing no lifts, so that ski connection is more difficult. While you can pay an upgrade of $12-$24 to ski two areas in the same day, the lift connections are not well integrated to bounce back and forth between areas several times a day.
Las Leñas and Portillo snowfall are 69% correlated, and Valle Nevado is less than half as far from Portillo as the Argentinean ski resort. I'm thus quite confident that the 72% ratio of Valle Nevado-to-Portillo snowfall over the past three seasons (one huge and two close to average) is real, so the snow statistics reflect that relationship. Exposures in the table at the end of this article are for all three ski areas of El Colorado, La Parva and Valle Nevado combined. Nearly half of Valle Nevado's exposure faces south, while La Parva's exposure is 60% west. El Colorado's easy front faces west, while its steeper backside faces southeast.
After nearly three weeks without new snow, spring conditions were prevalent at all three ski resorts. While lots of runs at Valle Nevado face south, few were steep enough to avoid a melt/freeze in the warm weather. The groomed runs by Valle Nevado's Las Ballicas poma held good east facing fall lines for morning corn, and we usually had a leisurely start after 10 a.m. Most groomed runs were at their best midday at lower elevation and mid-afternoon higher up.
Wind-stripping is more of an issue along the high-elevation west exposures than snow preservation. Valle Nevado's highest lift, Tres Puntas, and most of La Parva's terrain above 11,000 feet face west, and coverage in the off-piste terrain in these areas was sketchy during our visit. Even though El Colorado is 1,000 to 1,500 feet lower, its ungroomed Cono Este area held better cover due to leeward southeast exposure. There were a handful of steeper direct south exposures (Tortolas at La Parva, Eclipse at Valle Nevado, Cornisa at El Colorado) that had dry chalky snow. But sun-exposed off-piste at all three ski areas had irregular surfaces unlike the smooth corn of Portillo.
Nearly all the groomed runs were well covered, though they tended to remain firm until nearly noon in the partly overcast weather we experienced. But in an average snow year like 2007, the snow accumulated in winter does not hold up well in spring off the groomed terrain. In 2005 Valle Nevado logged 366 inches of snow, and I have little doubt the off-piste was wide open and skiable all the way to that year's early October closing date. But I would advise skiers reserving well in advance to stick to August.
Cruising: In total, these three ski areas claim by far the most groomed ski and snowboard terrain in the Southern Hemisphere. Most of it is gradually pitched, so the trails marked European-style red (advanced intermediate) are in fact mainstream blue by North American standards. The longest continuous groomers are the 2,000 vertical-foot El Sol from the Andes Express to the Prado base at Valle Nevado, and 1,800 vertical feet of Barros Negros at La Parva. Also noteworthy (along with the views from 12,000 feet) are three nice groomers of varied pitch from Valle Nevado's 1,400 vertical-foot Tres Puntas poma. The longest intermediate groomers at El Colorado are each of about 1,000 vertical feet near the Leon and Condor chairs.
Moguls: Even though there was more skier traffic at Valle Nevado, La Parva and El Colorado than at Portillo, moguls were few and far between. Conditions kept most skiers on the groomed terrain. There were a few modest size bumps on Aguillas Sur at La Parva and on a short pitch under Valle Nevado's Andes Express chair. A long winding gully starts under the lower section of the Andes Express and continues for about 1,000 vertical feet. In the afternoon its snow softened, grew a few bumps and was a fun natural halfpipe run near the end of each day. We could see the remnants of a prepared mogul course near El Colorado's Cono Este T-bar, but it had seen little use for a couple of weeks and was not inviting on an overcast day.
Wide Open Spaces: At its high altitude all the ski terrain is open, but the main part of Valle Nevado sits on a plateau, with no lifts coming out of the canyons on either side, so open ungroomed skiing tends to consist of short shots between the marked runs. The exception would be Valle Olimpico, which drops west from the top of Andes Express for 1,200 vertical feet to a catwalk below that leads to El Colorado's Cono Este T-bar. Valle Olympico is not marked on the map, but its intermediate in pitch and a branch of the catwalk leads back to Valle Nevado's El Sol with no hiking required.
At La Parva a groomed catwalk northwest of the Las Aguilas chair leads first to the Aguilas bowls, and eventually to the Manantiales bowls at the northern boundary of the ski area. In September 2007 Aguilas' cover was limited but the snow was good in the available confined lines. More variable surfaces in the more open Manatiales bowl kept us on the groomed. Similar conditions prevailed on the sustained fall lines of El Colorado's Cone Este.
Steeps: In-bounds steeps at Valle Nevado are limited to the upper section of Eclipse near the top of Andes Express. With better cover several short chutes would fill in on either side of the Tres Puntas poma. The best and longest steep of our three days at these resorts was along the 500 vertical-foot bowl to looker's left of La Parva's Tortolas lift, with smooth chalk sheltered by a large rock formation to its north. I also followed the road above those rocks to the Picaflor area, skiing an open bowl with variable snow. This area and the rock bands between Aguilas and Manantiales would have many short but steep lines with better coverage.
Chilean powder. (photo: Valle Nevado)
Powder: There are more skiers here than at Portillo, but by reputation there's still not much competition for powder. Valle Nevado's frontside runs flatten so frequently that careful navigation would be necessary to not bog down. Even Valle Olimpico and the upper poma runs are at about a minimum pitch for powder. El Colorado's Cono Este T-bar, easily visible from Valle Nevado, has a more consistent fall line. La Parva's upper bowls present numerous powder opportunities, though by reputation prevailing winds tend to deposit more blown-in snow at Valle Nevado and on Cono Este. As at Portillo, the Andes rise several thousand feet above the top lifts, so terrain openings after a typical Andes megadump are likely to be gradual due to avalanche control.
Hiking and Backcountry: From the top of El Colorado's Cono Este, bowls and chutes extend for some distance to skier's right, but one can venture only a short distance to still make it back to the T-bar. The longer fall lines beyond the boundary go on for about 2,000 vertical feet to Valle Nevado's access road at about 8,600 feet. Many experts believe this is the most interesting terrain of the three ski areas, especially in fresh snow. But each circuit requires two chairlift rides at Valle Nevado in addition to the
Valle Nevado's Andes Expess is Chile's only high-speed quad chairlift. (photo: Valle Nevado)
T-bar at El Colorado before finally employing a car shuttle (not provided or available from the resorts) back up to Valle Nevado. I had our driver ready to pick me up on that road on my last run, but after a crusty Cono Este test run on an overcast day I declined that option.
Crowds: With spring conditions during a midweek period in September there were no liftline or crowd issues to speak of. Presumably La Parva and El Colorado get some weekenders with all those condos. As at other South American resorts I've skied, the lift systems are not efficient, so I suspect there are liftline issues during July holidays and some weekends. Valle Nevado's Andes Express is the only high speed quad in Chile, but the ski resort's three upper lifts are all pomas, and when you cruise the long El Sol run to the Prado base you have to ride a double chair and a poma to get back to Andes Express.
At La Parva the key lift for most of the interesting terrain is the mile-plus Las Aguilas fixed grip quad chair. Some of La Parva's connector lifts are T-bars, as is Cono Este at El Colorado.
Intermediates, Novices and Children: Valle Nevado and La Parva in combination offer the most intermediate skiing in the Southern Hemisphere. And many of Valle Nevado's frontside runs will be comfortable for novices to descend after a day or two. The all-inclusive packages at the Valle Nevado hotels are convenient for families, too.
Most North American visitors stay at Valle Nevado hotels. (photo: Valle Nevado)
Lodging and Logistics: Most North American visitors stay at the Valle Nevado hotels. We stayed at the mid-range Puerto del Sol, which is the largest of the bunch with package rates priced slightly less than Hotel Portillo. Tres Puntas is about 30% cheaper and the Valle Nevado Hotel about 20% more expensive, but in reality there is much more flexibility in lodging here than at Portillo. Outside the July holiday season it's fairly easy to reserve any number of nights you want, and travel agents often offer package deals at more attractive prices than Portillo.
I recommend against commuting daily from Santiago to the Valle Nevado group. Travel along the road is slower than on Portillo's access road and more subject to traffic, both from day skiers and in Santiago itself. With stops at multiple hotels and ski rental shops, it is not unusual for skiers using public transport to get back to their Santiago hotels well after 8 p.m. The best budget lodging options for skiing these areas are in Farellones ($117/day at Posada de Farellones, for example, including meals and transportation to the slopes but not lift tickets). Free public transport is available for the 10 to 15 minute ride up to El Colorado or La Parva, but not to the Valle Nevado base.
Flights from North America land in Santiago in early morning, so some package tours will send people right up the hill to the 9,900 foot Valle Nevado base, a questionable idea after a long flight for those who area sensitive to the effects of altitude. With the weekend one-way road schedule, people staying at Valle Nevado tend to ski on both their arrival and departure days.
CHILE SKI AND TRAVEL OPTIONS
Chile has much to like as a ski destination. The easiest choice is to purchase a package deal from one or maybe two of the resorts including ground transportation, lifts, lodging and usually breakfasts and dinners. Santiago Adventures can customize your itinerary and include some non-skiing options in your trip, such as our coastal tour between Los Andes and Santiago. At the end of our trip we visited the Colchagua Valley wine region, which is located about halfway between Santiago and Chillan. I also considered booking through Powderquest, which runs fixed itineraries with guides and is especially attractive for backcountry skiing.
For skiers visiting multiple areas a rental car can be an economical and flexible choice. We met Johnny Kay from Montana, who had been in Chile for three weeks with his wife, who was relaxing at a spa in Los Andes while he tried the Arpa cat skiing. The car allows you to use Los Andes as a base for Arpa and Portillo, Farellones for Valle Nevado/La Parva/El Colorado, and the option to visit multiple ski areas farther south in Chile.
By far the cheapest option is to stay in Santiago and use public transport for skiing. Santiago is very cheap for city hotels, in the $40-$75 range and even less for hostels. But the daily commutes take a long time, especially to Portillo where no public transport is available to the closer base at Los Andes. Train is the recommended public transport option to head south to Chillan, where the ski area hotels will include transfers for three-night or longer stays.
Resort
Portillo
Arpa Snowcat

Valle Nevado

Measuring
Altitude
9450 feet
n/a
9850 feet
Altitude
Range
8240-10,980
feet
8820-11,840
feet
8760-12,000
Average
Snowfall
254″
est. 200″
182″
Season
Std. Dev.
143
est. 125
94
Months
over 90″
22%
est. 15%
13%
Months
under

30″

52%
est. 60%
61%
Exposure: N
3%
1%
2%
Exposure: E
34%
20%
13%
Exposure: W
43%
24%
50%
Exposure: S
20%
55%
35%
Terrain Type

Terrain




Rating

Portillo

Arpa Snowcat

Valle Nevado

Yellow
10%
15%
3%
Black
37$
40%
14%
Red
33%
40%
30%
Blue
17%
5%
42%
Green
3%
0%
11%