Revelstoke (BC), Canada – For several decades Revelstoke has been home base for some of the world's finest backcountry powder skiing, but in 2007-08 the tiny local Powder Springs ski area was replaced by the new Revelstoke Mountain Resort on Mt. MacKenzie, which now boasts the greatest lift-served vertical drop of any ski resort in North America.

The Columbia River near Revelstoke.
(photo: Grant Gunderson/Revelstoke Mountain Resort)
Revelstoke's remote location is in central British Columbia where the Trans Canada Highway crosses the Columbia River. It's two and a half to three hours east of Kamloops and Sun Peaks, the same distance north of Kelowna and Big White, and four and a half hours west of Calgary. In addition to the lift-served runs at Revelstoke Mountain Resort, the region is home to three heli-skiing operators, plus the renowned Glacier National Park backcountry accessed from Rogers Pass. So Revelstoke is a particularly attractive destination for skiers who want to mix lift-served and backcountry options.
Snow data from the Revelstoke ski resort is limited because it has only been in operation for two seasons. But 40 years of data is available from the Environment Canada weather station on Mt. Fidelity, which overlooks Rogers Pass in nearby Glacier National Park. For eight months over the past two seasons the resort averaged 78% of the snowfall on Mt. Fidelity. Rogers Pass is opposite the Eagle Pass gap in the Monashee Mountains, thus generating an unusually snowy microclimate. Mt. MacKenzie is several miles southwest of Rogers Pass.
Location
Revelstoke Mountain
Mt. Fidelity
Measuring
Altitude
6429 feet
6150 feet
Altitude
Range
1680-7300
feet
n/a
Average
Snowfall
375″
484″
Season
Std. Dev.
75
88
Days
6″+
Dec.-Mar.
16%
20%
Months
over 90″
21%
45%
Months
Under 30″
7%
4%
Exposure: N
26%
n/a
Exposure: E
4%
n/a
Exposure: W
44%
n/a
Exposure: S
28%
n/a
I visited the new Revelstoke Resort in early February 2009, which was a low snow year in British Columbia. I had also been to Revelstoke for snowcat and heliskiing in late February 1999, which had near record high snowfall. In any case the relationship of the resort to the nearby long term data suggests with much confidence an average snowfall of about 375 inches in the terrain served by Revelstoke's two upper lifts. This snow average is exceeded in interior British Columbia and Alberta only by the much smaller Whitewater ski area near Nelson and perhaps the remote and also smaller Shames and Powder King areas far to the north. Snowfall is similar to that of Fernie Alpine Resort in southeastern B.C., but Revelstoke's higher altitude and more northerly latitude will generally yield better conditions and minimize rain.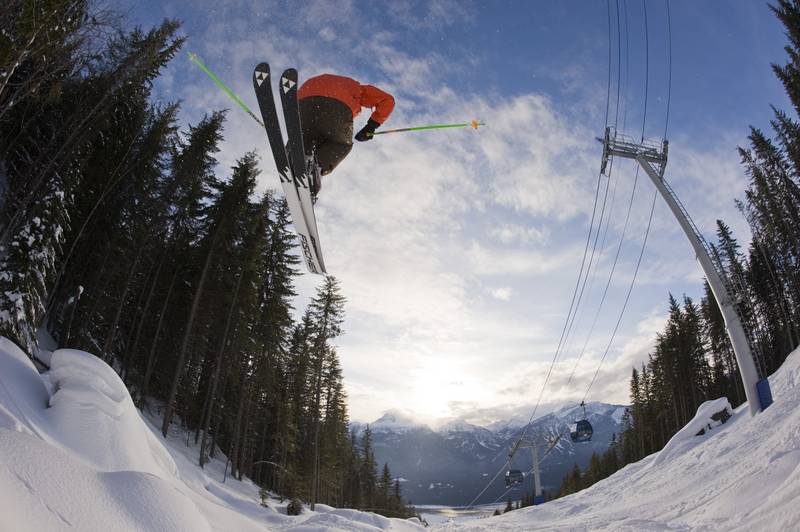 (photo: Doug Marshall/Revelstoke Mountain Resort)
My personal observation of resort snow conditions was very favorable. I skied Kicking Horse and Apex Alpine on the same 2009 trip and the snowpack was much deeper at Revelstoke. Perhaps most impressive is that the coverage and groomed snow surfaces were good for the entire 5,600 feet of vertical drop despite a lack of snowmaking. The lower sectors of Kicking Horse and Panorama ski areas on the leeward side of the Selkirk Mountains receive only about 100 inches of natural snow annually and would be barely viable without snowmaking. Revelstoke, on the windward side, has more overcast skies, somewhat warmer temperatures, a higher tree line…and of course much more natural snow.
The upper mountain has a wide range of exposures — north, west and south — while the lower runs face mostly west. In 1999 the ungroomed snow down low was quite difficult to manage, so spring conditions can be expected on the lower mountain in mid and late season. Now the lower runs will be much easier to negotiate with several groomed routes, and the upper lifts (the 1,700 vertical-foot Ripper and 2,080 vertical-foot Stoke) are laid out intelligently so skiers can stay up top most of the day if they prefer.
Terrain Type:
Revelstoke Mountain


Terrain




Rating

Percentage
Yellow
4%
Black
34%
Red
30%
Blue
26%
Green
6%
Var.
Index
69.0
Cruising: The new north-facing Ripper lift serves two nice groomers of comfortable intermediate pitch, Burn Down and Chopper. From the top of the Stoke lift, Pitch Black, Snow Rodeo and Devil's Club have continuous fall lines of a mind-boggling 4,700 vertical feet down to the day lodge. These are on a grooming rotation; at least one is groomed top to bottom each day and usually at least half of one of the others. Snow Rodeo is slightly less steep than the other two, but all have consistent pitch reminiscent of Sun Valley, Idaho.

Trail map courtesy Revelstoke Mountain Resort
Moguls: The liftline of the 2,900 vertical-foot Revelation gondola is a likely mogul marathon. With low altitude and west exposure it should be timed for fresh snow or warm afternoons. The liftlines of the upper chairs have some bumps with more consistent snow. Open areas like Vertigo and North Bowl did not have enough skier traffic for bumps on my visit.
Steeps: A traverse line and gradual bootback begins at skier's right from the top of Stoke chair. Vertigo is the west face you'll see after just a short traverse. It had just enough scattered trees for me to maintain orientation in fog on my last day. Continuing the traverse will bring you around a corner to a notch entrance to the western edge of the treeless North Bowl, marked as Unlimited Assets on the map. Be aware that the narrow cuts through the trees below the bowl like Brake Check and Parachute are considerably steeper than the bowl itself.
Wide Open Spaces: If you want the most options and longer fall lines in North Bowl, it's worth the short five- to ten-minute bootpack. This will bring you at least as far as Sweet Spot, and a traverse from there provides easy access to numerous runs all the way to the area boundary at Greely Bowl. A much longer hike is necessary to reach the very top entrances to runs like Powder Assault, but you'll get 80 percent or more of those fall lines via the shorter bootpack followed by a traverse.
At the end of Greely Bowl a plowed cat road exits uphill to skier's left and eventually joins the groomed Chopper run to the Ripper chair. The alternative Burgundy run follows the area boundary to Ripper and was a real workout of narrow and choppy moguls when I skied it.

Along the bootpack to North Bowl.
(photo: Milena Novotny/Revelstoke Mountain Resort)
The bowls to skier's left from the top of Stoke (feeding Devil's Club, Roller Coaster, etc.) face south and have more intermediate pitch than North Bowl. In early February they sported primarily packed powder surfaces despite little recent snow, and would be excellent for learning to ski powder. Beyond the Jalapeno run at the area boundary you can see the similarly exposed South, Montana and Kokanee bowls now used for snowcat skiing and which will possibly be lift-served in the future.
Trees: On the front side of the mountain there are scattered trees below timberline which become much more dense below 6,000 feet. The trees between the Ripper chair runs are also quite closely spaced. The trees on Mt. MacKenzie are more dense than those at Fernie, Red Mountain and Whitewater. There should nonetheless be many skiable lines available in fresh powder.
Powder: With Revelstoke's current low skier density and consistent fall lines, most of the resort's 3,031 acres are fair game for powder. The long runs to the day lodge should be hit early as the snow is more likely to set up at low elevation. Mid-winter powder should preserve well on the upper lifts, particularly in North Bowl, which will likely need control work after most storms.
Hiking and Backcountry: Skiers are already checking out South, Montana and Kokanee bowls beyond the southern boundary. Since this terrain has been used for snowcat skiing for more than 20 years, there's a cat road at 6,000 feet to skate or skin back inbounds. Skiing below the cat road would rarely be a good idea as the trees become far more dense and the snow more variable.
For the serious backcountry skier, Rogers' Pass on the Trans Canada Highway is world famous. Avalanche gear and training are essential there, and newcomers to the area should hire a guide.
Crowds: In its second season of operation, Revelstoke Mountain Resort enjoyed 22 percent more skier visits than expected. I nonetheless experienced no lift waits and skier density was very low. The only bustling area was the day lodge, full at lunch every day. This day lodge will eventually be relocated 2,900 feet higher to the top of the gondola once additional facilities are constructed at the Nelsen Lodge base.
Intermediates: Stronger intermediates should love Revelstoke. The consistent 4,700 vertical-foot fall lines are unique in North America. But they are unrelenting with almost no flat spots. Sun Valley's fall lines are analogous, as is the front side of Blackcomb. So less skilled or fit intermediates should mostly stick to Ripper or they may wear themselves out quickly on the long runs to the day lodge.
Novices: In my opinion, Revelstoke is not recommended for novices. The long zig-zag catwalks of The Last Spike are the only gentle pitch on the mountain.
Children: In its current incarnation, Revelstoke is unlikely to compete with superior family-friendly resorts Big White and Sun Peaks, both about three hours away and closer to gateway airports. But that should not deter families whose members have sufficient skills to enjoy the terrain.

Revelstoke's new Nelsen Lodge (photo: Pure Studios/Revelstoke Mountain Resort)
The Resort and Town: In 2008-09 Revelstoke's vertical grew from 4,700 to 5,600 feet by adding a short gondola stage below the day lodge to the new Nelsen Lodge. Nelsen Lodge was still under construction during my visit, with only the ticket office and rental shop open. But the first 59 condos were completed in March 2009, and another building with 56 units will open sometime during the 2009-10 season. Six units in the first building and 10 in the second are still available for sale as of October 2009.
The absence of on-mountain lodging did not detract from my Revelstoke experience. Nearly everyone coming here will have a rental car, and the town of Revelstoke has an attractive and restored downtown which has served its summer tourists well for at least a decade. There's an ample selection of shops, pubs and restaurants. Unexpected highlights for such a remote area were the fine dining at Woolsey Creek and sushi at Kawakubo.
Snowcat and Heliskiing: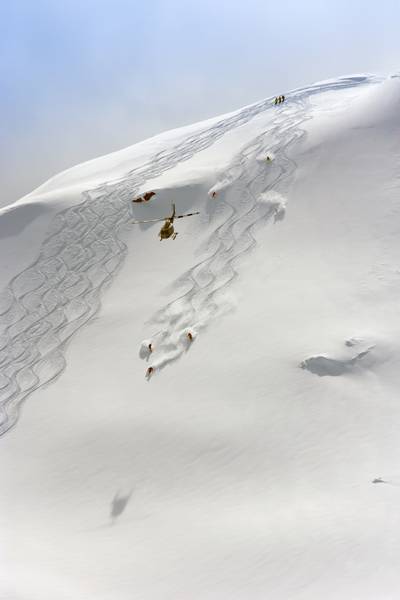 Selkirk-Tangiers heli-skiing.
(photo: Sherri Harkin/Revelstoke Mountain Resort)
Revelstoke joins Alyeska, Alaska and Powder Mountain, Utah as the ski resorts in North America with lift, snowcat and helicopter skiing available from the same base.
Snowcat: Prior to the Powder Springs ski area's reincarnation as Revelstoke Mountain Resort, CAT Powder Skiing accessed most of the terrain now within the lift-served ski area. The resort now operates the snowcat in South, Montana and Kokanee bowls for $400 CDN per day. But given the low skier density within the resort, most skiers will have little trouble finding powder within boundaries on new snow days. And by the time the resort is tracked out, there may an issue with snow quality in the south-facing snowcat terrain.
Selkirk-Tangiers Heliskiing: Selkirk-Tangiers skis on 500,000 acres, primarily in the Selkirk Mountains east of the Columbia River up to the boundaries of Glacier National Park. There is alpine skiing to more than 10,000 feet, over 2,500 feet higher than Mt. MacKenzie with extensive tree skiing below when flying above tree line is prohibited by weather or snow conditions. Revelstoke Resort now handles booking for Selkirk-Tangiers, even though multi-day heliskiers are based at the Hillcrest Lodge in town. Day skiing costs $750 CDN for three runs plus $82 CDN for extra runs. Three-day or longer packages cost about $1,250 CDN per day including all meals and lodging.
I had previously been to Revelstoke for snowcat and heliskiing in late February 1999, which had near record high snowfall. During my day with Selkirk-Tangiers skiing above tree line was not possible, but the snow in the trees was often waist-deep. This was the deepest snow I had ever skied at that time and a truly memorable experience.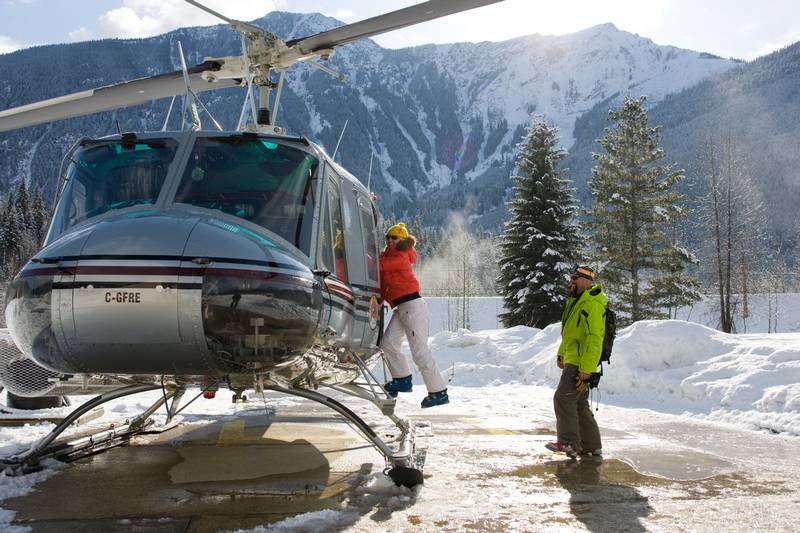 Selkirk-Tangiers heli-skiing.
(photo: Sherri Harkin/Revelstoke Mountain Resort)
CHM Revelstoke Heliskiing: One of Canadian Mountain Holidays' 12 heliski operations is based in Revelstoke at the Regent Inn. CMH Revelstoke skis 380,000 acres, mostly on the east side of the Monashees but also a sector in the Selkirks south of the ski resort. CMH hosts 48 skiers flying four groups of 12 skiers each. Mid-season packages with meals and lodging are available for five or seven days at about $1,150 CDN per day. The vertical guarantee is about 14,000 feet per day.
The increased tourism at Revelstoke Resort has led CMH to open up to day skiers if space is available. The price is $750CDN for the 14,000 foot guarantee plus $30CDN per 1,000 beyond that. Day skiers are closely screened in advance for compatibility with the groups to which they will be added.
Eagle Pass Heliskiing: Eagle Pass skis 270,000 acres on the west side of the Monashee Mountains which are famed for their tree skiing. Eagle Pass is a relatively new operator based at Griffin Lake Lodge, 16 miles west of Revelstoke on the Trans Canada Highway. They host 12 guests, flying three groups of four skiers each in an A-Star helicopter. Mid-season packages with meals and lodging are available for three, four or seven days at about $1,800 CDN per day. The vertical guarantee is 16,500 feet per day, which compares favorably with the 10,000-foot guarantee at Selkirk-Tangiers.
I did not know about the new day skier policy at CMH, but my helpful guide Lisa at Revelstoke Mountain Resort knew some people at Eagle Pass and arranged for me to contact them. One of their groups had only three skiers, and after a phone interview I was able to get a slot for the day I was leaving Revelstoke. With only high overcast clouds I was able to ski four glacier runs in addition to eight runs in the trees with about four inches of new snow. I paid a fixed price of $975CDN and our group skied 23,500 vertical feet.
For More Information: