Boise, ID – Boise is viewed by most destination skiers as a less than ideal gateway to Sun Valley, over three hours distant. But visitors should not overlook the two ski areas patronized by Boise locals and regional visitors, Bogus Basin and Brundage Mountain.
Bogus Basin

(photo: Bogus Basin Recreational Association)
Bogus Basin is located just half an hour from Boise and was founded in 1942 as a nonprofit community ski area. It is still owned today by the nonprofit Bogus Basin Recreational Association and operated by a volunteer board. Bogus has nonetheless grown over the years to a sprawling 2,600 acres of ski terrain with 300,000 annual skier visits, and is considered by many skiers as the most successful local ski area in the country.
Bogus Basin revolutionized the U.S ski industry in 1998-99 by inaugurating the first cheap season pass program at $199 per season. They needed to sell 10,000 passes to break even with the previous conventional pass pricing but they actually sold 25,000. There was some apprehension that crowds would overwhelm the lifts and parking, but those fears proved unfounded. With the close local population base many of the new passholders would come up for just a few hours per day, so crowds usually remained manageable while the ski area's revenue increased enough to build two high speed lifts within a few years.
Bogus Basin's innovative pricing model has since been copied by numerous ski companies, including some of the biggest like Vail Resorts. Incredibly, the Bogus Basin season pass still costs only $199 if purchased in February of the prior season.
Bogus Basin's snow data is modeled from season snow water equivalents. This is an unreliable method for individual seasons, but with over 40 years of data a true picture of snow averages and deviations emerges, which is consistent with my observations and the history of the area. Bogus Basin has no snowmaking, although they have analyzed potential water sources from drilling wells and have concluded that for the cost not enough water would be available to materially improve the skiing.
During the history of the ski area there have been some periods of financial distress brought on by low snow years. Operation is severely limited in terms of length of season and/or open terrain in about the worst 15% of snow seasons. Out-of-town visitors should plan to come no earlier than mid-January to allow for good natural coverage in most years.

Night skiing at Bogus Basin.
(photo: Bogus Basin Recreational Association)
I skied Bogus on a sunny day in late March when there had been little new snow for two weeks. Bogus has a wide range of exposures, which makes it easy to follow the sun around for the most pleasing surfaces in spring. The Deer Point area rising from the Simplot base lodge faces north and is also mostly lighted for night skiing. The more expansive Superior terrain on the backside of Shafer Butte also faces north and would usually have the best off-trail skiing mid-season.
The runs served by the long Pine Creek Express face mostly east and had excellent corn snow when I was skiing there midday. Directly under the lower half of that lift is a narrow gully that was a sketchy terrain trap on my visit but could open up in big snow years. The south facing beginner runs between the Pioneer and Simplot lodges were also soft and smooth by midday.
Finally, the steep runs like Last Chance and Inspiration dropping from Shafer Butte to the base face southwest and softened up nicely late in the day. On this same trip similar steep and sunny runs at Sun Valley were losing cover in 2009-10's below average snow season, so this corroborated the data indicating that Bogus gets more natural snow than Sun Valley.

Bogus Basin trail map.
(photo: Bogus Basin Recreational Association)
Cruising: The 1,000 vertical-foot Deer Point Express serves several intermediate groomers. There are longer and steeper groomers on the backside Superior lift of 1,500 vertical. All of these were well maintained through two weeks of melt/freeze conditions. Groomed routes were also maintained to the Pine Creek base.
Moguls: While I was at Bogus on a quiet Tuesday, there was much evidence of weekend traffic on ungroomed runs. The north facing Superior chair had several long mogul lines that would be at their best mid-season but were firm on my day. Due to the warm weather I preferred to hit sun softened runs like Upper Paradise in late morning and Liberty in the afternoon.
Steeps and Wide Open Spaces: The steepest sustained lines are the runs dropping southwest from Shafer Butte. This area is devoid of trees for the top 1,000 vertical feet. The other exposures from Shafer Butte reach tree line with about 200 vertical feet.
Trees: Superior's trees are mostly comfortably spaced between the cut runs, and there is a consistent fall line for nearly all 1,500 vertical feet. The Pine Creek terrain is more convoluted, with denser trees and a mix of short steeps and flatter sections.
Powder: Superior should be the most promising area for fresh snow with its north exposure, trees and consistent pitch, but it is also served by a slow double chair that has a reputation for lines on busy days.
Hiking and Backcountry: Bogus has developed most of its accessible terrain above 5,700 feet. There may be a few skiable lines off the back of Deer Point to the access road, but that area faces south.
Crowds: With its local population base, Bogus Basin's skier traffic is concentrated on weekends. There were very few people on my Tuesday visit in March despite nice weather and good conditions. But with so many season passholders I suspect fresh snow days are busy too. Deer Point and Pine Creek have high speed quads. Management is targeting Superior for the next lift upgrade, as its current old double chair gets stacked up on busy days.
Intermediates: Bogus Basin is an excellent area for intermediates. All three of the major terrain pods have both comfortable cruisers and some steeper or more varied lines to present an appropriate level of challenge.
Novices: Most of the novice terrain is served by the 700 vertical-foot Morning Star lift between the two lodges. There is also the Coach chair at the Simplot base and a couple of runs to the Bitterroot chair behind Pioneer Lodge. Bitterroot is closed on quiet midweek days like mine.
Children: With its mission of serving the local community, Bogus has always had a strong children's program. In the early 1980's Bogus was one of the first ski areas to offer organized skiing for three-year-olds.
Other Considerations: Boise is the capital of Idaho with a metro area population of 650,000. So visitors have a wide range of lodging, dining and off-hill options, comparable to those in Salt Lake City.
Resort
Bogus Basin
Brundage
Measuring
Altitude
6100 feet
6000 feet
Altitude
Range
5790-7590
feet
5840-7640
feet
Average
Snowfall
248″
314″
Season
Std. Dev.
74
72
Days
6″+
Dec.-Mar.
10%
13%
Months
over 90″
6%
14%
Months
Under 30″
30%
13%
Exposure: N
42%
20%
Exposure: E
20%
3%
Exposure: W
16%
56%
Exposure: S
21%
21%
Brundage Mountain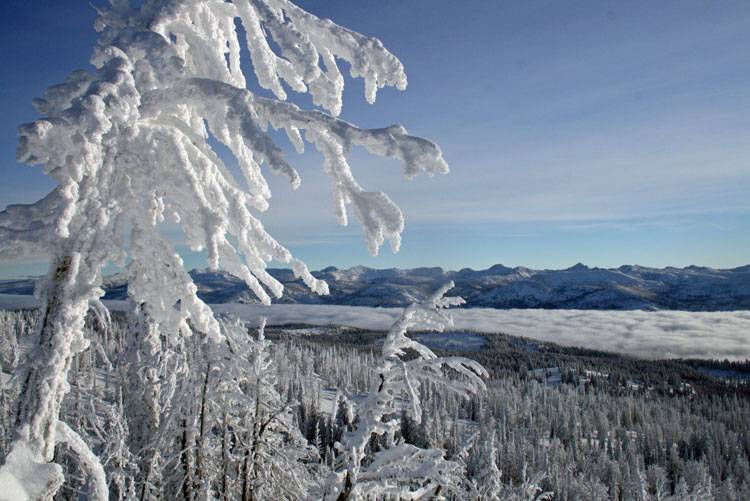 The view from the 7,640-foot summit of Brundage Mountain.
(photo: Brundage Mountain Resort)
Brundage Mountain is located near the resort town of McCall, 100 miles north of Boise on scenic Highway 55. McCall is primarily a summer resort on Payette Lake, quite similar to Whitefish, Mont., near Flathead Lake and Sandpoint (Schweitzer), Idaho, near Lake Pend Oreille. Brundage's skiing is similar to those areas, though it is smaller at 1,500 acres and much quieter.
Brundage boasts "the best snow in Idaho" and has a few modest advantages over Schweitzer and Whitefish that can add up to a significant edge. Brundage's base elevation of 5,840 feet is over 1,000 feet higher and the 314-inch annual snowfall average is measured low on the mountain. Primary exposure is west, while the main runs rising from the Schweitzer and Whitefish base areas face south. Brundage does have the south facing Lakeview chair on its backside, where the snow would soften earlier on spring days than the rest of the mountain.
I arrived at Brundage on a gray March Sunday after two dry weeks and was confined to groomed runs due to a uniformly refrozen off-trail snowpack. It snowed five inches overnight and the mountain was transformed. With consistent pitch and comfortably spaced trees I could ski nearly anywhere.
For the most consistent powder and surface conditions, January and February are Brundage's best months, similar to Schweitzer and Whitefish. But Brundage holds up somewhat better in the spring than those areas.

Brundage Mountain corduroy.
(photo: Brundage Mountain Resort)
Cruising: Most of the mountain has consistent intermediate pitch. The groomers north of the Bluebird Express like North and Main Street are slightly steeper than those farther south near the Centennial lift, like Engen and 45th Parallel. Lakeview has groomed runs which should often be timed for sun with the south exposure.
Moguls: Scattered moguls were visible on my first day off the trails and on the Face near the base area, but most were buried by the new snow. Brundage's steepest marked run, Northwest Passage, has some choke points with much deeper moguls.
Steeps: These are currently limited to Northwest Passage and several nearby tree shots. This sector is tilted north and preserves snow very well.

Sargents Peak.
(photo: Brundage Mountain Resort)
Wide Open Spaces: Brundage is currently forested to the top of its lifts. Just north of the existing area is a proposed expansion to 7,800 foot Sargents Peak where the trees are thinner, and Sargents would also add several steep chutes and make total acreage similar to that at Schweitzer.
Trees: Brundage's trees are exceptionally well spaced over the entire mountain. It is truly wall-to-wall skiing for advanced intermediate or better skiers when the snow is good, very comparable to the upper elevations at Schweitzer and Whitefish.
Powder: The excellent powder potential was obvious to me with just five inches of new snow. On a Monday the mountain was very quiet and it was not hard to stay in fresh snow from that modest storm all day long. A high proportion of terrain is skiable on most powder days due to consistent slope, the spaced trees and low skier density.

Brundage Mountain trail map.
(image: Brundage Mountain Resort)
Hiking and Backcountry: With local hosts we took a short 500 vertical foot drop off the back of Centennial in the fresh with a long runout to Lakeview. Some locals also make the traverse and hike north to Sargents Peak. Brundage also has snowcat skiing for $239 per day located on 18,000 acres in the mountains on the opposite side of Highway 55 from the ski area. From a distance the terrain appears to be the same type of wide spaced tree skiing as in the lift served area.
Crowds: Brundage sees only 130,000 skier visits per year, with a season that due to more snow usually starts earlier than Bogus Basin's. Brundage is normally open weekends through the end of April. Midweek the area is so quiet that they don't even operate their longest chair, Centennial. All of its terrain is accessible from the top, but skiers return to the base area and the Bluebird Express via the beginner Bear chair.
Intermediates: The vast majority of Brundage's terrain is at a comfortable pitch for intermediates. For the more adventurous Brundage is surely one of the best mountains anywhere for intermediates to experiment with off-piste terrain, powder and trees in a low pressure environment.
Novices: Most of the novice terrain is served by the 622 vertical-foot Bear Chair. There is also the long and winding Temptation run for the full 1,600 vertical feet of Centennial.
Children: Brundage has on-site daycare and ski programs for ages four and up. The layout and the low key ambience are very family friendly.
Other Considerations: I stayed at the Shore Lodge on Payette Lake. It was originally built in 1948 and has been recently restored to very high standards. The McCall area has many lodging and dining options to serve its summer tourism.
Terrain Type

Terrain




Rating

Bogus Basin

Brundage

Yellow
3%
1%
Red
31%
40%
Blue
33%
29%
Green
7%
11%
Var.
Index
38.0
32.5
My March week spent in Idaho was divided between Sun Valley and Bogus/Brundage. I highly recommend this plan to experience a diverse range of ski options. I had heard about these areas the previous season while skiing in Canada with some Boise locals. The stiff competition from Bogus Basin and Brundage played a role in the recent financial failure of the Tamarack ski resort, which is located half an hour south of Brundage. The Boise locals commented upon the convenience and terrain quality of Bogus Basin and the snow quality at Brundage being superior to the offerings at Tamarack.