Christchurch, New Zealand – In July 2010 I embarked upon my fourth ski trip to New Zealand.  On the previous three visits I spent most of my time in the Southern Lakes district, based in the popular international tourist center of Queenstown.  Coronet Peak and The Remarkables are the closest ski areas to Queenstown, while Cardrona and Treble Cone are located near Wanaka, about two hours distant.  Of those ski areas near Queenstown, Treble Cone is the largest at 2,220 vertical feet and 1,350 acres and also the most appealing to advanced skiers with more than half of its terrain rated advanced to expert.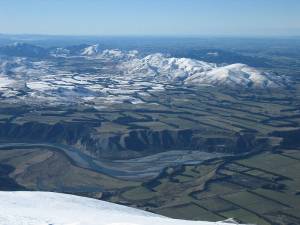 In 2010, however, I flew to Christchurch and skied four areas in New Zealand's Canterbury province. The region's public ski areas, Mt. Hutt and Porters, are not quite as large as Treble Cone, but the mix of terrain is equally as challenging.  I utilized the services of Black Diamond Safaris to visit Mt. Olympus and Broken River, the region's club ski areas that are an institution nearly unique to New Zealand.  Overall Canterbury is a better destination than the Southern Lakes for advanced skiers.  The low skier density and accessible sidecountry at the club fields enhances their expert appeal.
Canterbury Overview
All of the South Island lift served skiing is leeward of and at lower elevation than the peaks of the Southern Alps, thus accounting for modest snowfall totals.  Mt. Hutt gets considerably more snow than Coronet Peak (94-inch season average) or the Remarkables (134 inches) and probably similar snow to that which falls at Cardrona or in Treble Cone's Saddle Basin.  The Canterbury areas have a reputation for a deeper snowpack and a longer spring season than the Southern Lakes areas.
Mt. Hutt has a panoramic view of the Canterbury plain stretching east toward Christchurch.  It is thus very exposed to Antarctic storms working their way up the east coast of the South Island, frequently accompanied by high winds.  The more prevailing west-to-east weather patterns bring abundant rain to New Zealand's West Coast and load the glaciers at 10,000 feet surrounding Mt. Cook with abundant snow.  Unfortunately the ocean between Australia and New Zealand is comparatively warm, so the lift served ski areas — all situated below 7,000 feet — can sometimes get rain instead of snow.
The erratic weather usually results in gradual buildup of the natural snowpack.  The club fields have no snowmaking and typically first open in early to mid-July, around the time of my 2010 visit.  Surface conditions are highly variable, with nearly all skiing above New Zealand's low treeline and the terrain is thus wind exposed.   The attraction of all of these ski areas is the interesting terrain, so visitors should prefer to come when the snowpack is at its maximum in August and September.  Snowfall incidence for powder is consistent from June to September, and during dry spells more terrain is likely to be open with spring conditions in September than with midwinter hardpack and thinner coverage in July.

I knew about New Zealand weather from my three previous trips, and was fortunate that there had been a four-foot storm from the southeast in June so coverage was good at Mt. Hutt and at least adequate at the other places I skied.  There had unfortunately been some wind and rain since that June storm, so the steep and shaded terrain was closed due to hardpack and icy conditions at both Mt. Hutt and Porters.
Mt. Olympus is located deep into the mountains up an arduous access road.   I saw evidence of less rain there, just a thin crust rather than the more solid hardpack at Mt. Hutt or Porters.  Porters and the club fields Mt. Cheeseman, Broken River and the adjacent Craigieburn are accessed from the east side of the Arthur's Pass road which links Christchurch with the West Coast.   Broken River had a thinner snowpack during my visit as it got less snow from that June storm, but they received five inches of heavy new snow there on the last day of my trip.  Craigieburn is nearby to Broken River, and I did not ski there as its extensive steep terrain did not yet have adequate coverage.  With the varied sources of New Zealand storms I believe all of these areas average similar snowfall, and both the public and club fields typically ski until early or mid-October in the southern spring.
Another nearby club field is Temple Basin, just west of Arthur's Pass.  It can potentially receive larger dumps of snow from storms moving in from the west, though in July 2010 it was not yet open because the only major snowstorm had come from the southeast.  Temple Basin has a reputation for good terrain, but it has less favorable exposure and also requires a 45- to 60-minute hike from its parking to the lowest lift.
Mt. Hutt
Mt. Hutt is the most modern and commercial ski area in Canterbury. A high speed six-pack chairlift rises from the base area at 5,200 feet to the summit at 6,842.  Snowmaking serves the intermediate groomers Fascination and Huber's Run from the top to ensure a mid-June opening and these runs were mostly packed powder during my visit.  Ungroomed snow was mostly hardpacked on an overcast day. A fixed quad of about 600 vertical feet serves beginner runs and a terrain park above the base area.  The Towers triple chair sits 600 feet below the base lodge and brings skiers about halfway up into the main bowl.
There is now a groomed cat track along the far skier's left ridge overlooking the Rakaia River all the way to the ocean.  The drops from this cat track to the access road below, known as the Rakaia Chutes have nice pitch but I stuck to the groomed because this off-piste terrain is west facing and probably got wind blasted and therefore icy. This is where I went for a scary slide on my first New Zealand trip in 1982 and did not want to start this one the same way.
Heading toward skier's right from the top leads to numerous exciting chutes in the Towers and South Face areas of Mt. Hutt, which were covered during my visit but unfortunately closed due to hard snow.  I did ski the open face below the Towers Chutes, and once I traversed into the lower section of the South Face.  With good snow there is sustained pitch of 2,000 vertical feet from the chutes above to open terrain midway down, finally finishing with some gullies lower down to the triple chair below the car park.
Porters Ski Area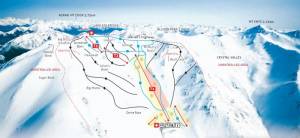 Porters was like traveling back in time to my first trip to New Zealand.  It's a public ski area and the closest one to Christchurch, but all of the lifts are all surface lifts, T-bars plus a platter lift and magic carpet, similar to the way Mt. Hutt was in 1982. On a clear and calm Sunday there were lift lines of approximately five minutes most of the day.  The three T-bars rise from 4,400 to 6,500 feet.  The lowest T-bar has gradual pitch in the trough of a southeast facing canyon with beginner runs and a terrain park alongside it.  The two upper lifts climb out of the canyon at an intermediate pitch and face east.
From the top the groomed Adrian's Highway follows the ridgeline skier's left, leading to progressively longer and steeper runs dropping down shaded south facing runs into the canyon below.  The nearer runs Solitude and McNulty's Basin were hardpacked, and it was no surprise that the truly steep Bluff Face at the end of Adrian's Highway was closed like the similarly exposed terrain was at Mt. Hutt.
There is also a ridge off the top that runs to skier's right which was in the sun all day long. At the end of that ridge is Porters' signature run, Big Mama, a sustained bowl with a continuous northeast facing fall line of 1,600 vertical feet.  With the previous cold and overcast weather Big Mama had probably not been open for over a week, so when they announced it open around noon I tested a shorter face with the same exposure off the top T-bar and knew I was in for a treat. The snow was smooth corn over a firm subsurface and I could just rip GS turns down the entire bowl, so I ran six laps on Big Mama, not stopping for lunch in case wind, cloud or shade would return the slope to hardpack.
Big Mama was by far the best skiing of my trip due to the day's clear weather and the time of year.  But all of the areas I skied had comparable terrain that would impress most skiers under the right snow conditions.
Mt. Olympus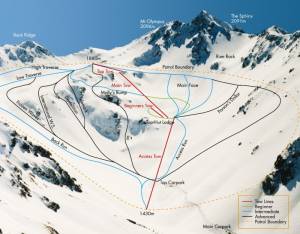 Mt. Olympus formed my introduction to New Zealand's club fields.  Club skifield facilities were built entirely by volunteer labor of the members starting mostly in the 1950's but at a few areas before World War II.  You do not need to be a member to ski at the club fields, but members get cheaper skiing in return for the effort they put into operating the skifield.  Lift tickets for non-members are about two-thirds the price of the public areas.  Nonetheless most of the skiers are members and rarely are there as many as 200 people per day at any one club field of some 500 to 1,000 acres.
The club members are still very resourceful. A few years back the New Zealand government offered to run electricity partway up to the club fields. At Mt. Olympus the members had to run the electrical lines underground themselves up the last several miles and about 3,000 vertical feet.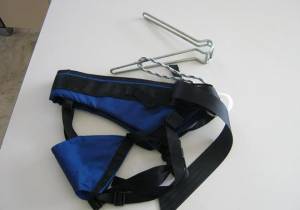 Casual skiers rarely patronize the club fields as there is no grooming and the nutcracker rope tow lifts require more effort than conventional T-bar and poma surface lifts.  To ride the rope tow you grab the moving rope with one hand, and tighten your grip until you are moving at the same speed as the rope and it is no longer slipping through your hand. Then with the other hand you flip a nutcracker-shaped metal clamp around the rope which grips the rope for the remainder of your ride. You hold the clamp shut, and are dragged up by a cord tied between the nutcracker and a belt you can rent at the ski area.
Black Diamond Safaris provided me with canvas covers to protect my gloves and a nutcracker attached to a harness similar to those used for climbing or windsurfing.  The harness distributes the towing force more comfortably than a belt so the ride up the hill is not that different than a ride up a poma lift, even on steep grades.  The tricky part is the initial attachment to the moving rope.  I was able to do this consistently in flat loading areas, but with just two days of club skiing I had only varying success where the grade climbed steeply from the loading spot.
Although I had some difficulty with the nutcrackers the club fields have sound rationale for using them. The obvious reason is cost, but they also can be repaired promptly if damaged. A lot of New Zealand ski terrain is very exposed to avalanches, so the lifts do get hit by them from time to time. And as one would expect, the rope tows are less vulnerable to wind holds than pomas and T-bars and far less than chairlifts.
Heather Dent, co-owner of Black Diamond Safaris, drove me to Mt. Olympus, where I skied with guide Markus Woertler.  Mt. Olympus has perhaps the toughest access road in New Zealand and 4WD is essential.  Three rope tows rise from 4,700 to 6,170 feet in a south facing bowl which had the best snow preservation of the four areas I skied on this trip.
Weather was mostly overcast and there was a thin breakable crust from a lesser amount of rain than Mt. Hutt or Porters had received. It had been broken into a packed powder surface on the intermediate pitch of both Frozen Waves and the Main Face runs.  Steeper terrain was trickier with the crust, and it's somewhat ironic that surfaces would have probably skied much better had they seen more skier traffic.  Of course the low skier density is a key advantage of the club fields on powder days, and probably with September spring corn as well.
Mt. Olympus has several very steep ridges and chutes up to 6,800 feet above the top lift in Little Alaska and The Sphinx.  A shorter climb over a saddle to the east leads to the Ryton Valley, which during times of good coverage is skiable down to Mt. Olympus' backpacker hut located at 3,000 feet on its access road.  Mt. Olympus' Top Hut Lodge, at the top of the first tow, serves lunch for day skiers and also accommodates 38 overnight guests in dorm rooms.
Broken River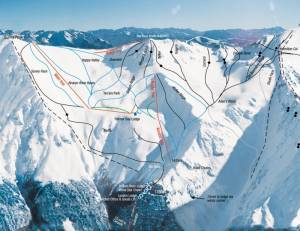 With high winds and a storm predicted I drove to New Zealand's West Coast for two days of sightseeing, returning to ski my last day at Broken River.  The storm had delivered mostly mixed precipitation but turned to five inches of dense snowfall at its end.  This was ideal for covering the hard and occasionally thin base below.  Heather Dent picked me up again and thoughtfully brought along some wide Apache Chiefs to handle the new snow.
I was duly impressed by the facilities the members have built at Broken River. From the parking area at 3,800 feet they built a funicular up through the steep birch forest to Lyndon, White Star and Broken River Lodges.  White Star is a backpacker lodge, while Lyndon has a mix of double rooms and small bunk rooms with breakfast and dinner included.  Broken River Lodge is dorm style but also includes the meals.  From the lodges it's a 10-minute walk up stairs to the access tow at 4,670 feet. Craigieburn is located in the next valley to the northeast.
When we arrived the top of the mountain was still enshrouded in fog, so after a few runs on the access tow we broke for an early lunch.  By noon the fog had lifted so we could see up the main tow, and after a couple of runs there the Ridge Tow to 5,970 feet on Nervous Knob was opened.  With fat skis we seldom bottomed out in untracked snow to the base while skiing in the southeast facing Broken River Basin to skier's left of the main tow.  Skier's right of the main tow wraps around to an east exposure to morning sun.
There were only 15 to 20 people skiing on a Wednesday, yet by 2 p.m. or so we had managed to track up the Broken River Basin fairly well. We also skied three steeper south facing chutes from the top of Nervous Knob.  Only a short section of Allan's Basin on skier's left from the access tow was open as officials had decided to let the snow settle in upper Allan's Basin. That would have potentially offered some untracked snow for Thursday's skiers, but as it turned out we hit a rather narrow window of powder conditions. By 3 p.m. dropping temperatures began to form a crust on the surface of the high water content snow.  With deep coverage Allan's Basin is skiable for 2,100 vertical feet from Nervous Knob to the parking area.
A long traverse across upper Allan's Basin leads to a short hike to Hamilton Col on the ridgeline separating Broken River from Craigieburn.  Craigieburn's three rope tows rise from 4,300 to 5,940 feet and lift tickets are good for both areas.  Hamilton Peak overlooks both areas at 6,300 feet.  Craigieburn is the most expansive and steepest of the club fields and was thus in limited operation during my early season visit.  Its rope tows also have an expert reputation, so you should be riding them consistently at other club fields before going to Craigieburn.  Combined and in full operation, Broken River and Craigieburn total 1,700 acres for an even larger skiable domain than Treble Cone.
Lodging and Logistics
Mt. Hutt draws the lion's share of Canterbury ski tourism and thus most people stay in nearby Methven, the closest town at 20 to 30 minutes away.  Mt. Olympus is 75 to 90 minutes of driving from Methven.  For those who have been to the Southern Lakes ski areas, Methven is a more akin to a laid back town like Wanaka than a major resort village like Queenstown.  I stayed at the Alpenhorn Chalet, which has a mix of private rooms and shared bath accommodations.  It also includes a common area with kitchen where guests can prepare their own meals.  Methven has some excellent restaurants, such as Last Post Café and Steel-Worx.
The lodges at the club fields are attractive for cost, convenience and true immersion in New Zealand ski culture.  If you're going the ultracheap backpacker route, you need to have a sleeping bag and buy all the food for your stay first in Methven or another town.
My personal experience on four ski trips to New Zealand makes me wary of weather shutdowns and creates a desire to have a lodging base with some flexibility.  Black Diamond Safaris recommends two lodges convenient to the club fields.  Glenthorne Lodge is relatively close to Mt. Olympus at 30 to 45 minutes away.  It's also 45 minutes from Methven and a little over an hour to the Arthur's Pass ski areas when the unpaved Lyndon Road is driveable.
I spent a night at The Burn Bed and Breakfast (dinner optional) in Castle Hill.  Castle Hill is on the Arthur's Pass road, about 30 minutes' drive to Porter's, Broken River and Craigieburn.  I found this to be an ideal location, especially when I shuffled my schedule to ski the clear day at Porters, move on to the West Coast during the bad weather, then return to ski Broken River with new snow.  Castle Hill is also 75 to 90 minutes from Christchurch, the gateway airport to the region and a worthwhile tourist destination on non-ski days.  Christchurch sustained major damage during the two earthquakes in September 2010 and February 2011, however the ski areas and nearby rural towns like Methven and Castle Hill were unaffected and will support business as usual during the 2011 ski season.
Black Diamond Safaris offers a wide variety of services to skiers interested in the club fields. These include complete one week packages including lifts, transportation, lodging and daily guiding.  More independent skiers would still find value in a first day guided introduction to club field skiing.  After "learning the ropes" and renting a 4WD many advanced skiers could continue with both public and club field skiing on their own.
Resort
Mt. Hutt
Measuring
Altitude
5313 feet
Altitude
Range
4602-6842
feet
Average
Snowfall
191″
Season
Std. Dev.
69
Days
6″+ June-Sept.
8.3%
Months
over 90″
7%
Months
Under 30″
52%
Exposure: N
0%
Exposure: E
25%
Exposure: W
15%
Exposure: S
60%