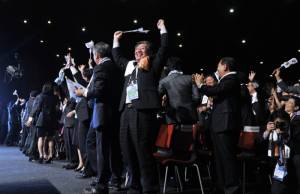 Durban, South Africa – The city of PyeongChang on Wednesday was selected as the host city of 2018 Olympic Winter Games. Pyeongchang received 63 votes in the first round of voting held at the International Olympic Committee's (IOC) 123rd Session held in Durban, South Africa, with Munich, Germany receiving 25 votes and Annecy, France receiving seven votes. This will be the first time that South Korea has hosted the Olympic Winter Games.
"Congratulations to PyeongChang. I think there is a lesson to be learned from their achievement, and that is that patience and perseverance have prevailed and were important," said IOC President Jacques Rogge, referring to the fact that it was PyeongChang's third attempt at obtaining the Games. "The three bids were excellent. Each city could have organized perfect Olympic Winter Games, but ultimately one had to be chosen. I would like to congratulate our Korean friends very warmly, and I am sure we will have great success with them in our future collaboration."
"We are absolutely delighted that PyeongChang has been awarded the right to host the 2018 Olympic Winter Games," said Chairman of the 2018 Bid Committee for PyeongChang, Yang Ho Cho. "Over the course of 10 years of bidding we listened and learnt from the Olympic family. Today, our efforts and commitment to hosting the Olympic Games have been rewarded. We will ensure that our hard work will continue all the way through to 2018 to create an amazing Winter Games in Korea."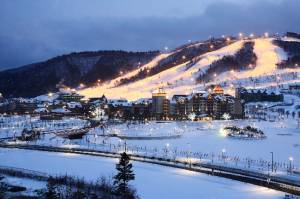 PyeongChang 2018's vision for the 2018 Games is to offer the Olympic movement and the world of winter sports "New Horizons" — a legacy of new growth and new potential. Its Winter Games plan is one of the most compact in Olympic history. With PyeongChang's strategic position in Asia, and its access to an emerging and fast-growing youth market, the 2018 Olympic Winter Games is expected to expose new generations of potential athletes to the power of winter sport.
U.S. Ski and Snowboard Association officials cited an athlete-friendly, compact venue plan as the key to the successful bid. "PyeongChang will provide a unique Olympic atmosphere with the compact layout of skiing and snowboarding venues in and around the host city. The proximity lends itself to both fans and athletes' ability to embrace the Olympic spirit," said Bill Marolt, President and CEO of the U.S. Ski and Snowboard Association and Vice President of the International Ski Federation. "The entire nation has put an immense amount of effort behind the bid and we're confident we will see the same enthusiasm during the 2018 Olympic Winter Games."
"YongPyong was a definite highlight of my career in a lot of ways," said U.S. ski racer Ted Ligety, who won his first World Cup event, a giant slalom, in 2006 in YongPyong, the proposed alpine technical events venue in PyeongChang. "Up until that point I hadn't been on the giant slalom podium, let alone won a World Cup. Going to new places is one of the highlights of our sport and it's cool to think about bringing such a big event like the Olympics to a new part of the world."
Ligety's fellow Utahan, X Games Champion Jen Hudak of Salt Lake City, will participate in the first Olympic halfpipe event during the 2014 Games in Sochi. "It's a really exciting opportunity to bring halfpipe skiing to the 2018 Olympics in PyeongChang," Hudak said. "It will be a new sport in a new area for us. As athletes we get to share what we do with a greater part of the word and I couldn't be more excited."