Jackson, WY – Teton Gravity Research (TGR) is taking a lead role in protecting the winter season that is the foundation for their business.  The ski and snowboard film producer has taken a top-down approach to sustainability, which includes a multi-year partnership with Protect Our Winters (POW), the global environmental snow sports nonprofit and by purchasing carbon offsets for all of their winter film properties.
While film productions are inherently carbon-intensive, TGR is working to reduce their greenhouse gas emissions throughout the production process, which includes mechanized travel and post-production.  This year, for the third year in a row, TGR purchased offsets for "Deeper" and "Light The Wick" through Protect Our Winters as the last step in their carbon reduction strategy.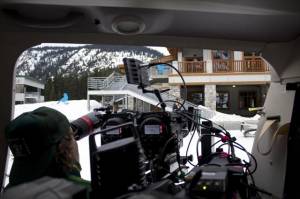 The offsets, which are generated by the permanent conservation of the 2,200 acre Van Eck Forest in Humboldt County, Calif., and follow a carbon offset project accounting and verification process, are registered through the Climate Action Reserve.  With the help of TGR, management of the Van Eck Forest Project is expected to reduce more than 500,000 tons of CO2 emissions over a 100-year period by ensuring that the existing stores in this carbon rich forest are never lost.
Secondly, TGR has also contributed one percent of their annual revenue to POW, verified by nonprofit partner 1% For The Planet.  The contribution to POW will be used to help fund their athlete-led educational program, "Hot Planet/Cool Athletes," which provides a foundation for professional snow sports athletes to talk to high school students about climate change, inspiring them to become future climate leaders.
"We're excited to have the on-going support of TGR, one of our founding partners.  They're taking serious responsibility for their carbon footprint – reducing what they can, offsetting the rest and supporting organizations like POW to educate and mobilize the winter sports community," said Chris Steinkamp, Executive Director of Protect Our Winters.
"We're very conscious of the impact we make on the environment at TGR.  The environment is the basis of our existence.  We continue to evolve our behavior to minimize our impact and to utilize our broad reach to create awareness.  Our partnership with POW helps address these initiatives," said Steve Jones, TGR's Co-Founder.