Las Vegas, NV – The terms "Vegas" and "skiing" are hardly synonymous, but the Las Vegas area's only ski resort appears ready to change that.
Last Friday, officials of the Humoldt-Toiyabe National Forest, within which Las Vegas Ski & Snowboard Resort (LVSSR) operates, granted approval to the resort's $35 million Master Development Plan (MDP) that calls for 50 trails and 10 lifts that will enhance the resort's upper intermediate and advanced ski and ride terrain, increase snowmaking capability and parking, upgrade equipment and add new guest facilities.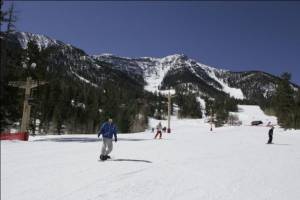 "This is an important moment in history for Las Vegas Ski & Snowboard Resort, as well as the local community," explains Kevin Stickelman, LVSSR's president and general manager. "The approval of our MDP means that in addition to offering the finest outdoor winter experience, LVSSR will be poised to provide year-round outdoor recreation and to serve as a premier special event venue. We will also be creating employment opportunities, as well as attracting tourism by providing a very unique Las Vegas experience."
According to Stickelman, at present the ski area, owned by Utah's Powdr Corp, attracts 70 percent of its business from the two million-resident Las Vegas metro population located 45 miles to the southeast and the remaining 30 percent from out-of-state visitors for whom skiing adds a unique dimension to a Vegas visit. The ski area works with hotels in the community to create lodging partnerships and runs the Ski Vegas Ski Bus, a shuttle service from The Strip operated with the support of the Forest Service by Triple J Tours. Even so, the consultant retained to prepare the resort's MDP, Ecosign of Whistler, British Columbia, Canada admits, "Very few guests arrive at the resort by bus."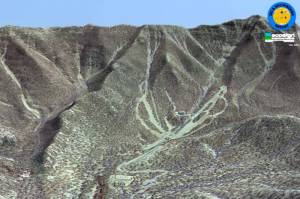 But skier visits are growing. During the past four years marred by recession, visits to LVSSR have grown by a remarkable eight to 10 percent annually. Seventy-five percent of the ski area's lift tickets are currently sold to snowboarders and the Pacific West region has the highest percentage of snowboarders according to the National Ski Areas Association (NSAA). Stickelman believes that with the upgrades, LVSSR could draw as many as 50 percent of its visits from out-of-state visitors to swell the ski area's current numbers from less than 150,000 annually to three times that figure.
Doing so, however, will require that LVSSR appeal to not only Las Vegas residents and vacationers, but also those who currently frequent other nearby skiing destinations in southern California and southern Utah, including Brian Head and the newly reborn Eagle Point.
The MDP is a plan that stretches out 10 to 12 years, but visitors next season will already see the benefit of the plan's approval.
"By opening day, we will have added two yurts that will be home to an expanded youth ski school and beginner programs," says Stickelman, noting that the area will also launch a more comprehensive youth racing program. "Outdoor seating at our base lodge will increase to 5,000 square feet, and we'll offer a ski corral that provides secure ski and snowboard storage."
Other visible changes will involve the quantity of snow at a ski area that depends on snowmaking to cover natural snow volatility that can range from 130 inches, the resort's 30-year average, to 300 inches like it experienced last winter. Last summer, LVSSR increased the capacity of its snowmaking pond to 7.5 million gallons of water—more than four times the supply of the previous pond, which held only 1.6 million gallons.   Thanks to last season's heavy snowfall, the pond is already full.  Snowmaking presently covers 60 percent of the ski area's terrain.
"Immediately, we're tackling the installation of electricity on top of Chair 1, which will run five additional high-efficiency snowmaking guns," Stickelman explains. "This means that on opening day we will be positioned to create top-to-bottom powder on every run. It's exciting, and yet is only the start of the area's transformation."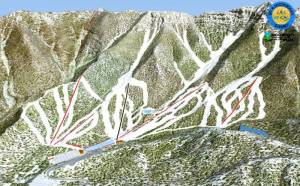 Phase 1 of the MDP calls for a second 30 million-gallon snowmaking reservoir to be constructed west of the ski area's existing terrain.
LVSSR is admittedly a diminutive resort as ski areas go, currently offering only 70 acres of marked runs over 762 vertical feet. By build-out the ski area will encompass 500 acres, including hike-to terrain on the mountain's summit that will be accessed by an established backcountry gate policy that will already be in effect by 2011-12.
Stickelman says that they'll begin cutting new ski runs as soon as this fall.  The first of two new base lodges is currently in the design phase with a tentative construction start date in the spring of 2013.
On-mountain, the first phase of development calls for four new lifts that will expand the ski resort laterally.The resort's present Lift 1, a fixed grip triple, would be retained in its current configuration but the Blackjack, Slot Alley and Grandma's runs would be widened to add downhill capacity that would be further enhanced by two additional runs. Lift two, an old Hall fixed grip double, would be replaced by a detachable quad with a lower, more easily accessed loading terminal. The Rabbit Peak double, which serves LVSSR's beginner terrain would be replaced by a fixed grip quad while the Rabbit Peak run would be widened to accommodate increased beginner traffic. A second conveyor lift would also be added to the slope. A dual platter lift would service new beginner terrain to the east of the existing Rabbit Peak terrain, accessed directly via a new conveyor lift.
In addition, the development's first phase also calls for a new fixed grip quad rising 850 vertical feet to serve seven new advanced runs even further east of the new platter lifts, as well as another new fixed grip quad reaching 9,550 feet to increase the resort's vertical drop to 965 feet by accessing six new novice and intermediate runs to the west of the existing trail network. Skiable acreage would be increased from the current 70 acres to 123.5 acres under the phase 1 plans. A new skier/boarder cross course would also be added to the Chair 1 terrain. All of the new phase 1 terrain covered by snowmaking will also be lit for night skiing.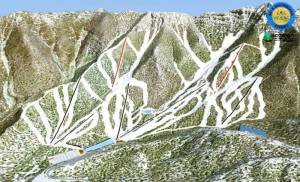 With phase two come two additional lifts that will increase the ski area's vertical drop to 1,655 feet by accessing the 10,235-foot level on Mt. Charleston. The two new lifts, rising 950 and 1,015 vertical feet, respectively, will serve primarily advanced and expert terrain on 11 new runs on the mountain's upper flanks. Those hiking the rest of the way to the 11,918-foot summit will find 2,300 vertical feet of terrain leading back to the base. In fact, the ski area's permit area extends to 11,308 feet on Lee Peak.
The MDP also addresses the resort's need to expand to four-season offerings. Las Vegas is a popular wedding destination, but as Stickelman notes it's impractical to hold an outdoor ceremony in the valley in blistering summer heat. Things are much more comfortable 6,600 feet higher at the base of the ski area. In addition to lift-served mountain biking and zip line tours, the resort's plan calls for a banquet facility that will be able to handle groups of 300 to 400 guests, and a summer venue for outdoor concerts.
Terms of the MDP's acceptance include the ongoing evaluation of individual projects for feasibility and impact in accordance with the National Environmental Policy Act (NEPA). According to Stephanie Phillips, Humoldt-Toiyabe National Forest Service's deputy forest supervisor, the two parties sharing a goal of protecting the environment was a critical factor in the MDP's acceptance.
"Managing land for recreation and for species bio-diversity is challenging, but it's not impossible," says Phillips, who has been working closely with Stickelman and his team on negotiating the MDP.  "The U.S. Forest Service supports users having positive outdoor experiences in the forest. LVSSR provides an opportunity for the public to do so in a safe and supervised environment," she says.
Phillips explains that a shared concern has been the Mt. Charleston blue butterfly, which was recently warranted for listing as an endangered species. "We had to look at the factors of the MDP that impact the blue butterfly and work with LVSSR to create circumstances that support the natural habitat necessary for it to flourish," she says.
"Recent studies clearly show the ski facility as enhancing habitat for the Mt. Charleston blue butterfly
and had it not been for the ski area even existing, this particular species most likely would have disappeared from Lee Canyon long ago," Ecosign wrote in one of the MDP documents.
"Kevin Stickelman and his team have a serious commitment to making a positive impact on the area's natural resources. For example, they have presented solid ideas to restore the area's natural vegetation," says Phillips. "We are confident that by working together, we can achieve our shared goals."