Park City, UT – Park City Mountain Resort is investing over $7 million in improvements for the 2011-12 winter season at the Utah ski and snowboard resort. Major improvements include the addition of a dedicated beginner learning area serviced by two conveyor lifts, replacement of the 3 Kings lift, additional snowmaking and grooming equipment, and a continued dedication to renewable energy sources.
"We remain devoted to creating a premier on mountain experience for all of our guests," said Jenni Smith, President and General Manager of Park City Mountain Resort.  "This season's improvements will allow us to meet the expectations of our guests and provide enjoyable Resort experiences for families, terrain park enthusiasts, and skiers and riders of all abilities."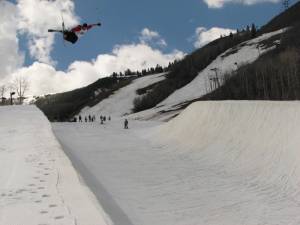 The new beginner zone, located near the resort base area and reserved for students taking ski and snowboard lessons, will include two conveyor lifts that will make it easier for beginner skiers and riders to learn in a private learning area. In addition, the resort will install new RFID access gates at its seven base area lifts (including Town and Silver Star lifts) to provide a completely hands-free experience when accessing those lifts. Following the success of the Alpine Coaster, the resort will broaden its family activity options by adding a new zip line that will start and finish in the resort base area, allowing it to run throughout the winter season.
The 3 Kings Park Area will also see improvements, led by the conversion of 3 Kings Lift from a double chair to a fixed grip triple chair that will double the lift's carrying capacity to the Three Kings Terrain Park. Earthwork is being constructed to the foundation of the resort's 22-foot Eagle Superpipe, which will allow the pipe to open earlier in the season.
Four new snowcats will replace older models this season, resulting in increased productivity to Park City Mountain Resort's grooming operations and reduced emissions. New snowguns will enhance early-season snow while improving productivity and energy-efficiency of the snowmaking system.
Resort guests will also see a new kiosk at the top of the Silverlode lift devoted to educating visitors about the resort's commitment to wind and solar power as viable energy alternatives. Guests are invited to visit the exhibits that include functioning solar panels and a working wind turbine that generates enough energy annually to power a house for five years.
All improvements are scheduled for completion by the resort's scheduled opening day in November.