Copper Mountain, CO – A year after barely missing the podium at the Visa U.S. Freeskiing Grand Prix held at Copper Mountain, U.S. Freeskiing Pro Halfpipe Team member Brita Sigourney, of Carmel, Calif., took its topmost step to kick off the 2011-12 season on Friday ahead of Rose Groenewoud of Canada with the silver and Virginie Faivre from Switzerland in third. Wing Tai Barrymore, of Hailey, Idaho, won the men's with U.S. Freeskiing Pro Torin Yater-Wallace, of Steamboat Springs, Colo., second and Breckenridge, Colo.'s Duncan Adams third as Americans swept the podium.
The FIS World Cup and AFP 5Star event was the first international competition since halfpipe skiing was accepted into the 2014 Olympics last spring.
Sigourney won with a run that went 5, straight air, 9, alley-oop, straight-air, an alley-oop 5, 7 to switch.
"It's such a relief to start the season with a win—it was a surprise!" said Sigourney after her podium appearance. "I always put so much pressure on myself and it's just so nice to get the first competition out of the way and start the season out really nice. I try not to put any expectation on myself—I don't ski well under pressure. I'm always out just to have a good time and if I win, that's a good plus. I'm super stoked to progress and keep the season going really strong."
Groenewoud, the reigning World Champion, proved her mettle by qualifying first under sunny skies with an epic score of 91.2 and some of the highest boosts of the day in the women's field. She followed up that qualification run with a strong best-of-two finals run, but a few small mistakes cost her the win.
"My first hit is definitely the biggest hit for the women's field," said Groenewoud, who attributes the height to the muscle she built on her legs this summer in the gym. With the physical attributes in place, Groenewoud said she now has to put the finishing touches on her mental game. "I just have to work on keeping my amplitude consistent for the rest of my hits, it's definitely all about commitment," she said.
In general Groenewoud was very impressed with the women's field on Friday, which has been steadily improving every year as more and more nations follow Canada's lead by forming a national team. She commented, "I think we're going to see some great things from the women this year."
South Lake Tahoe, Calif.'s Maddie Bowman, only 17 years old, took fourth with a run that went leftside 5, straight air mute, leftside 9, straight air, straight air, rightside 5, 7 to switch.
"I've only been on the snow for a week and a half. The season can't get any better," said Bowman. "That last nine was way better than the first. I landed higher on the wall."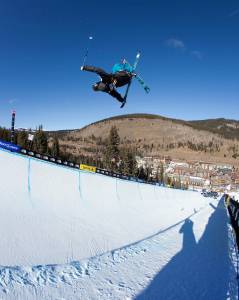 U.S. Pro Team members Devin Logan (West Dover, Vt.) and Jen Hudak (Park City, Utah) placed ninth and twelfth, respectively. Other Canadians in the finals included Edmonton's Keltie Hansen, who finished in 5th at  75.8 and X Games champion Sarah Burke (Squamish, British Columbia), who was 7th after a few bobbles on two otherwise excellent runs at 67.2. Ontario Team member Dara Howell (Hunstville, Ontario) finished 10th at 56.0.
On the men's side, Barrymore was thrilled to come away with Friday's win.
"This is only the beginning of the season and to start it with a win is just awesome. I'm just stoked," said Barrymore. "The pipe was unbelievable. It was a beautiful day…just unbelievable."
Yater-Wallace took second in the men's competition behind Barrymore with a run that featured a double flare, left-side 9 tail grab, right side 9 leading tail grab, alley-oop double flatspin 9, 10 to switch.
"In my second run I grabbed my tricks a little better. And just executed it a little more," he explained. "It was cleaner than my first run and it worked out for me. We had a great cut to the pipe last night and I was feeling great."
Switch specialist Duncan Adams gave the crowd reason to ooooh and aaaaah during his first run of finals as he threw the only switch straight-air in the competition. For his second run Adams added perhaps the tightest grabs of the day in a run that featured a switch 5, switch 7 alley-oop tail and finished with a switch 10. Switzerland's Nils Lauper was the only skier to attempt back-to-back doubles on the day, and he barely missed landing the second one as his last hit during his final run. France's Xavier Bertoni, skiing with a broken left hand, still managed to grab both his alley-oop flat 7 and cork 10 with the injured mitt to finish fourth. Canada's lone skier to make finals was World Champion Mike Riddle, but a bobble on his first run and a fall after the first hit of his second cost him a shot for the podium. He finished the day in 10th position.
U.S. Pro Team members Tucker Perkins (North Hampton, N.H.), David Wise (Reno, Nev.), and Simon Dumont (Bethel, Maine) took fifth, sixth, and ninth, respectively. After landing a final run that went leftside double-cork 12, rightside cork 9, leftside cork 10, switch rightside cork 7, leftside cork 9, alley-oop flatspin 5, Perkins noted that he's looking to add a following tail grab to his double-cork 12 this season.
"In qualifiers the other day I took my worst crash in two years here when [the pipe] was super under vert. But I came out with confidence today. It was a relatively stock run from last year. I've been landing the double cork 12 the past few days, been feeling that," Perkins said.
RESULTS
Men's Halfpipe Final (best of two runs)
1. Wing Tai Barrymore, Hailey, ID, 87.20 (Run 1)
2. Torin Yater-Wallace, Snowmass, CO, 84.60 (Run 2)
3. Duncan Adams, Breckenridge, CO, 83.80 (Run 1)
4. Xavier Bertoni, France, 79.00 (Run 2)
5. Tucker Perkins, North Hampton, NH, 77.40 (Run 5)
6. David Wise, Reno, NV, 75.20 (Run 1)
7. Dan Marion, Windham, ME, 70.00 (Run 1)
8. Jossi Wells, New Zealand, 69.20 (Run 1)
9. Simon Dumont, Bethel, ME, 65.60 (Run 1)
10. Mike Riddle, Canada, 60.80 (Run 1)
11. Nils Lauper, Switzerland, 54.00 (Run 1)
12. Peter Crook, British Virgin Islands, 26.80 (Run 2)
Women's Halfpipe Final (best of two runs)
1. Brita Sigourney, Carmel, CA, 86.60 (Run 2)
2. Rosalind Groenewoud, Canada, 81.40 (Run 1)
3. Virginie Faivre, Switzerland, 77.40 (Run 2)
4. Maddie Bowman, S. Lake Tahoe, CA, 76.00 (Run 2)
5. Keltie Hansen, Canada, 75.80 (Run 1)
6. Manami Mitsuboshi, Japan, 69.80 (Run 2)
7. Sarah Burke, Canada, 67.20 (Run 2)
8. Anais Caradeux, France, 60.60 (Run 1)
9. Devin Logan, West Dover, VT, 57.20 (Run 1)
10. Dara Howell, Canada, 56.00 (Run 2)
11. Emi Matsuura, Japan, 45.40 (Run 2)
12. Jen Hudak, Park City, UT, 26.60 (Run 1)