Copper Mountain, CO – With a host of new action sports events on the docket for the 2014 Olympics just two years away, the U.S. Ski and Snowboard Association (USSA) formally announced 2011-12 U.S. Snowboarding and U.S. Freeskiing teams Friday from its training facility at the Sprint U.S. Grand Prix at Copper.
The announcement includes first year teams in slopestyle snowboarding and skiing, as well as halfpipe skiing – all the result of decisions by the International Olympic Committee (IOC) earlier this year to bring the events into the 2014 Sochi Olympics. The USSA named 21 athletes to U.S. Snowboarding halfpipe and slopestyle teams, and 17 to U.S. Freeskiing.
Halfpipe athletes have had outstanding training in Copper's early-opening 22-foot pipe preparing for the Sprint U.S. Grand Prix opener this weekend at the Colorado resort.
First Slopestyle Pro Team Named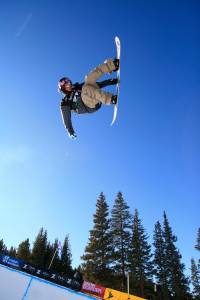 As a part of the Copper announcement, the inaugural U.S. Snowboarding Slopestyle Snowboarding Pro Team was named. Olympic halfpipe bronze medalist and multi-event threat Scotty Lago (Seabrook, N.H.), along with Sprint U.S. Grand Prix and Euro X Games winner Chas Guldemond (Reno, Nev.), were among those selected. Holding the coaching reins for the 2012 slopestyle crew is former U.S. Snowboarding athlete Bill Enos, who comes to the team from Waterville Valley, N.H.
"With the inclusion of slopestyle snowboarding in the 2014 Olympics in Sochi, naming this team is a natural step for us," said U.S. Snowboarding and U.S. Freeskiing Director Jeremy Forster. "We're supporting a great group of Olympic medal potential athletes and we look forward to working with this amazing group of riders as we head toward Sochi."
One of the most recent sports to be added to the winter Olympic lineup, slopestyle snowboarding features a stylized course featuring kickers, rails, boxes and other freestyle features that riders will incorporate into their runs.
"There have been so many huge developments in slopestyle snowboarding in the past year. The riders have been taking the sport to new levels, the IOC gave the nod to the Sochi 2014 Olympic Games, and now we are naming this group of super-talented riders to the first ever U.S. Snowboarding Slopestyle Pro Team," said U.S. Snowboarding and U.S. Freeskiing Halfpipe and Slopestyle Head Coach Mike Jankowski. "These athletes are paving the golden road for U.S. Snowboarding into the future."
According to Guldemond, being named to the team means more opportunities for him to take his riding to that next level. "It's something new for the organization. It's a really exciting change and shows the growth in snowboarding," said Guldemond. "The benefits U.S. Snowboarding can provide for me will help take my snowboarding to the next level, as well as the other riders. Having a national team will allow riders to progress that much more."
The team roster includes a group of athletes known for their slope abilities including Dew Tour slopestyle champion Sage Kotsenburg (Park City, Utah), X Games silver medalist Eric Willett (Breckenridge, Colo.) and 14-year-old slopestyle phenom Ty Walker (Stowe, Vt.) on the women's side.
Longtime U.S. Snowboarding partner, Burton, has signed on to support the U.S. Snowboarding Slopestyle Pro Team by providing official uniforming for the Team's inaugural inclusion in the 2014 Olympic Winter Games in Sochi.
The season kicks off for slopestyle snowboarding this Thursday when the Winter Dew Tour touches down in Breckenridge, Colo. Key events in the season including the Sprint U.S. Grand Prix in Mammoth Mountain, Calif., X Games, Dew Tour and the Feb. 10-19 TTR World Championships in Oslo, Norway.
Olympic Medalists Head Halfpipe Pro Team
Four Olympic medalists headline the U.S. Snowboarding Halfpipe Pro Team. In addition to his slopestyle team spot, Olympic halfpipe bronze medalist Lago heads a talented U.S. men's halfpipe team joined by fellow 2010 Olympian Greg Bretz (Mammoth Mountain, Calif.). The U.S. women boast one of the strongest groups in snowboarding history with Olympic and X Games gold medalist Kelly Clark (West Dover, Vt.), four-time X Games gold medalist and Olympic silver medalist Gretchen Bleiler (Aspen, Colo.) and Olympic and X Games champion Hannah Teter leading the way. Clark was the dominant force in the sport last season, taking down all the major titles.
Joining them for her second year on the Pro Team is 2010 Euro X champ Kaitlyn Farrington (Sun Valley, Idaho), who picked up an opening win in the Copper Grand Prix a year ago as well as second in X Games, plus two-time Olympian Elena Hight. Matt Ladley (Steamboat Springs, Colo.) moves up from Rookie to Pro Team following his big win in the Sprint U.S. Grand Prix in Mammoth Mountain.
The Pro Team opens its season in the Sprint U.S. Grand Prix this weekend. In addition to the Grand Prix, the comp lineup for the season will be the Dew Tour, X Games, U.S. Open and other major international competitions.
"There's an amazing depth of talent on this team with six Olympic medals," said Jankowski. "We've had great early season training here at Copper and are anxious to get into the pipe for competition this weekend."
The vets are not the only snowboarders taking to the pipe as the Rookie Team was also announced led by Benji Farrow (Ludlow, Vt.) who was recently fifth in a FIS World Cup. Spencer Shaw (Stratton Mountain, Vt.), who took second at the 2011 Mammoth Grand Prix and Taylor Gold (Steamboat Springs, Colo.), second place in the 2011 Junior Worlds halfpipe, also highlight the team. The women's squad is led by 15-year old Maddy Schaffrick (Steamboat Springs, Colo.), who scored a 2009 Grand Prix podium at the age of 13 along with Serena Shaw (Stratton Mountain, Vt.).
Veteran Pro Team halfpipe coach Rick Bower, a former World Champion, will be joined by Olympian Tommy Czeschin this season. Spencer Tamblyn will return to coach the Rookie Team.
The U.S. Snowboarding Snowboardcross Team will be named next week at Telluride in advance of the USANA Snowboardcross Cup.
U.S. Freeskiing Teams Confirmed
The USSA also confirmed the halfpipe and slopestyle skiing teams it nominated earlier this year as a result of the IOC decision.
Nine athletes were confirmed on the U.S. Freeskiing Halfpipe Pro Team including X Games champions Jen Hudak (Salt Lake City, Utah) and Simon Dumont (Bethel, Maine). The IOC gave the green light to halfpipe skiing last April.
In slopestyle, 10 athletes were confirmed to the U.S. Freeskiing Slopestyle Pro Team. The inaugural team is headlined by AFP Slopestyle Tour Champion Bobby Brown (Denver, Colo.), World Championship gold medalist Alex Schlopy (Park City, Utah), World Championship bronze medalist Keri Herman (Breckenridge, Colo.), X Games gold medalist Sammy Carlson (Hood River, Ore.), Dew Tour winner Tom Wallisch (Salt Lake City, Utah) and reigning U.S. halfpipe champ Devin Logan (West Dover, Vt.).
Slopestyle skiing was incorporated as an Olympic sport this past July. Athletes are judged on runs in which they perform tricks on a series of jumps, rails, boxes and other features of a manmade slopestyle course.
Former pro freeskiing athletes Andy Woods and Evan Raps have been named coaches. Woods will head the Halfpipe Pro Team with X Games medalist Evan Raps leading slopestyle.
The Halfpipe Pro Team kicked off its season at the Visa U.S. Halfpipe Grand Prix in Copper last weekend, with the Slopestyle Pro Team on course this week at the opening Dew Tour in Breckenridge.
The North Face, a charter partner of the U.S. Freeskiing program, will also outfit U.S. Freeskiing's halfpipe and slopestyle teams for their 2014 Olympic debut.
U.S. SNOWBOARDING ROSTERS
Mike Jankowski, Head U.S. Snowboarding and U.S. Freeskiing Coach
*Denotes Olympian
2012 U.S. Snowboarding Slopestyle Pro Team – Bill Enos Coach
(birthdate; hometown)
Men
Chas Guldemond (4/22/1987; Reno, NV)
Sage Kotsenburg (7/27/1993; Park City, UT)
Scotty Lago (11/12/1987; Seabrook, NH)
Eric Willett (1/2/1988; Breckenridge, CO)
Women
Ty Walker (3/3/1997; Stowe, VT)
U.S. Snowboarding Halfpipe Pro Team – Rick Bower and Tommy Czeschin, Coaches
Men
Greg Bretz (12/19/1990; Mammoth Mountain, CA)*
Matt Ladley (05/17/1991; Steamboat Springs, CO)
Scotty Lago (11/12/1987; Seabrook, NH)*
Women
Gretchen Bleiler (04/10/1981; Aspen, CO)*
Kelly Clark (07/26/1983; West Dover, VT)*
Kaitlyn Farrington (12/18/1989; Sun Valley, ID)
Elena Hight (08/17/1989; South Lake Tahoe, CA)*
Ellery Hollingsworth (09/02/1991; Darien, CT)
Hannah Teter (01/27/1987; Belmont, VT)*
U.S. Snowboarding Halfpipe Rookie Team – Spencer Tamblyn, Coach
Men
Paul Brichta (08/24/1991; Burnsville, MN)
Brett Esser (10/12/1992; Silverthorne, CO)
Benji Farrow (03/08/1992; Mt. Holly, VT)
Ben Ferguson (01/21/1995; Bend, OR)
Taylor Gold (11/17/1993; Steamboat Springs, CO)
Spencer Shaw (01/29/1993; Stratton Mountain, VT)
Women
Maddy Schaffrick (04/29/1994; Steamboat Springs, CO)
Serena Shaw (01/22/1995; Stratton Mountain, VT)
U.S. FREESKIING ROSTERS
Mike Jankowski, Head U.S. Snowboarding and U.S. Freeskiing Coach
2012 U.S. Freeskiing Halfpipe Pro Team – Andy Woods, Coach
Men
Simon Dumont (07/09/1986; Bethel, ME)
David Wise (06/30/1990; Reno, NV)
Torin Yater-Wallace (12/02/1995; Snowmass, CO)
Tucker Perkins (01/05/1991; North Hampton, NH)
Gus Kenworthy (10/01/1991; Telluride, CO)
Women
Devin Logan (02/17/1993; West Dover, VT)
Jen Hudak (09/07/1986; Park City, UT)
Jess Reedy (06/04/1983; Avon, CO)
Brita Sigourney (01/17/1990; Carmel, CA)
2012 U.S. Freeskiing Slopestyle Pro Team  – Evan Raps, Coach
(birthdate; hometown)
Men
Bobby Brown (06/05/1991; Denver, CO)
Sammy Carlson (01/11/1989; Hood River, OR)
Gus Kenworthy (10/01/1991; Telluride, CO)
Alex Schlopy (07/25/1992; Park City, UT)
Tom Wallisch (07/22/1987; Salt Lake City, UT)
Women
Ashley Battersby (01/27/1988; Park City, UT)
Grete Eliassen (09/19/1986; Salt Lake City, UT)
Keri Herman (08/16/1982; Breckenridge, CO)
Devin Logan (02/17/1993; West Dover, VT)
Meg Olenick (12/30/1987 Aspen, CO)