Salt Lake City, UT – Remember the days when listening to music while on the go meant carrying around another device separate from your phone? They weren't that long ago. That same consolidation of portable devices may soon consume the hand-held GPS receiver, too, as gigantic strides are being made in portable smartphone applications, and in smartphone hardware and operating systems.
A number of topographic mapping apps aimed at the backcountry user are already available for most smartphones and we recently enjoyed the opportunity to test and use our new favorite, ViewRanger GPS.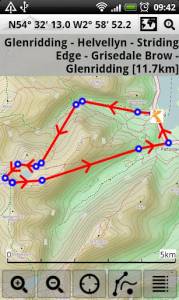 Developed in the U.K. and already popular with European users, ViewRanger is now extending its reach to North America. With cutting-edge features including a companion web portal, real-time buddy tracking, available guidebook excerpts and social media integration to complement the requisite topographic maps and route finding, ViewRanger is easily the most full-featured topographic mapping app that we've used.
ViewRanger costs North American users a one-time fee of $14.99 that includes everything but guidebook routes currently provided through Menasha Press, Wilderness Press and other expert sources, as well as ViewRanger users themselves. User-submitted routes are free of charge, while those from expert sources are priced on an iTunes model of $1 each. No longer does a backcountry skier, hiker, backpacker or mountain biker have to buy the whole guidebook. Instead, they can purchase for a reduced price only that information that they need.
Those guided routes, as well as user-created routes, waypoints, maps and more can be mapped out in advance on a phone, a tablet or with a web app via an account created at My.ViewRanger.com and synchronized between the three devices. By using ViewRanger, there's no longer any need to plan your backcountry travel on a tiny smartphone screen, yet all of your planning is available at your fingertips while in the field.
In the U.S., ViewRanger uses either shaded vector-based topographic maps or image-based USGS topo quads, both with popular backcountry routes superimposed upon them. For Canada and a growing number of other countries, ViewRanger supplies full topographic mapping from Geosciences agencies. In these places, ViewRanger can be upgraded to run detailed premium maps. All ViewRanger editions come with free unlimited access to a wide range of global web based mapping layers from street and terrain to aerial photo imagery that the company calls "web maps." Importantly, map layers can be stored on your phone for use outside of cellular coverage areas or to avoid roaming charges while traveling outside a user's normal service area.
ViewRanger creates map tracks as you move that can be later downloaded to My.ViewRanger.com or exported as a GPX file to be used with Google Earth or other computer-based mapping software. Likewise, GPX routes created elsewhere can be imported to display within ViewRanger. Social media integration allows the user to upload trip info to Facebook, or upload geo-tagged photographs taken with the device to Picasa or Flickr to create Trip Journals that can be shared via Facebook or Twitter.
Waypoint navigation keeps the user on course and a trip computer displays any of 30 metrics including estimated time of arrival, altitude, distance traveled, speed and more, all of which can of course be displayed in either metric or imperial units, and a graphical representation of trip metrics is available as well. While on the move, maps can be oriented with either a head-up or a north-up view. A built-in gazeteer lets you search for geographic landmarks right from the device, and a separate download is available to augment GPS satellites' notoriously poor altitude calculation with altitude data derived from topographic maps.
One of ViewRanger's more unique features is real-time friend location tracking via what the company calls "BuddyBeacon," the application's only feature that requires active cell carrier service while in the field. Friends can locate each other view their mobile device running ViewRanger or via the My.ViewRanger.com web portal. Privacy advocates can rest assured that a user needs to both enable BuddyBeacon and share a four-digit PIN with friends to whom they wish to provide location information.
ViewRanger GPS is available for iOS (iPhone and iPad), and the Android and Symbian operating systems. More information, including a complete list of compatible devices is available at www.ViewRanger.com, while the application itself is available for download at your mobile device's app catalog site.
That said, ViewRanger's U.S. user base is still somewhat limited but growing rapidly, which likewise limits the selection of user-contributed routes. For various reasons — battery life, potential device failure, weather resistance and more — a smartphone isn't yet completely ready to replace a handheld GPS and a paper copy of a topo map. But it's getting closer by the day.