Ushuaia, Argentina – Antarctica is one of tourism's final frontiers.  The first tourist cruise to the frozen continent took place in 1969 but tourism remained rare there until the 1990's.  Nearly 7,000 tourists landed in Antarctica in 1992-93, growing to 13,900 in 1999-2000 and peaking at 33,000 in 2007-08, although economic conditions have limited tourist landings to about 20,000 over each of the past three seasons.  Thanks to strict environmental regulation by the International Association of Antarctic Tour Operators, no ship is allowed to land more than 100 people in Antarctica at a time.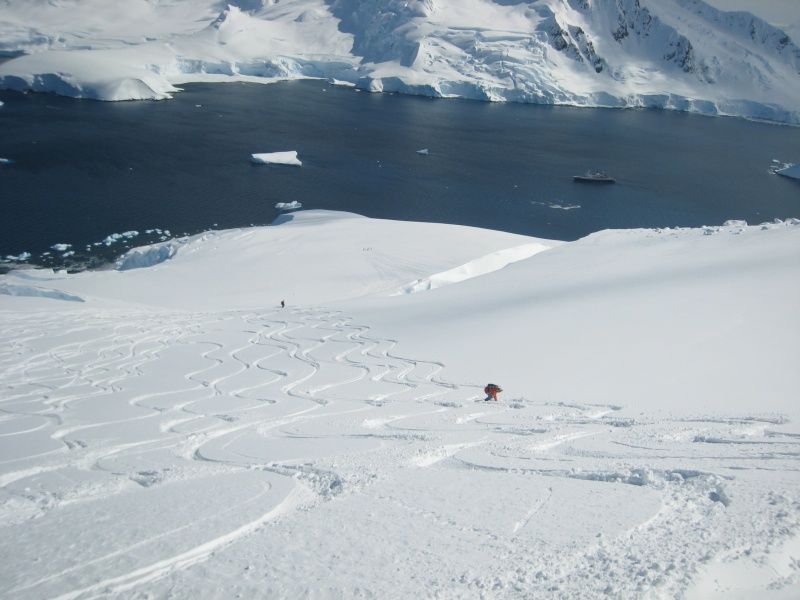 Antarctic itineraries for any large cruise companies like Princess or Royal Caribbean are thus for scenic cruising only.  Cruises with landings occur on small expedition ships only, most of which sail from Ushuaia, Argentina, at the southern tip of South America. They arrive at the Antarctic Peninsula following a two-day crossing of the famed Drake Passage.  The minimum cruise duration lasts about 10 days at a typical cost of around $7,000 per person.  Cruises from Australia or New Zealand, or to other parts of Antarctica, are longer and accordingly more expensive.  Land-based camping in Antarctica is rare and costs upward of $30,000 for a week.
I had long considered one of these cruises, but the skier in me longed for the privilege to schuss Antarctic slopes. Doug Stoup's Ice Axe Expeditions  is the first company to make this dream come true for recreational skiers.  Stoup has visited Antarctica most years since 2000, when he and Stephen Koch made the first ski descent of Antarctica's 16,050-foot Vinson Massif.
By 2008 Stoup felt sufficiently confident to charter a ship with guides and clients, which was ultimately scrubbed by the ship's mechanical issues. He tried again in 2009 with a charter through Norwalk, Conn.-based Quark Expeditions aboard the 330-foot Clipper Adventurer which was a resounding success, and featured in the 2010 Warren Miller Entertainment film Wintervention, this year's Powderwhore flick Choose Your Adventure and other ski media.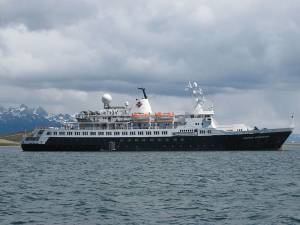 Alpine Touring for Resort Skiers
In consideration of another Ice Axe cruise in November of 2011 I chatted extensively with Karyn Stanley, Stoup's assistant who handles most of the company's accounting and logistics issues.  While I had been skiing for 35 years I had only spent seven days in the backcountry, with just one of them on alpine touring equipment.  Stanley explained that the 2009 trip included a wide range of clients, including 30 who did not ski at all.  Skiers are grouped just four to each guide, allowing close compatibility in terms of ability, experience and fitness.  This assuaged my concerns, especially with a full ski season in advance of the trip to acquire equipment and experience, and I signed up along with my New Yorker friend Liz O'Mara.
In preparation for the trip Ice Axe recommended a guided tour of California's Mount Shasta in June that reached what was for me a record ski altitude of 13,200 feet before weather forced us back down to ski well timed corn snow just after noon.  I learned to use ski crampons and then to hike with ice axe and boot crampons.  Later at the trailhead guide Ben Mitchell showed us how to set a snow anchor to secure anyone who might fall into a crevasse on a glacier.  Since some of the Antarctic skiing is on glaciers, some of which have never been skied before, all guests must buy harnesses to ascend safely connected by a rope.  A huge snow season in California in 2011 also afforded two additional days practicing with the touring gear during the summer near Mammoth Mountain.
Trip Introduction
Liz and I spent a few days in Buenos Aires before flying to Ushuaia in Tierra del Fuego on Nov. 7 along with most other clients scheduled for the Ice Axe trip.  Guides recommended a training day in Ushuaia prior to setting sail. A short road from town leads to a refugio and short chairlift at 1,300 feet. From there we started hiking at 2 p.m. 800 vertical feet to the receding spring snow line.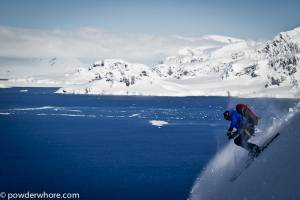 Tierra del Fuego lived up to its rainy reputation, drizzling upon us throughout most of the walk up to the snow.  Liz and I were grouped with Tom from Chico, Calif., and Norbert from Perth, Australia, under the guidance of Jackson Hole, Wyo.'s Forrest McCarthy, who wanted us to become familiar with using ropes and harnesses before any glacier travel in Antarctica.  We were thus roped up even though we were well below the permanent snow of the Martial Glacier.  The idea was to get used to climbing in a group at the same pace, and for McCarthy to check out our use of AT gear as none of us had that much experience.  Kick turns on switchbacks were a challenge for some as they had been for me on Shasta in June, but overall we were a compatible climbing group, important if you're connected with ropes and have to maintain spacing.
The drizzle continued intermittently and finally turned to snow at 3,000 feet, accompanied by some wind.  Interesting chutes loomed above us but we stopped as it was getting late and our gloves, packs and more were all soaked from the rain.  I ventured a couple of turns on the descent in what looked like untracked powder, but it was like thick paste so I retreated to the skier packed snow.  With more than 50 cruise passengers training on the snow most of it was packed and not any more difficult than what I had skied during the summer.  The rest of the group skied more deliberately as they were getting used to the touring skis.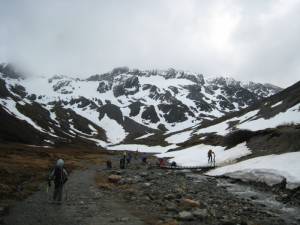 Gear needed a thorough drying back at the hotel before repacking for the cruise departure the next morning. We cranked up the heat and left a window open, drying everything throughly except for some gloves that we stashed in a mesh pocket to finish drying aboard the ship after touring the Tierra del Fuego National Park the following morning. By 6 p.m. the Clipper Adventurer set sail, cruising serenely through dinner through the three-hour passage of the Beagle Channel and on into the open ocean.
While the Drake Passage is famed for its nasty weather, our two-day crossing toward Antarctica featured swells and wind that were both less than I had seen on one day of a 2005 Caribbean cruise through a dissipated hurricane. That ship, however, was a huge vessel with stabilizers, so the Clipper Adventurer and its 127 passengers rocked and rolled far more.  Aware of the Drake Passage's reputation I used a prescription patch behind the ear and had no motion issues, but found the side effect of dry mouth mildly annoying.  The biggest challenge was in the dining room, where we learned to enjoy only one plate of food at a time. Unattended plates easily slid off the table and the waiters soon learned not to stack dishes on carts.
Strong tail winds on Nov. 10 brought us to the South Shetland Islands by dinner time on Nov. 11.  Landings usually start here but weather forecasts showed that the winds would continue unabated, so plans were changed and we continued cruising through the night to a point further south and away from the low pressure dominating the Shetlands.
Wiencke Island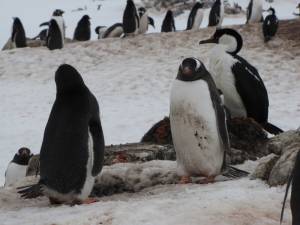 Weather at potential ski sites remained poor on the morning of Nov. 12, so we made a tourist stop at the Port Lockroy British base on tiny Gaudier Island instead.  Port Lockroy was a research station from 1944 to 1962, then reopened as a tourist museum in 1996.
We also visited a penguin rookery on nearby Wiencke Island.  Snow still covered the island right to the shoreline in the early season and some of the Gentoo penguins were busy carrying pebbles from the beach to rocky outcrops to form nests.  A few cormorants mixed with the penguins, similar color and size to the Gentoos but with the ability to fly and long necks to construct their nests from seaweed.  A partially buried whale skeleton and a snoozing Weddell seal rounded out the island's inhabitants.
Following a late lunch on board the ship moved around to the opposite side of Wiencke Island and found wind sufficiently subsided to allow for our first ski landing.  Skiing is the trip's priority and by 6 p.m. we were finally able to put ashore.  We skinned for somewhat more than an hour and stopped when a cloud descended upon us.  A breakable crust rendered skiing more difficult than the mellow pitch would imply. McCarthy even fell a couple of times even though he skis backcountry nearly exclusively.  Careful rounded turns would usually, but not always, avoid breaking through. A long traverse below the fog bank led to a final pitch above the landing zone.  McCarthy went back to retrieve Liz, who was waiting with another group and hadn't seen us take the long traverse.  The late start and difficult snow meant that we would ski only one run of 900 vertical feet.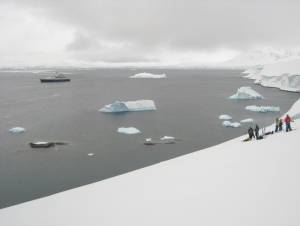 Paradise Bay
On Nov. 13 I was paired with a different group led by Jackson, Wyo. guide Dan Starr. Greg from Philly and Brian, a splitboarder from Calgary rounded out our team. Ice Axe guides have a more complex job forming groups than on snowcat and heli trips as ski ability is secondary to climbing ability and fitness, and in some cases those abilities are divergent.
We had finally arrived on the Antarctica mainland with a landing at an abandoned Argentine station about 2 p.m.  The Gentoo penguin colony was huge and worthy of some attention before we started skinning, with many swimming in the bay near our landing spot.  We especially enjoyed what someone called "Penguin D-Day" as numerous Gentoos came out of the water at the same time, "storming the beach."
A view of the ship and mountains reflected in the bay dominated our time spent skinning. We passed Liz' new group and stopped at the base of a rock about 1,100 feet up, observing another group ascending toward the same spot.  We started skiing just before the next group arrived.  The snow was "cream cheese" powder and skied very nicely as long as you avoided prior skiers' tracks.  After we hit the flats, we put once again donned skins and ascended a short ridge at looker's right as Andrew McLean's group skied past from higher up.  The ridge rolled over into a steeper line but skiing was a bit tricky as that area had been heavily tracked. We cruised down the more mellow slope toward the landing, skiing just above a line of marching penguins.  Total vertical on the day was 1,480 feet.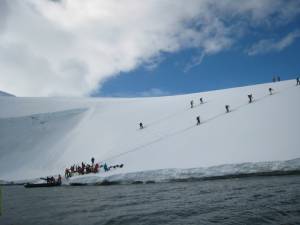 Chiriguano Bay, Brabant Island
The following day I was once again in Starr's group as we made a fairly early landing at 9 a.m. on our sunniest day in Antarctica.  At the zodiac landing Dan readied the ropes that we would use on this ascent through terrain not previously skied.  The lower section was gradual but eventually steepened, requiring switchbacks higher up. Nearing the top we observed one of the first guides descending skier's right through a nice spray of wind-affected powder.
Liz, meanwhile, had been slotted with a couple of other less experienced women and guide Todd Offenbacher from Tahoe, who wanted to make a recon run to check out the snow before leading the women back after lunch.  Liz appealed to Points North Heliski owner Kevin Quinn and she was allowed to join Offenbacher on his reconnaissance mission.  I was pleased to see her arrive at the 1,500 foot summit with Offenbacher shortly after our group.
Liz and Todd descended first.  The snow was not as light as the first group's but it was still quite good.  It gets a bit grabbier as the pitch mellows and I experience my only Antarctic crash.  Liz and Todd headed back to the ship while our group put back on our skins to ascend the next bowl to looker's right.  Here Starr found a way for us to put some tracks down the fluffiest snow at skier's right, the highlight run of the trip through nice powder and weather with fantastic views.  On Victoria Peak across the bay Andrew McLean led some of the most advanced groups, skiing slopes over 40 degrees where icy upper sections forced them to ski roped until the snow improved.
We skied 2,600 vertical feet by 2 p.m. I was slower on the second ascent but nonetheless had sufficient energy left to enjoy more excellent powder of the second run. That prompted me to decline the option to return for more skiing after lunch, when Starr led Brian and Greg out to Victoria's lower slopes, now shaded and crusted after a morning of sun. Liz had an early lunch and Quinn took her group back out for an afternoon powder lesson on a slope adjacent to where we skied with excellent conditions.  Liz had rented skis that turned out to be very soft, fine on this day but a touring ski insufficiently stiff for the unpredictable range of snow conditions to be found in Antarctica.
Charlotte Bay
On Nov. 15 Liz and I were paired with Utah guide Kim Havell and Londoner Gordon and his Chilean wife Ita.  A notch to looker's left of a 1,500-foot rocky peak was our ski objective.  Chinstrap penguins lingered at the landing, feistier than the Gentoos, and a couple of them squabble while the rest sit on a rock outcropping.  Other groups ascend via a different route to looker's right on the far side of a crevasse.  McCarthy later displayed pictures exploring the inside of the crevasse.
Access to this notch proved difficult. Havell set a line slightly lower than the established skin track. It was steep and she recommended the highest heel elevator on our AT bindings as she reached a lip at the notch. Liz had to sprawl over it before Havell cut the lip for the rest of us to skin through.  Looking off the back of the notch, the slope dropped steeply to a bay filled with icebergs.
The hardpacked snow on the steeper first pitch didn't last long, yielding to smooth windpacked powder on the intermediate-pitched lower section that skied almost liked a groomed run lasting right to the pickup point by the chinstrap penguins.
Touring by zodiac on our way back to the ship we spotted a crabeater seal. Starr's group spotted another seal at a distance as it was knocked off its ice floe for dinner by a group of orcas who then came by to inspect their inflatable boat.
Later that afternoon was the time for the "polar plunge" partaken by about 30 percent of the passengers on Quark's cruises but more like 60 percent on Ice Axe's ski cruises.   I dove into the ocean from the zodiac loading platform, but some others launched from the fourth floor deck.
King George Island, South Shetlands
After four days spent along the Antarctic Peninsula between 64 and 65 degrees south latitude we sailed back to the South Shetland Islands at around latitude 62 south overnight. Weather there remained very foggy, and as our ship sailed into Admiralty Bay Stoup and other guides who had visited there in 2009 were disappointed to see the couloirs they had skied stripped nearly bare of snow. They thus decided on a quick morning ski of no more than 90 minutes before moving the ship at midday to look for a better spot.
I was once again grouped with Havell and the rest of our team from the day before. We skinned 600 vertical feet to some rocks buffeted by a gusting wind. On our ascent we observed an icy subsurface in exposed areas but wind depositing sift in others that made for an enjoyable, albeit short run.
Fog continued after lunch so many remained on the ship through the afternoon. This mixed our groups, and Gordon, Ita, Liz and I headed out with guide C. J. Ware from Tahoe.  A Weddell seal lounged at the landing, which was unusually devoid of snow, as several penguins took particular interest in our life jackets.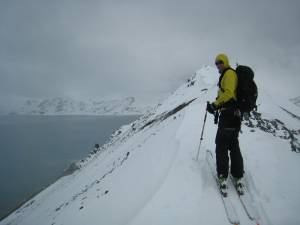 Several steep ski objectives loom above and close by our landing. Ware skied here in 2009 and knew a skin route up the gradual back sides of these peaks, thereafter following a ridge line to the top. We arrived at the summit before another group that included two members of my Shasta training trip who bootpacked up one of the steeper lines with the aid of crampons and ice axes.  They determined that the steep lines were too icy to ski safely so we skied down the ridge line toward the bay after taking some pictures at the summit.  The snow was heavy powder over an icy base that became more exposed with each group skiing it.
I stayed high to enable a long traverse back to our landing site, checking out the mix of Gentoo and chinstrap penguins upon my arrival.  Liz deliberately skied directly to the beach so that she could walk along the gravel and inspect the various icebergs stranded there.  Afternoon vertical skied was 680 feet, 1,280 total for the day.
This was our last night in sheltered Antarctic waters, so they held the "Black and White Costume Party" even though we had one more ski day.  The guides presented a few awards at the party, including the "Most Improved Award" to Liz.
Livingston Island, South Shetlands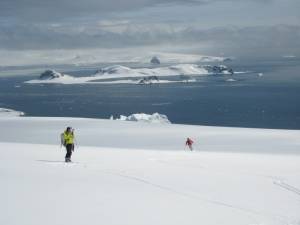 I was paired again with McCarthy for our final day on skis in Antarctica on Nov. 17. The sun shone brightly at 9 a.m., but our landing sites were limited. Ours was placed fairly far out in the bay to work our way back to a closer pickup over two to three runs. A bit of a swell hitting the beach kept our first attempt at landing from sticking as our zodiac is broadsided by a wave high enough to hit me on the shoulder as I'm sitting in the back. On the next try we perfected the landing and scrambled out.
Fellow passenger Norbert was worn down some after six days on snow, but was still hanging in there.  Passenger Tom and I are still similar in not only climbing ability, but  also now in skiing ability now that he's been on the touring skis for seven days.  The two skiers added by McCarthy in my absence, Jerry and Jen, are younger and a bit faster climbers, forcing me to take fewer pictures this day so as to not hold people up.
The sun blazes hot through the first ascent and it's not long before I'm down to base layers and spring gloves. Wind for the last 100 vertical feet, however, forces me to layer back up again. This upper section was stripped to hardpack and McCarthy indicated that we would have had to use ski crampons if we had ascended any further.  After Mammoth and Shasta I know that I could have cruised up this section with ski crampons, but I took it very deliberately without them. Below the short icy section the snow skied beautifully, a thin soft layer over a packed but not icy subsurface.  In the distance we could see Half Moon Island with another cruise ship in its bay as its passengers visited a penguin rookery located there.
McCarthy spotted for our second run a steep face of 35 to 40 degrees climbed by McLean's group. It would require a boot pack with crampons and ice axe, much steeper than Shasta but with a softer snow surface. McCarthy kicked in a bootpack for us, and I was nevertheless glad to have had the prior experience.  Norbert has never done this before and encountered some difficulty.  I climbed behind him and was thus not too tired when we arrived at the top.
It was windy up there, of course, and no longer sunny.  By the time I reached the top McLean had skied down a tight couloir and the last of his group were dropping in to very loud turns. I was optimistic that we'd have more soft snow atop the same icy subsurface on the broader face that we planned to ski.
Tom, Jerry and Jen were all gone by the time I geared up because McCarthy had to help Norbert up. I traversed in to see a lot of scraped snow on the 40-degree pitch. It was one of those situations where you think a lot about that first turn but afterward the rest come progressively easier.  Tom later said for what it's worth, that they all felt that way.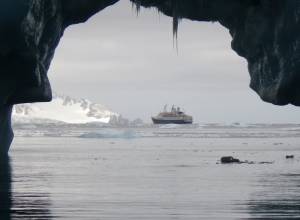 Norbert, meanwhile, was beaten down by the bootpack and lacked substantial experience on this kind of snow and terrain, McCarthy roped him up for security as he sideslipped down the steep upper part to where he was sufficiently comfortable to commence skiing.  Lower down we all skied a broad intermediate pitched slope together through smooth packed powder.  A short skin over a gentle ridge brought us to another ski down to our pick-up with  2,270 vertical for the day, 9,710 feet total for me in Antarctica.
Liz spent her day with Havell and a few other women who skinned from our pickup point to a rock outcropping and skied two runs, both with excellent snow conditions, before finishing lunch well before our group returned to the ship at 2:30 p.m.  I declined to join Liz immediately on a zodiac tour of the bay, opting instead to rest a bit before a later trip to the penguins on Half Moon Island after the other ship moved out. The other cruise ship never moved out, however, so we were not allowed to go to the island and I missed out on Liz' tour that found some intriguingly shaped icebergs and a seal leaving its floe for a swim.  She was freezing when she got back to the ship, as you need to dress much more warmly for zodiac tours than for skiing.
Return to Civilization and the "Drake Shake"
Mike Sahlman captures some of the huge waves during the crossing of the Drake Passage aboard the Clipper Adventurer. (video: YouTube/Noah Howell/powderwhore.com)
Most Antarctic cruises get one rough day out of the four spent in the open ocean during the two crossings.  Ours occurred on the last day, Nov. 19, with winds averaging 95 knots and 20- to 30-foot waves that often broke over the bow of the Clipper Adventurer.  Quark personnel, who spend the whole Antarctic cruising season in these seas, said it was one of the worst days they have ever encountered in the Drake Passage.  People usually lie low in their cabins when it's like that, but we're of course skiers, adrenaline junkies who want to see what's happening.  Quark had to round up the people on deck and insist that no one go outside. Many of us ventured onto the bridge after breakfast to view the scene and shoot still photos and video.
That was before a massive 60-foot rogue wave struck at around 11 a.m. Most who were in the bridge at the time were thrown to the floor, even those who were sitting down. Liz and I were in the fourth floor library trying to use the computer.  The large table we were sitting at swung out into the middle of the room where Liz' chair hit a fixed table and fell to the floor. My chair, with me in it, was thrown over half the width of the ship.  The bruises I sustained, however, couldn't interfere with our hikes over the next 10 days in Patagonia.  A waiter's injury kept the dining room closed for lunch, but the ship re-entered the Beagle Channel by 6 p.m. so dinner was served normally.
 If You Go
Only six non-skiers joined the passengers on Ice Axe's trip to Antarctica in 2011 that offered an immersion experience into the world of elite backcountry ski culture. Skiers with only resort experience, however, should not be deterred as evidenced by Liz' rewarding experience. It's no more strenuous to climb intermediate slopes on alpine touring gear than it is to climb hiking trails in the summer.  All that is required is an adventurous attitude and reasonable level of fitness.  I nevertheless benefited from a year's lead time to demo equipment and get four days of practice before the trip.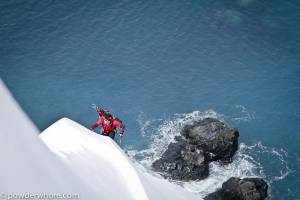 To ski steeper terrain you need to climb with skis on your back, crampons on your boots and an ice axe in your hand.  For this more fitness and experience is required.  Guides must be confident in their clients in such a remote environment.  More experienced riders can climb and ski about 20,000 vertical in the six days in Antarctica, about twice what I did.
The Antarctic Peninsula and offshore islands are nearly all mountainous and all have a maritime climate.  The late spring temperatures range from 20 to 40ºF.  We had a day and a half of sun out of six on our trip.  Skiers who had been on the 2009 trip said that it was unusually sunny then, but that we had better snow conditions in 2011.  The key weather factor is wind, which can make the sea too rough for zodiac landings.  It was also windier near the top of ridgelines and tended to have firmer snow in the steeper terrain.  Chris Davenport's group did ski some steep powder in a couple of well sheltered couloirs.
"I've been many places to ski now and there are few areas with this insurmountable amount of steep skiable terrain within 'easy' (maybe not on the wallet) access," notes telemark skier and Powderwhore producer Noah Howell, of Salt Lake City.
There as much time to observe the wildlife as on the non-skiing Antarctic cruises.  We saw penguins at several ski landings, seals on land and on icebergs and some of the groups saw the pod of orcas on the fourth day.  Scenery viewed from the ship is spectacular, but perhaps even more so from 1,500 feet above the sea.
The Bottom Line
There were a very few inside cabins for $6,900 but we were in a porthole cabin for $7,600 per person in 2011, very much in line with what I've seen for other small ship cruises to the Antarctic that do not involve skiing. Those cruises may sometimes package in airfare from Buenos Aires to Ushuaia and maybe a couple of hotel nights but when you consider that Stoup must obtain approvals from the Antarctic Treaty Organization for potential ski sites and bring 27 mountaineering guides on the ship, I was frankly relieved that the trip did not cost more.  Unfortunately Quark Expeditions has raised the price for Ice Axe Expeditions to charter the Clipper Adventurer in 2013, so all cabins will cost $2,000 more per person.  Stoup signed a three-year contract with Quark, so the Antarctic ski cruise should be offered in 2014 and 2015 for a price similar to that charged in 2013.
For the Ice Axe cruise you will also have to pay your own airfare to Buenos Aires (~$1,000), at least one night's stay there and then Argentine airfare down to Ushuaia (~$400). We spent two nights in Ushuaia and the Ice Axe package included one of them plus a dinner. If you do not own alpine touring gear you must buy all of that plus a harness, crampons, ice axe and a few other mountaineering incidentals. If, like Liz, you're starting from scratch that will set you back at least $1,500.
We heartily recommend this trip for enthusiastic and adventurous skiers. Stoup consulted with the ship Captain and with Quark Expedition leaders each day to find the best weather for landings and best ski sites. Plans were frequently changed on the fly. This is a customized level of service rarely seen on cruise ships.
I recommend investigating and signing up a year in advance for the 2013, 2014 or 2015 cruises, not only to reserve a spot but to have the previous northern ski season for preparation and to buy any needed equipment.  For 2011 all of the lower priced cabins on the two lowest decks of the Clipper Adventurer were sold by spring, six months in advance of the trip.
 For More Information: