Schladming, Austria – Tina Maze of Slovenia won the opening women's super G of the FIS Alpine Ski World Championships in Schladming on Tuesday in a race overshadowed by a crash by Olympic champion Lindsey Vonn that resulted in a serious injury to the ski racing star.
Vonn, of Vail, Colo., had posted the fastest first interval in the race delayed multiple times by thick fog, and was having a strong run when she went down off a jump midway down the track and careened off course. She was immediately attended to by race medical officials and transported by helicopter to a nearby hospital about 12 minutes later, where she was evaluated and released.
The race was finally halted after 36 racers descended the course, with six — including Vonn — not finishing.
"The snow, I mean it was like spring skiing and really slow. My run was slow, too," said Canadian ski racer Marie-Pier Préfontaine, of Saint-Sauveur Quebec, who started fifth and finished 28th.
"The wait was incredible. I've never had so many postponements in my life. It was really tough conditions," added Canadian women's head coach Hugues Ansermoz.
According to U.S. Ski Team Medical Director Kyle Wilkens, Vonn suffered a torn ACL and MCL in her right knee and a lateral tibial plateau fracture. She will be out for the remainder of this season but is expected to return to racing for the 2013-14 Audi FIS World Cup season and the 2014 Olympic Winter Games in Sochi.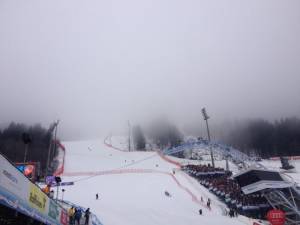 With Vonn out of the race, Maze secured her first gold medal in a speed event. Lara Gut from Switzerland and Julia Mancuso, of Squaw Valley, Calif., completed the podium with silver and bronze, respectively. It was Gut's third World Championship silver after taking second in both the downhill and super combined in Val d'Isere, France, in 2009. It was Mancuso's fifth career World Championship medal and her third in super G.
"This is very important for me, it is my first speed medal," said Maze. "I came here as one of the top favorites and proved my good shape. I knew it would be a long day today and was ready for it, even after all the postponements. Slovenia is such a small country and I am very happy and proud I can take this gold medal back with me."
"I think that might've been one of the most difficult races I've ever been in. It was a really long course and a lot of hurry up and wait," said Mancuso. "I didn't know I'd be so tired at the end of the run. Every time, no matter what kind of run, I know I could have a much better run. But to finish on the podium is kind of all you can ask for."
The next women's race on the FIS Alpine Ski World Championships schedule in Schladming will be the super combined on Friday.
OFFICIAL RESULTS
FIS Alpine Ski World Championships
Schladming, Austria – Feb. 5, 2013
Women's Super G
| | | | | | | |
| --- | --- | --- | --- | --- | --- | --- |
| Rank | Bib | Name | Year | Nation | Total Time | FIS Points |
|  1 |  18 | MAZE Tina | 1983 | SLO |  1:35.39 |  0.00 |
|  2 |  13 | GUT Lara | 1991 | SUI |  1:35.77 |  4.18 |
|  3 |  22 | MANCUSO Julia | 1984 | USA |  1:35.91 |  5.72 |
|  4 |  33 | GOGGIA Sofia | 1992 | ITA |  1:35.96 |  6.27 |
|  5 |  17 | SUTER Fabienne | 1985 | SUI |  1:36.25 |  9.47 |
|  6 |  4 | STUHEC Ilka | 1990 | SLO |  1:36.28 |  9.80 |
|  7 |  27 | MERIGHETTI Daniela | 1981 | ITA |  1:36.32 |  10.24 |
|  8 |  16 | REBENSBURG Viktoria | 1989 | GER |  1:36.33 |  10.35 |
|  9 |  11 | FISCHBACHER Andrea | 1985 | AUT |  1:36.40 |  11.12 |
|  10 |  8 | GISIN Dominique | 1985 | SUI |  1:36.57 |  12.99 |