Greenwood, ME – Maine's Mt. Abram ski area has begun construction on a 244.915 Kw, 803-panel photovoltaic solar project. Expected to produce in excess of 280,000 kWh annually, the array will offset approximately 70% of the ski area's annual electricity consumption.
In the summer of 2013, the U.S. Department of Agriculture (USDA) awarded Mt. Abram a 25% matching grant, up to $235,000, from the Rural Energy for America Program (REAP). Payback on the project is expected to take 4.5 years.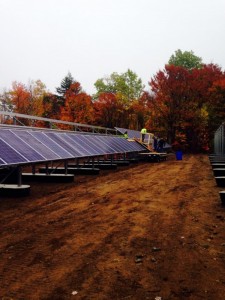 "Commitments to on-site, renewable initiatives insulate the ski area from escalating energy costs. Over two thirds of our electricity requirements become indefinitely fixed," said Mt. Abram co-owner Matt Hancock. "The 'SolGen' Project continues the advancement of our Clean Energy Game plan – utilizing abundant, local, and readily available resources wherever and whenever possible. We are making every effort to effectuate colder, snowier winters."
Earlier this summer, Mt. Abram announced a snowmaking infrastructure project to greatly improve the energy efficiency of the system while increasing water flow and pressure to better adapt to a late starting winter and unwanted weather events. An Efficiency Incentive Grant from the Efficiency Maine Business Program was used to install two variable speed drives on the ski area's new snowmaking pumphouse that will quadruple the system's uphill water capacity and pressure this season. In recent years, the ski area has upgraded its on-hill snow making guns to Low E towers, switched to a wood pellet heating system — eliminating the use of #2 heating oil — and became the second ski area in North America to install electric vehicle chargers.
"We are extremely excited to continue to support Mt. Abram as Maine's sustainable mountain playground," said Dave Scanlan, Mt. Abram General Manager and Mountain Rider's Alliance Co-founder. "Stabilizing this significant cost allows ever more attention to enhancing the skiing and riding experience. Outdoor winter enthusiasts care about our snow surface but they have become increasingly discerning about the practices we apply to create the surface."