Salt Lake City, UT – Deer Valley Resort's President and General Manager, Bob Wheaton, is the 2014 S. Joseph Quinney Award Honoree from the University of Utah's J. Willard Marriott Library. Named for the late Utah lawyer, businessman, state legislator, ski visionary and founder of Alta Ski Resort, who is often referred to as "the father of Utah's ski industry," the Quinney Award is presented each year to an individual or organization exhibiting the same public-spirited attributes and contributions to winter sports as its namesake.
"To receive the S. Joseph Quinney Award, that pays homage to a man I revere, and be included among peers who have all played a vital role in furthering Utah's ski history, is such an honor," said Wheaton, who joined Deer Valley Resort in 1980 and worked his way up to resort president in 1997.  "For the past 45 years, the ski industry has been a cornerstone of my life. I will continue to do what I can to keep it a mainstay of Utah's future."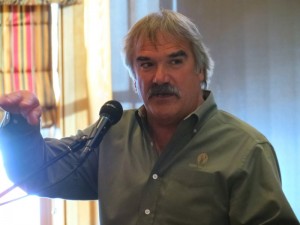 Wheaton's extensive public service work and contributions to winter sports are aligned with the legacy of S. Joseph Quinney. He is a past president of the board of directors of both the Park City Chamber and Visitor's Bureau and the Intermountain Ski Areas Association. Currently, he serves on Ski Utah's executive committee and is a two-time past president and has served on the board of the Salt Lake Area Chamber of Commerce. Wheaton is also on the boards of the Utah Symphony and Opera, the Utah Olympic Legacy Foundation and the National Ski Area Operators Association.
Wheaton is a recipient of the Outstanding Contribution Award from the Intermountain Ski Areas Association, the Park City Rotary Club's Professional Citizen of the Year Award and Ernst and Young's Entrepreneur of the Year. He was inducted into the Utah Tourism Hall of Fame and worked closely with the organizing committee for the 2002 Olympic Winter Games, for which Deer Valley hosted the freestyle mogul and aerial events, along with the alpine slalom competitions.
Wheaton received the Quinney Award at the 24th annual Ski Affair, a fun- and nostalgia-filled fundraising dinner presented by the University of Utah's J. Willard Marriott Library's Ski Archives, held at Little America in downtown Salt Lake City on Wednesday, November 5, 2014. The Ski Archives house the largest cache of skiing and snow sports history in the country.