San Diego, CA – U.S. alpine ski racer Bode Miller has confirmed that he will undergo endoscopic back surgery today, in hopes of returning to racing by January in time to participate in the 2015 FIS Alpine World Ski Championships in Colorado this February.
"Wish me luck with my back surgery today!" Miller tweeted this morning. "Hoping for a speedy recovery. Update to come."
The U.S. Ski Team later quoted Miller in a prepared statement: "After consultation with my medical team and coaches, I have decided to have outpatient back surgery today. I am disappointed that I will miss some of the early season speed races, including Birds of Prey in Beaver Creek," Miller acknowledged. "But the procedure will alleviate the pain and discomfort I have been fighting in my back since World Cup Finals last year. Our expectation is that I will be able to train and race in January and be ready for World Championships here at home in February."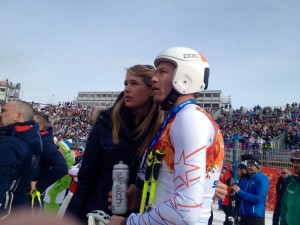 Although he has suffered from degenerative back conditions since he was in his early 20s, Miller, 37, first injured one of his lumbar intervertebral discs in a crash during a downhill training run at the World Cup finals in Lenzerheide, Switzerland in March. With symptoms radiating into his left leg that forced him to withdraw from the World Cup season opening races in Soelden, Austria last month, Miller has opted for surgical repair in San Diego, Calif., where he and his wife, volleyball star and model Morgan Beck, currently reside.
"Bode's planned outpatient surgery is typical for this diagnosis," confirmed Kyle Wilkens, U.S. Ski Team Medical Director. "His return to training will be based on the extent of the surgery. We'll work with Bode, medical team, and his coaches to determine the best course of action for him."
Following rehabilitation after the surgery, similar to that undergone by golfer Tiger Woods, Miller plans to return to ski racing at the Lauberhorn races in Wengen, Switzerland, Jan. 16-18 for one warm-up race before the famed Hahnenkamm downhill in Kitzbuehel, Austria. Miller has already announced his intention to retire from ski racing next year.
In other Bode Miller news emerging today, the ski racing star has reached an agreement with ex-girlfriend Sara McKenna to end an ugly legal battle for custody of their 18-month-old son.