Kreischberg, Austria – Vermonter Lindsey Jacobellis added a fourth World Championship title to her long list of snowboarding accolades and Nick Baumgartner, of Iron River, Mich., collected his second World Championships bronze medal in Kreischberg on Friday.
Experience was the key to success for Jacobellis and Baumgartner, who both fought hard battles to land on the World Championships snowboardcross podium. Jacobellis' fourth win in as many World Championship starts didn't come easy.
"This year was definitely my hardest World Champs to win because I didn't make any starts and I was fighting through all the heats, trying to finding opportunities to pass," said Jacobellis.
In each of the four rounds, Jacobellis failed to win the hole shot, but what she lacked at the get-go, she made up for with her 12 years of World Cup experience.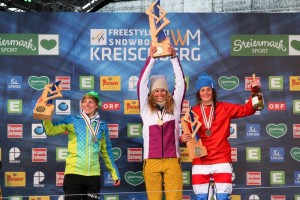 "Lindsey had to battle all day. She was never in front from the beginning," said head coach, Peter Foley. "She would have to go to work, making some amazing turns, keeping low on the jumps and pumping the rollers harder to take the win from there."
Nelly Moenne Loccoz of France took second, with Italy's Michela Moioli finishing third.
Baumgartner also rode hard, seizing the opportunities in each race to earn his spot in the final. For the first half of the medal round, it looked like Baumgartner and teammate Nate Holland would take one and two. But in the ways of snowboardcross, Baumgartner was bumped into the fence on an attempted pass and got tangled up with Holland, so the duo settled for third and fourth behind Italian Luca Matteotti and Canadian Kevin Hill.
"I was lucky enough to hold onto third," said Baumgartner. "To come out of there with a bronze medal and it being the first race of the year and it being World Championships, I'm super stoked."
OFFICIAL RESULTS
FIS Snowboard World Championships
Kreischberg, Austria – Jan. 16, 2014
Snowboardcross
Women
| Rank | Bib | Name | Year | Nation |
| --- | --- | --- | --- | --- |
|  1 |  3 | JACOBELLIS Lindsey | 1985 | USA |
|  2 |  6 | MOENNE LOCCOZ Nelly | 1990 | FRA |
|  3 |  8 | MOIOLI Michela | 1995 | ITA |
|  4 |  4 | JEKOVA Alexandra | 1987 | BUL |
|  5 |  2 | MALTAIS Dominique | 1980 | CAN |
|  6 |  1 | SAMKOVA Eva | 1993 | CZE |
|  7 |  7 | BROCKHOFF Belle | 1993 | AUS |
|  8 |  5 | BANKES Charlotte | 1995 | FRA |
|  9 |  9 | GULINI Faye | 1992 | USA |
|  10 |  13 | RAMBERGER Maria | 1986 | AUT |
Men
| Rank | Bib | Name | Year | Nation |
| --- | --- | --- | --- | --- |
|  1 |  18 | MATTEOTTI Luca | 1989 | ITA |
|  2 |  8 | HILL Kevin | 1986 | CAN |
|  3 |  10 | BAUMGARTNER Nick | 1981 | USA |
|  4 |  21 | HOLLAND Nate | 1978 | USA |
|  5 |  20 | HAEMMERLE Alessandro | 1993 | AUT |
|  6 |  1 | PULLIN Alex | 1987 | AUS |
|  7 |  22 | HERRERO Laro | 1990 | SPA |
|  8 |  14 | MARIN TARROCH Lluis | 1988 | AND |
|  9 |  15 | HERNANDEZ Regino | 1991 | SPA |
|  10 |  19 | LUEFTNER Julian | 1993 | AUT |