Kreischberg, Austria – Canada's Justine Dufour-Lapointe was crowned the new moguls world champion on Sunday after beating out Norwich, Vt.'s Hannah Kearney in the super final. Dufour-Lapointe scored an 87.25 to finish ahead of her American rival with 85.66.
The gold medal is the first one in Dufour-Lapointe's career at the FIS World Championships after winning a bronze medal two years ago in Voss, Norway behind Kearney.
"I'm extremely happy with how I skied today," said Dufour-Lapointe, also the Olympic gold medalist. "My plan was simple. I wanted to find balance between speed and technique. I stayed calm and focused during the day.  I was really in a zone. To get the Olympic gold medal and now the World Championship gold medal is a dream come true. I've grown so much since the Olympic and learned a lot. That experience helped me here."
"Today, my last run was my best run," said Kearney after earning her seventh World Championships medal, tying a record set by Norway's Kari Traa. "I made the improvements I wanted but Justine beat me. And that happens – that's moguls skiing. That's why competition is fun and I'm glad we'll get to ski again tomorrow (in dual moguls)."
Dufour-Lapointe and Kearney were followed on the podium by the bronze medalist from Australia, Britteny Cox (81.98). Justine's sister, Maxime Dufour-Lapointe fell just short of a medal by finishing in fourth with a score of 80.92.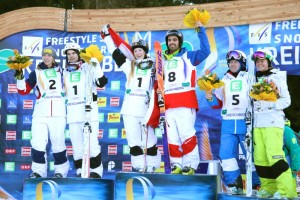 In the men's final, defending champion Mikaël Kingsbury, also of Canada, was upset by Frenchman Anthony Benna by a score of 86.89 to Kingsbury's 86.54. Russian Alexandr Smyshlyaev finished third (85.68) with American Patrick Deneen, of Cle Elum, Wash., just off the podium in fourth.
"I'm a little bit disappointed with my final run," said Kingsbury. "I had a great run in qualifications, but there was a huge gap between runs and the course changed quite a bit. I had a little bit of trouble slowing down during the super final. Tomorrow is a new day and we get to compete in the duals event. I'm going to give it my all to win that."
Kingsbury had been leading all day, but had a slight miscalculation on his first jump at the top of the hill in the super final. A 2013 gold medalist, Kingsbury now adds silver to complete his collection at the World Championships. The native of Deux-Montagnes, Quebec also won bronze in 2011 in Park City, Utah.
"Pat's final run was s best run – he had the best exit out of the top for hm and the tallest position through the middle section," U.S. Moguls Head Coach Garth Hager said of Deneen's performance. "On the bottom jump he got a little twisted and that got him a small dedication. And he got the fastest time but speed doesn't get rewarded as much as it used to. That needs to be adjusted in the future to keep our sport progressive."
OFFICIAL RESULTS
FIS Freestyle Ski World Championships
Kreischberg, Austria – Jan. 18, 2015
Moguls
Women
| Rank | Bib | Name | Year | Nation | Result |
| --- | --- | --- | --- | --- | --- |
|  1 |  1 | DUFOUR-LAPOINTE Justine | 1994 | CAN |  87.25 |
|  2 |  2 | KEARNEY Hannah | 1986 | USA |  85.66 |
|  3 |  6 | COX Britteny | 1994 | AUS |  81.98 |
|  4 |  5 | DUFOUR-LAPOINTE Maxime | 1989 | CAN |  80.92 |
|  5 |  11 | GALYSHEVA Yulia | 1992 | KAZ |  79.30 |
|  6 |  18 | RAKHIMOVA Regina | 1989 | RUS |  78.47 |
|  7 |  8 | SCANZIO Deborah | 1986 | SUI |  79.51 |
|  8 |  21 | KARIOTIS Ali | 1995 | USA |  78.33 |
|  9 |  26 | GRASEMANN Laura | 1992 | GER |  78.14 |
|  10 |  25 | PERTAKHIYA Marika | 1992 | RUS |  76.14 |
Men
| Rank | Bib | Name | Year | Nation | Result |
| --- | --- | --- | --- | --- | --- |
|  1 |  8 | BENNA Anthony | 1987 | FRA |  86.89 |
|  2 |  1 | KINGSBURY Mikael | 1992 | CAN |  86.54 |
|  3 |  5 | SMYSHLYAEV Alexandr | 1987 | RUS |  85.68 |
|  4 |  7 | DENEEN Patrick | 1987 | USA |  85.64 |
|  5 |  9 | GAGNON Marc-Antoine | 1991 | CAN |  84.78 |
|  6 |  2 | MARQUIS Philippe | 1989 | CAN | |
|  7 |  12 | ROWLEY Thomas | 1994 | USA |  82.48 |
|  8 |  33 | THEOCHARIS Sacha | 1990 | FRA |  80.43 |
|  9 |  20 | PENTTALA Jussi | 1993 | FIN |  79.74 |
|  10 |  26 | ANDERSEN Tevje Lie | 1991 | NOR |  78.07 |