Kreischberg, Austria – The U.S. Freestyle Ski Team had an unbelievable day at the FIS Freestyle Ski World Championships in Kreischberg last week, with both Kiley McKinnon, of Madison, Conn., and Alex Bowen, of Springville, N.Y., taking home silver medals in aerials.
It was the first aerials medals for the USA since 2009 and first women's since 1999. Ashley Caldwell, who landed atop the World Cup podium earlier this month at Deer Valley, finished fourth.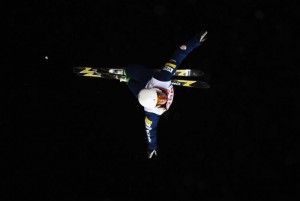 McKinnon was fresh off her second place result at the Visa Freestyle International World Cup at Deer Valley. This was the first World Championships medal for the U.S. women since Nikki Stone's bronze in 1999. McKinnon finished behind Austrian Laura Peel, while Mengtao Xu from China took third.
Alex Bowen, who had his highest result in a World Cup in Deer Valley—sixth place—had never broken into the top five at a World Cup before this event. Guangpu Qi of China took first place and Maxim Gustik was third.
OFFICIAL RESULTS
FIS Freestyle Ski World Championships
Kreischberg, Austria
Jan. 15, 2015
Men's Aerials
RK

BIB

NAME

NAT

DD
BEST
1
1
Guangpu Qi
CHN
5.000
139.50
2
14
Alex Bowen
USA
4.525
121.27
3
7
Maxim Gustik
BLR
4.525
119.91
4
3
Hang Zhou
CHN
4.525
115.84
5
5
Ilya Burov
RUS
4.525
106.79
6
12
Zongyang Jia
CHN
4.525
90.50
Women's Aerials
RK

BIB

NAME

NAT

 DD
BEST
1
11
Laura Peel
AUS
3.525
88.47
2
2
Kiley Mckinnon
USA
3.525
88.12
3
1
Mengtao Xu
CHN
4.175
86.84
4
5
Ashley Caldwell
USA
4.050
79.78
5
4
Danielle Scott
AUS
3.525
70.14
6
9
Hanna Huskova
BLR
3.525
69.09