Aspen, CO – Colorado's Mikaela Shiffrin did it again on Sunday, winning her second Aspen Winternational slalom in two days by another large margin.
After dominating the field in Saturday's slalom by over three seconds, Shiffrin showed that she wasn't letting off the gas. On the first run, she came through the lights 1.99 seconds ahead of the next fastest female, and would eventually win the run by 1.69 seconds.
Shiffrin came out attacking on the second run and bobbled on the second gate, before calming down and ripping to the bottom. She took her 16th career slalom win by 2.65 seconds over second-place finisher Frida Hansdotter of Sweden, while the Czech Republic's Sarka Strachova crossed the finish line in third and Canadian Erin Mielzynski finished just off the podium in fourth. Shiffrin's teammates Paula Moltzan, Katie Ryan and Resi Stielger hoisted her on their shoulders in the finish area to celebrate.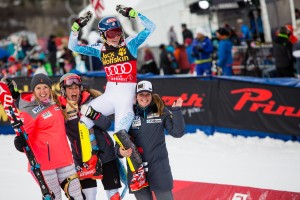 "It was really exciting. I had three great races, really," said Shiffrin. "The GS was disappointing, but still a great race. And today was awesome; yesterday was awesome. I'm walking away from my U.S. part of the World Cup tour very happy this year."
Speaking of Shiffrin's margin of victory, Hansdotter commented, "It's too big. I actually need to go home watch video and see what she does. And she is born and raised on this snow and she seems to ski really good there. I will watch what she is doing."
"This podium is really important for me because it's at the beginning of the season and it gives me confidence for the next races," said Strachova, Sunday's third-place finisher. "I am usually quite nervous before the season's start and now I can build on this result."
Stiegler also had a fantastic day, skiing into the top 10 for the first time since a ninth-place finish in Zagreb in 2013—a race that Shiffrin also won. Stiegler's 10th place finish on Sunday tied with France's Anne-Sophie Barthet solidified her comeback, showing her hard work after a knee injury paid off.  "It was cool to get in the gate and be that strong and solid," Stiegler said after her run.
Saturday's win was the first time since 1981 that an American woman won in Aspen, when Tamara McKinney was victorious in a giant slalom. Thirty-four years, eight months and 20 days later, Shiffrin broke the record. One day after that, Shiffrin won again. With Shiffrin's victory and Resi Stiegler's top-10 and top-15 results from the 2015 Aspen Winternational, the Americans are looking sharp for Aspen's World Cup Finals in 2017.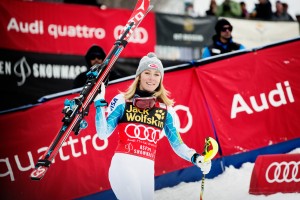 Moltzan, of Lakeville, Minn., and Lake Tahoe's Lila Lapanja raced first run, but did not qualify for second. Still, Lapanja was excited to finish her first World Cup. "I'm ready to keep racing World Cups," said Lapanja. "This lights a fire in me."
The World Cup women now pack up to head to Lake Louise, Canada, to race downhill and super G, while the next tech races will take place in Åre, Sweden. A technical specialist, Shiffrin will nevertheless try her skis in the super G gates in Lake Louise.
"I'm really excited to go to Lake Louise!" she said. "I've never been there. I hear the hotel is really nice and the hill is even better. I'm really excited to debut in speed."
OFFICIAL RESULTS
FIS Alpine Ski World Cup
Aspen Winternational – Aspen, Colo. – Nov. 29, 2015
Women's Slalom #2
| | | | | | | |
| --- | --- | --- | --- | --- | --- | --- |
| Rank | Nation | Name | Run 1 | Run 2 | Total | Diff. |
| 1 | USA | SHIFFRIN Mikaela | 47.73 | 52.45 | 1:40.18 | |
| 2 | SWE | HANSDOTTER Frida | 49.72 | 53.11 | 1:42.83 | +2.65 |
| 3 | CZE | STRACHOVA Sarka | 49.42 | 53.66 | 1:43.08 | +2.90 |
| 4 | CAN | MIELZYNSKI Erin | 50.30 | 53.29 | 1:43.59 | +3.41 |
| 5 | AUT | THALMANN Carmen | 50.80 | 53.02 | 1:43.82 | +3.64 |
| 6 | AUT | KIRCHGASSER Michaela | 50.49 | 53.55 | 1:44.04 | +3.86 |
| 7 | SVK | VLHOVA Petra | 50.12 | 54.04 | 1:44.16 | +3.98 |
| 8 | NOR | LOESETH Nina | 50.14 | 54.05 | 1:44.19 | +4.01 |
| 9 | SUI | CHABLE Charlotte | 51.25 | 52.95 | 1:44.20 | +4.02 |
| 10 | FRA | BARTHET Anne-Sophie | 51.35 | 52.90 | 1:44.25 | +4.07 |
| 10 | USA | STIEGLER Resi | 51.17 | 53.08 | 1:44.25 | +4.07 |