Danbury, NH – An 11-year-old boy was hurt after falling approximately 20 to 30 feet from a chairlift at Ragged Mountain ski area in New Hampshire on Saturday.
Cameron Prangley, from Nashua, N.H., had been riding Ragged's Sixpack Express lift with his twin brother and father Doug Prangley at around 3:30 p.m. Just as the trio were lowering the safety bar, Cameron Prangley fell from the chair onto the closed Exhibition ski run below, just as the trio were lowering the safety bar. Ragged Mountain patrollers evacuated the victim to a waiting ambulancethat transported him to Franklin Regional Hospital, where he was treated for a concussion and contusions.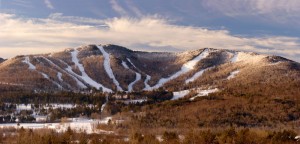 The victim is expected to fully recover from his injuries.
"I held on as much as I could with my son and end result, I couldn't get him up. I lost grip and I dropped him 30 feet," Doug Prangley told Boston's WCVB-TV.  "It was my fault. I let him go. And that's the fact."
Prangley also told the station that he blamed the ski resort as well, indicating that the lift was never stopped when his son fell and he had to ski back down to his son's location to render assistance after arriving at the top of the chair.
The chairlift was cleared to operate following a state safety inspection on Sunday.