Truckee, CA – The Lake Tahoe-based High Fives Foundation has now officially helped 100 athletes in recovery from life-altering injuries since it was established in 2009. The Foundation announced on Tuesday that it will host and train 10 injured veterans of the United States armed forces on the slopes of Squaw Valley Alpine Meadows this spring in California.
The High Fives Foundation gives support and inspiration to mountain sports athletes with life-altering injuries through board-approved Empowerment Grants towards their recovery goals. In 2015 alone, the Foundation made 60 Empowerment Grants to 25 individual athletes.
"When we started the Foundation, we had a goal to give grant funding to one athlete per year," said High Fives Foundation Executive Director and co-founder Roy Tuscany. "In seven years, we've blown that goal out of the water, but it's really special that our 100th athlete will be part of a group of military veterans."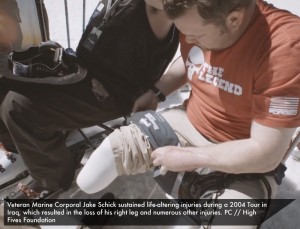 The veterans, all U.S. Military servicemen who were injured during tours of duties overseas,will go skiing with the Military to the Mountains program created in 2014 by the High Fives Foundation. The program is a multifaceted partnership between Squaw Valley Alpine Meadows, High Fives Foundation, Achieve Tahoe (formerly Disabled Sports USA Far West) and Adaptive Training Foundation from Dallas, Texas. Each organization provides their specialized services to bring this group onto the snow.
Military to the Mountains begins for the injured veterans this month in Dallas as they endure a nine-week training class with the Adaptive Training Foundation (ATF). Using specialized training techniques for athletes with injuries, the veterans will build strength to take on skiing in at Squaw Valley. They are trained by retired NFL linebacker David Vobora, founder of ATF.
When they arrive at Squaw Valley in March, the High Fives Foundation and Squaw Valley Alpine Meadows will provide logistics and accommodations throughout the six-day program from March 27 through April 1.
The Empowerment Grant also includes ski lessons from Achieve Tahoe, an adaptive snow sports school located at Alpine Meadows. They will provide instructors to teach the veterans to ski, regardless of their injury or ability level.
"To hit the 100 mark knowing I was the first person High Fives helped, shows that our impact has grown so massively," said Steve Wallace, who was the first High Fives Athlete to receive grant funding after his 2010 spinal cord injury. "This shows just how large our community is to rally around injured athletes and veterans." Since his recovery, Wallace now works as the Program Coordinator for the High Fives Foundation assisting other athletes in their recovery process from life-altering injuries.
The 100th High Fives Athlete is former U.S. Army Sgt. Brendan Marrocco, who lost both arms and legs in Iraq in 2009. Soldiering on, he received a rare double arm transplant in 2012 and is working with the Adaptive Training Foundation in Dallas to build the strength to ski in March.
"It's fantastic to receive a grant to take on the mountains alongside other veterans," said Marrocco. "I am thankful for all of the organizations involved and their support to create amazing experiences."
Each of the 10 veterans skiing in the 2016 Military to the Mountains program were wounded in the War on Terror with injuries like amputations and spinal cord injuries. Their skiing techniques will each be individually adapted for success on the snow.
To sustain the Military to the Mountains Program for years to come, Squaw Valley now provides a Tahoe Super Pass to military personnel, along with a note of appreciation and a challenge coin for a donation of $25, of which all proceeds support Military to the Mountains and 22Kill, an organization dedicated to ending veteran suicides. Additional donations are also accepted at the resort on behalf of these organizations, and online donations will be coming soon. Those interested in purchasing this pass must present their U.S. Active Duty Military ID at the Guest Services and Sales Center at Squaw Valley or Alpine Meadows.