Quebec (QC), Canada – The construction of the Big Air structure on Québec City's Îlot Fleurie is well underway in anticipation of the upcoming Jamboree, presented by Videotron Mobile 2016 from February 12 to 14. With a month to go before the FIS Big Air World Cup, which is also sanctioned by World Snowboard Tour (WST), the construction crew is working hard to ensure that everything is in place for this unique urban ski and snowboard event, which this year introduces a redesigned Big Air structure.
It takes over 50 workers several weeks to complete the installation of the 39-meter high structure. In order to comply with the new requirements of the sport and to please the world-class athletes, event producer Gestev has made many technical improvements to the Big Air structure. With the assistance of Québec pro snowboarder Maxence Parrot, and the Fédération Internationale de Ski (FIS), the structure plans were completely redesigned.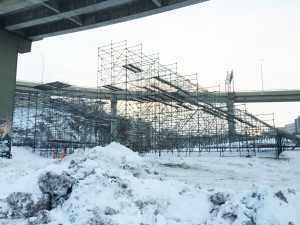 "In order to provide the riders with more amplitude and to allow for a wider variety of tricks, the start ramp will be extended and the landing area will be widened," explains Patrice Drouin, President of Gestev. "A first technical operation was conducted in December when some modifications were made to the configuration of the site with the help of an excavator, thus providing a better experience for athletes and spectators. With the aim of maximizing the space available at the finish zone, the structure itself was moved and it's angle was changed.These modifications may not be visible to those who come specifically for the show, but athletes as well as snowboard and freeski enthusiasts will definitely notice!"
The setup is to be completed by February 11, giving athletes some time to train and get ready for the big finale on February 13, while the public can enjoy three days of festivities. The full program is now available at  snowjamboree.com.