Maribor, Slovenia – Lindsey Vonn hoped to extend her World Cup win streak to 76 and her overall Audi FIS Ski World Cup lead in Saturday's giant slalom in Maribor, but a soft, sugary course got the best of both her and Switzerland's Lara Gut, her top competitor in the hunt for the overall title, as Germany's Viktoria Rebensburg took the win.
On a warm day in Maribor, Vonn crashed on her second run, taking out a course worker and photographer. However, she got up and skied into the finish. Gut was in prime position to move into the overall World Cup lead, but skied off course in the second run and failed to finish.
"I got a little unlucky with the bib number," said Vonn, who drew bib 15 and finished 12th in the first run. "The snow unfortunately just isn't holding up for the later numbers. They did a great job preparing, and it was actually cold last night. I thought it was going to be really good, but it's like sugar."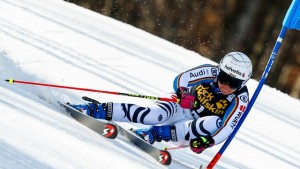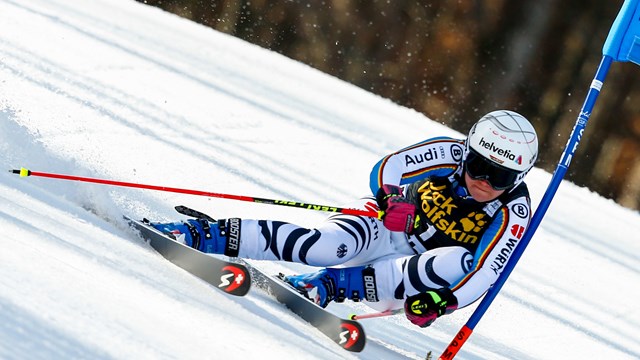 Rebensburg's victory on Saturday was her 10th career World Cup giant slalom win, and second straight this season. She won by 0.34 over hometown favorite Ana Drev of Slovenia. Tina Weirather of Liechtenstein was third. Austria's Eva-Maria Brem finished fourth to maintain her overall World Cup giant slalom lead by 32 points over Rebensburg.
"For sure, it was way more rough," Rebensburg, who drew bib #1 said of the conditions. "But I think it was better on the second run, the slope, as compared to the first run because there was kind of breaking every time, or I mean it started pretty early so I think it was better because the snow was more wet and the salt was more combined to the snow. Yeah, it was better."
Megan McJames was the only other American competitor in the race, and did not finish the first run.
OFFICIAL RESULTS
FIS Alpine Ski World Cup
Maribor, Slovenia – Jan. 30, 2016
Women's Giant Slalom
| | | | | | | |
| --- | --- | --- | --- | --- | --- | --- |
| Rank | Name | Nation | Run 1 | Run 2 | Total | Diff. |
|  1 | REBENSBURG Viktoria | GER |  1:13.22 |  1:16.60 |  2:29.82 | |
|  2 | DREV Ana | SLO |  1:14.15 |  1:15.99 |  2:30.14 |  +0.32 |
|  3 | WEIRATHER Tina | LIE |  1:14.07 |  1:16.09 |  2:30.16 |  +0.34 |
|  4 | BREM Eva-Maria | AUT |  1:12.85 |  1:17.38 |  2:30.23 |  +0.41 |
|  5 | LOESETH Nina | NOR |  1:13.70 |  1:17.16 |  2:30.86 |  +1.04 |
|  6 | PIETILAE-HOLMNER Maria | SWE |  1:14.84 |  1:16.18 |  2:31.02 |  +1.20 |
|  7 | KIRCHGASSER Michaela | AUT |  1:16.02 |  1:15.02 |  2:31.04 |  +1.22 |
|  8 | FANCHINI Nadia | ITA |  1:15.75 |  1:15.38 |  2:31.13 |  +1.31 |
|  9 | BASSINO Marta | ITA |  1:15.67 |  1:15.75 |  2:31.42 |  +1.60 |
|  10 | PREFONTAINE Marie-Pier | CAN |  1:16.18 |  1:15.28 |  2:31.46 |  +1.64 |