Garmisch-Partenkirchen, Germany – Norway's Aleksander Aamodt Kilde stepped in for injured teammate Aksel Lund Svindal, who blew out his knee last week in Kitzbuehel, and came out of the 30th start position to win his first career World Cup downhill in the Audi FIS Ski World Cup on the Kandahar track on Saturday. Slovenia's Bostjan Kline was second, and after missing the first part of the season with a knee injury, Switzerland's Beat Feuz was third.
"It's an unbelievable feeling," said Kilde." I was hoping for a top-10 today with number 30. While I was skiing I was really hoping for a good time because I felt like it was fast and conditions were holding up really good. Crossing the finish line with green numbers, that's crazy."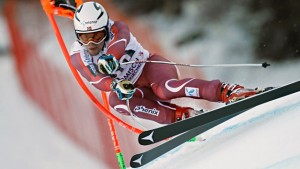 Another surprise on the day came from Kline's second place. His previous best World Cup performance was a 13th place in Santa Caterina, Italy last season.
"I knew that the race was not over as the best guys were coming down," said Kline. "But it was amazing standing there in the leader box. I'm very happy, very satisfied. I felt good, when I saw the time and saw that I was ahead of (Andrew) Weibrecht (of the U.S.) I knew it was a good run, but I didn't expect a podium or anything even close."
A bruised and banged up Travis Ganong, of Squaw Valley, Calif., led five Americans into the top 30 with a sixth-place finish, tied with Italy's Matteo Marsaglia.
"I wasn't really sure I was going to be able to ski this week with my knee – I had a bone bruise after Kitzbuehel," said Ganong, who skied to his best result ever on the Kandahar downhill track. "I'm just really happy that I pushed through and raced today because it's an awesome result."
For the Americans, Steven Nyman (Sundance, Utah) was 10th; Andrew Weibrecht (Lake Placid, N.Y.) tied for 17th; Jared Goldberg (Holladay, Utah) was 20th; and Wiley Maple (Aspen, Colo.) cracked the top 30 in downhill for the first time this season in 23rd. Tommy Biesemeyer (Keene, N.Y.), Bryce Bennett (Squaw Valley, Calif.) and Marco Sullivan (Squaw Valley, Calif.) all DNF'ed.
"Today (the Kandahar downhill track) surprised us," Nyman said. "The first training run, it was really soft and warm, but it bound up and got frozen and was brutal. It's an endurance track. Even though it's only about two minutes, it's bumpy and dark the whole way down. And it turns, a lot. It's a non-stop fight."
OFFICIAL RESULTS
FIS Alpine Ski World Cup
Kandahar Weekend – Garmisch-Partenkirchen, Germany – Jan. 30, 2016
Men's Downhill
| | | | | |
| --- | --- | --- | --- | --- |
| Rank | Nation | Name | Time | Diff. |
| 1 | NOR | KILDE Aleksander Aamodt | 1:55.28 | |
| 2 | SLO | KLINE Bostjan | 1:55.50 | +0.22 |
| 3 | SUI | FEUZ Beat | 1:55.52 | +0.24 |
| 4 | ITA | INNERHOFER Christof | 1:55.53 | +0.25 |
| 5 | FRA | THEAUX Adrien | 1:55.57 | +0.29 |
| 6 | ITA | MARSAGLIA Matteo | 1:55.93 | +0.65 |
| 6 | USA | GANONG Travis | 1:55.93 | +0.65 |
| 8 | SLO | SPORN Andrej | 1:55.97 | +0.69 |
| 8 | GER | SANDER Andreas | 1:55.97 | +0.69 |
| 10 | USA | NYMAN Steven | 1:56.03 | +0.75 |