Squamish (BC), Canada – A ski resort proposed north of Vancouver, set to rival nearby Whistler Blackcomb has cleared its environmental assessment.
On Friday, British Columbia's Environmental Assessment Office in Victoria issued an environmental assessment certificate to Garibaldi at Squamish Inc. for the Garibaldi at Squamish project, a year-round destination mountain resort community proposed by the Aquilini Investment Group and Northland Properties, the company that owns Revelstoke Mountain Resort. At build-out, at a cost of C$3.5 billion it would include 23 ski lifts and 124 trails, nearly 6,000 overnight units for guest accommodation, guest services, public amenities, and groundwater supply and infrastructure covering 2,759 hectares, or 6,817 acres.
The Garibaldi project has been on the drawing table for the past 15 years. If built, guests traveling the Sea-to-Sky Corridor would have to travel another 35 minutes past Garibaldi to reach Whistler. Project proponents argue that it will create more than 2,500 full-time jobs and contribute to the financial stability of the Squamish Nation, which is partnering on the project.
Last week's approval came with 40 conditions attached, conditions that were developed following consultation and input from Squamish Nation, government agencies, local governments, communities and the public. Each of the conditions and the certified project description are legally binding requirements that Garibaldi at Squamish Inc. must meet to be in compliance with the environmental assessment certificate.
Key conditions for the project require Garibaldi at Squamish Inc. to: ‡ limit the rate of groundwater withdrawal from the Paradise Valley aquifer; ‡ monitor daily water consumption and the levels of the aquifer and develop a web-based tool to allow live public access to this information; ‡ complete a study that determines potential adverse effects from the construction and operation of groundwater pumping on the sidechannels of the Cheakamus River, which are important salmon spawning habitat; ‡ retain the services of a qualified person with demonstrated experience and knowledge of environmental monitoring for construction projects in B.C., prior to construction; ‡ complete a Biodiversity Retention Environmental Management Plan to address potential impacts on vegetation and wildlife; ‡ complete a Brohm River Management Plan to ensure the project does not affect that sensitive river; ‡ avoid and reduce risks of potential bear-human conflicts and ensure that Garibaldi at Squamish achieves ͞Bear Smart͟ status or equivalent designation by no later than the first anniversary of the commencement of operations; and ‡ provide at least 10% of the resort bed units as employee housing to address adverse effects from potential increases in housing costs and shortages of rental accommodation in Squamish.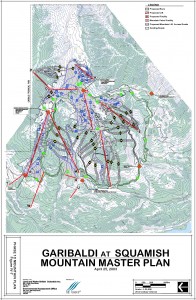 In addition, Garibaldi at Squamish Inc. proposed a number of design changes during the environmental assessment, based on feedback received during the process, including: changing the water supply from surface water to groundwater; ‡ removing golf courses from the overall project; ‡ removing development near Cat and Brohm Lakes, which are important recreational areas to residents of Squamish; and ‡ eliminating water reservoirs, with the exception of a snowmaking reservoir.
The environmental assessment certificate decision is the first in a series of decisions and approvals necessary for the project to proceed, and opponents are holding out hope that some of these hurdles will still derail Garibaldi at Squamish. Some of the other significant approval steps still ahead include: ‡ a potential boundary expansion decision by the District of Squamish should the project reside within its district; ‡ local government decisions on Official Community Plans and bylaws to provide direction on the development; ‡ an amendment to the Regional Growth Strategy which requires approval from all municipalities in the Squamish-Lillooet Regional District; ‡ approval in principle from either the District of Squamish or the Squamish Lillooet Regional District prior to the Province accepting an application for a Master Plan under the All-Seasons Resort Policy; and ‡ approval of a Master Plan by the Ministry of Forests, Lands and Natural Resource Operations. The District of Squamish has already passed a resolution opposing the project.
Whistler Mayor Nancy Wilhelm-Morden, who has labeled the resort plan a real estate ploy, points to a lack of snow studies as evidence that the true purpose behind the Garibaldi proposal is not a ski area. She recalls an earlier ski area in the 1970s on Brohm Ridge that failed due to a lack of snow. Wilhelm-Morden has been joined by Whistler Blackcomb Resort, Tourism Whistler and the Whistler Chamber of Commerce in her opposition to the Garibaldi project.
""[Garabaldi at Squamish] would damage B.C.'s reputation and undermine its success as a world-class ski destination," Whistler Blackcomb president David Brownlie wrote in a letter to the Environmental Assessment Office dated last June.