Salt Lake City, UT – Heli-skiing is the ultimate dream for any powder-focused skier or snowboarder, but when you look at the costs, it often becomes apparent why the "once in a lifetime" tag is so appropriate. In this article we'll guide you through how to choose and plan the perfect heli-ski trip for the best return for your investment.
WHEN DO YOU WANT TO GO?
Lets start from the beginning, and narrow down the options a little. When do you want to go? Heli-skiing is available pretty much year 'round. The main season in Canada generally runs from January to March – earlier in the season you tend to get more storms, which means lots of tree skiing is in the cards, while the alpine becomes a more viable option later on. While the Alaskan season runs from February through May, March and April are generally considered the best time to go — you get more daylight, the snow has piled up and stabilized without becoming too spring-like, and the chance of down days due to storms is reduced.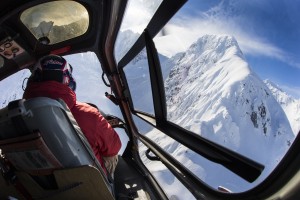 Moving further into spring, Scandinavia often offers incredible conditions from March through June, with a solid snowpack, remote terrain and lots of daylight. Can you imagine scoring first descents in Iceland under the Northern Lights? Meanwhile there are heli-ski trips available in the Alps, and further east in Russia, Turkey and Kyrgyzstan, all the way through the Northern Hemisphere winter.
But what about summer? Contrary to popular belief, you don't need to hang up your skis or snowboard in June – you just need to change hemisphere! South America and New Zealand can be incredible from June/July through to September, or even October and November if you push further south into Patagonia.
WHAT SORT OF TERRAIN DO YOU WANT TO RIDE?
The great thing about helicopters is the incredibly easy access to terrain so remote you'd have to slog for days to reach on foot. This means that most operators are able to access pretty much any terrain that you'd like to ride. There are, however, some generalizations that can be made. If you want the steepest of steeps and film-worthy spines, Alaska is by far the best option.
If you want incredible tree skiing, then British Columbia is about as good as it gets – though the forests in Kashmir are a strong rival, with perfectly spaced trees and more pillows than a boarding school pillow fight! The Andes are mostly about alpine skiing, with a range of open faces and couloirs with huge vertical descents; similarly, Scandinavian heli-skiing typically focuses on open alpine terrain, often with descents right to the sea.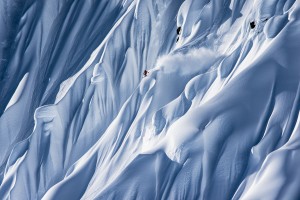 It's a misconception that heli-skiing always takes place on full-on big mountain terrain. One of the best things about heli-skiing is the ability to sniff out low-angle, deep powder slopes that would be tracked out instantly within a ski area. If you are a solid intermediate or better, then perfect heli-ski terrain is out there for you somewhere.
Almost every destination offers terrain at each side of the gnarly-to-mellow scale, and all operators are adept at matching terrain to your abilities and those of your group, but Canada is probably the best choice for a wide supply of mellow powder runs, followed by some options in Turkey and Russia.
SNOWFALL AND DOWN DAYS
Let's face it: there's no point shelling out the dough for heli-skiing unless the snow is good and deep; that's why almost every heli-ski operation is located in an area with high snowfall, whether that's Alaska, Canada or the Russian/Georgian Caucasus mountains. However, the problem with regions with high snowfall is that, well, it snows a lot – which makes flying helicopters difficult and dangerous.
While the weather is never guaranteed, it's definitely worth checking how many down days each operator might expect for their region, and if they have any backup options like a nearby resort with lifts, cat skiing, or in the case of Kashmir Heliski, tree runs in the back forty with a Jeep to run you up from the valley!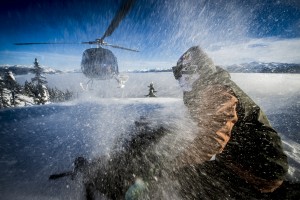 In general, the coastal regions around Alaska experience the most down days – the proximity to the sea ensures regular storms, and the high alpine terrain makes navigation difficult for the pilot. British Columbia's coastal regions experience similar storms, but the wooded terrain makes navigation much easier. Interior B.C. is generally colder and drier, so days when the heli can't fly at all are rare.
Abundance and quality of snow are also things to take into account: while coastal regions tend to get more snow, it's usually heavier and more dense. Alaska is somewhat of an exception, as the very cold temperatures and winds after storms suck a lot of the moisture from the snow, but generally speaking the interior of B.C., Kashmir, and Kyrgyzstan experience more of the super-light cold smoke than areas closer to the ocean do.
GROUP SIZE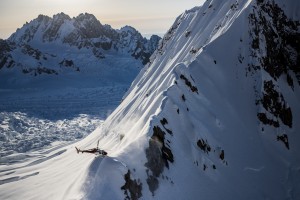 Generally speaking, the bigger the helicopter the bigger the group, and the cheaper the price; however, it's also likely that you'll spend more time waiting, ride less exciting terrain, and have less flexibility and terrain choice, while the chances of having lower ability skiers in the group increase. Larger helicopters are more common amongst the big well-established operators in the Canadian interior, and also in some of the more eastern regions like Kyrgyzstan and Russia.
In contrast, days spent in small helicopters and groups are more expensive as the costs can't be spread across so many people, but you'll generally spend a lot more time skiing the sort of terrain you want to ski. Ideally, you want to fill the helicopter with just your own group to keep skiing standards similar, but if this isn't possible the operators are very good at assessing abilities and matching groups with similar ambitions. You'll typically find smaller helicopters and groups amongst the more boutique operators in Alaska, coastal B.C., Kashmir and the Andes.
STANDARDS OF ACCOMMODATION AND REMOTENESS
Standard of accommodation and ease of access are clearly significant factors in terms of cost; the more luxurious the accommodation and the harder it is to get to, the more the expensive it gets. However, they don't always go hand in hand. While some of the remote fly-in lodges in Canada are both fabulously luxurious and very hard to get to, other options in Alaska are expensive to reach, but relatively Spartan in comparison.
Generally the most sumptuous lodges are found in B.C., where after a day heli-skiing you can expect gourmet dining, fine wines, and gorgeous pool and spa facilities. There are, however, exceptions like the incredibly exclusive heli-ski yacht trip in Patagonia.
Kashmir ranges from absolute budget to high quality five-star hotels; however, it's quite difficult to get to with a connecting flight from Delhi to Srinagar, then a Jeep ride into the mountains. With a couple of notable exceptions, Alaska tends to be more along the rough and ready lines, and is normally expensive and time-consuming to reach; and with the exception of new luxury lodges and the opportunity to stay in a lodge formerly owned by Russian president Mikhail Gorbachev, most of the more easterly options tend to be comfortable as opposed to opulent, though often not as hard to get to as you might expect.
WHAT PACKAGES ARE AVAILABLE?
Heli-skiing packages vary widely by operator. Do you just want a single day heli-skiing in an open group, or unlimited vertical with one heli for just you and your friends for a week? How fit are you and how much deep powder skiing can you handle day after day? How much vertical is guaranteed by the operator? The options run the gamut of relatively affordable to eye-wateringly expensive, with or without accommodation and food, and it's best to talk to an expert to decide exactly what would suit your needs best.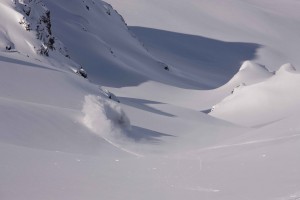 The number of drops and amount of vertical skied each day vary just as much by terrain choice and skier ability as by the operator, and it's beyond the scope of this article to go into too much detail for each operator and region. However, extra vertical can often be purchased on a day-to-day basis if you want, though it's worth keeping an eye on exactly how much extra skiing you do as you can end up with an unexpectedly costly bill as you check out if you've racked up too much extra vert.
SAFETY CONSIDERATIONS
When you're skiing untracked snow in the wilderness, safety is paramount. The good news is that as heli-ski guiding is such attractive job, the operators can choose from the best in the business. However, it's definitely worth checking the credentials of the guides at any operator you are considering. Are they fully qualified UIAGM mountain guides, what avalanche qualifications do they have, etc.
Safety on the ground is directly related to conditions and snow stability at the time, but we can make some generalizations: Alaska's unique weather patterns often result in freakishly stable snow, allowing you to safely ski steeper terrain than anywhere else in the world, and the denser snow in B.C.'s trees allows safe riding even when avalanche conditions are high in the alpine. The continental snowpack of interior B.C. can be more problematic, so it isn't the best option if you are really set on riding lots of steep lines.
When it comes to helicopters, most operators are very particular about safety, reliability and maintenance. They are just too expensive to risk taking any chances with, and most operators use very similar aircraft like Eurocopter A-Stars and Bell 205's. Safety records are excellent, but it's very important to pay attention to your guide's safety brief – it should be apparent that climbing out of a helicopter with blades whirring just over your head requires extreme care.
COST
As discussed above, there are many variables that determine the cost of a heli-ski or heli-board trip. To keep costs down as much as possible, look for an operator flying larger helicopters with big groups near established resorts or towns with cheap accommodations, or head east to some of the cheaper options in Turkey and Russia.
If you want to go all out with no expense spared, then B.C.'s exquisite remote lodges are as luxurious as you could possibly want, or for something extra special, take a look at a yacht-based trip like the Nomads of the Seas cruise in Patagonia.
——-
Author Matt Clark is the Content Marketing Manager for LUEX Travel, found online at www.luex.com.