Peru, VT – The disappointing snow year in New England continues, and has now claimed its first two casualties at a time of year when the snow pack should be at its deepest.
Officials at Bromley Mountain in Peru, Vt., announced today that with a forecast for warm rain and wind moving in, they're shutting down for Wednesday and Thursday.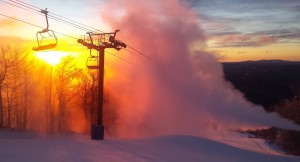 "In an effort to be as transparent as possible during this challenging season, we'd like to let all know now that due to incoming weather for Wednesday, February 3, featuring .7 to 1.2 inches of rain and 45 mph winds, operations will be suspended 2/3 and 2/4 this week," Bromley officials announced in an email released today. "Thursday will be spent drying out, assessing and repairing."
Bromley snowmakers hope to be back at work later on Thursday to get things fixed in time for a 9 a.m. opening on Friday.
Likewise, Mad River Glen in Waitsfield, Vt., which has only very limited snowmaking capability, will remain closed until the weekend to preserve what little snow currently drapes its slopes.
"Due to unseasonably warm weather and eroding snow pack we have decided to suspend operations until the weekend," Mad River Glen posted to its Facebook page today. "We plan to re-open with the Practice Slope on Friday. Please stay tuned for updates and THINK SNOW!"