Québec (QC), Canada – Québec City's renowned annual Winter Carnival continues through February 14, and for cold weather lovers this is the place to be. It's is also an excellent vacation choice for families with young children.
While many First Tracks!! Online readers love winter for the skiing and snowboarding, Carnival visitors know that there is more to the season than sliding down a snowy hill. A major attraction of the Winter Carnival is a wacky CMQ Canoe Race upon the frozen St. Lawrence River, which will be held this year on Sunday, February 7, with 50 teams competing in a two-mile course between Québec City and the city of Lévis.
Last year I watched the mayhem in bone chilling temperatures way below 0º Fahrenheit. This year forecasters are calling for a balmy 24ºF at race time.
Nighttime parades are another highlight of the Winter Carnival with the parade in Charlesbourg slated for Saturday the 6th and the Upper Town parade scheduled for Saturday the 13th.
Other events include Bonhomme's Ice Place (Bonhomme is the loveable snowman mascot of the event), an international snow sculpture competition and ice and snow slides. Much of the action takes place on the Plains of Abraham, a historic battlefield area within Canada's first national historic park. Although the name sounds biblical, this Abraham is believed to be a fisherman who died in 1664.
While many events including the canoe race and parades are free, other events require the purchase of a $15 miniature pendant called the Carnival Effigy. With the US dollar at a favorable exchange rate of about 71 cents to the Canadian dollar, that Effigy is $10.65 in greenbacks.
For visitors from the States, the strong dollar means that now is the time to splurge on a stay at The Château Frontenac,  the iconic centerpiece of the Old Québec City Canada skyline. The luxury hotel, built for the Canadian Pacific Railway company over 100 years ago is now operated by Fairmont Hotels & Resorts. With recent makeovers it is equipped with all the luxuries and conveniences current high-end travelers expect.
Another option for the adventurous is The Hôtel de Glace. This structure made of snow and ice is a 10-minute drive from downtown Québec City and this year has 44 rooms and suites. It is open for tours and overnight stays until March 28.
Québec City was built over 400 years ago upon cliffs overlooking the St. Lawrence River, and with its old town European feel is the perfect place to stay during a ski vacation. Le Massif de Charlevoix is a 50-minute drive, Mont-Sainte-Anne is a 40-minute drive and Stoneham Mountain Resort is a 20-minute drive from Québec City. Both Le Massif and Mont-Sainte-Anne offer spectacular views of the St. Lawrence River, and Stoneham offers night skiing.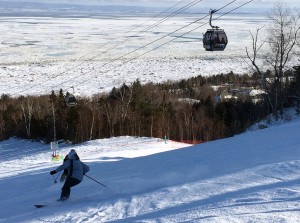 Québec City is an easy eight-hour drive from New York City – just head north through New York State and bear right in Montreal. From Boston it's a six and a half-hour drive.
There is an international airport servicing Québec City (code YQB). The airport is in the midst of major expansion projects which will double the size of the terminal area, and add gates, food options and state of the art technology for moving and sorting passengers, bags and planes.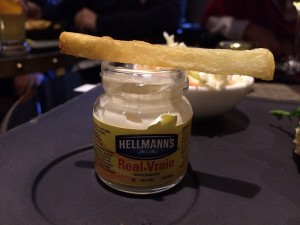 French is the primary language used in Québec City , giving a visitor European flavor without the hassle of a trip across the big pond. English will work for those like me who do not have much to show from two years of high school French classes.
À bientôt.