Mansfield, OH – Cold temperatures have returned to Ohio's Possum Run Valley, home to Snow Trails ski area. The resort's overnight snowmaking campaign produced four inches of snow across the mountain, bringing the base snow depth to 12 to 36 inches, readying the slopes for a big weekend of events and skiing, snowboarding, and snow tubing fun.
Saturday

(

Feb. 6th

)
Giant Slalom and Slalom Standard Races
Open to all skiers and snowboarders, the race starts at 1:00 p.m. Registration opens at 9:00 a.m. at the resort's information desk. The entry fee is $8.00 for a two-run combined time. Male and female classes will be available.
TAASC 17th Annual Ski-A-Thon
The Adaptive Adventure Sports Coalition (TAASC) will hold their biggest fundraiser of the year at Snow Trails on Saturday, and it's a great deal for skiers, snowboarders, and tubers. The event and your support provides funds for adaptive equipment, low cost lessons and sporting opportunities, and operating funds for the organization.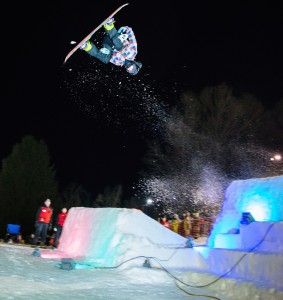 Big Air Competition at Snow Trails
Practice 3:00 P.M.- 5:00 P.M.
Competition 6:00 P.M.
Snow Trails Annual Big Air Competition sponsored by Snow Trails Ski Shop will take place under the lights on the Mt. Mansfield Slope at 6:00 p.m., with outdoor DJ spinning tunes. The competition is open to all skiers and snowboarders.
9:00 P.M. Band: No Regrets
Going with the theme "Big Air, Big Hair" for those 21 years of age and older, a party in The Snowflake Loft at Snow Trails will take place as the band rocks out set lists from the best of the 80's.
Sunday

(

Feb. 7th

)
Family Day at Snow Trails 25- 30% Savings
Pre-register online by 4 P.M., Saturday, February 6, 2016
Get discounts on all-day lift tickets, group lessons (9 years & up), equipment rentals, three-hour tubing tickets, and more. A family is considered two or more people from the same household, with a paying parent or guardian. Registration includes free food vouchers for a hamburger or hot dog and one small fountain drink for the whole family ($5.00 value).
More on the calendar
Upcoming events this month at Snow Trails include: late-night skiing, snowboarding and tubing until 2 a.m. on Friday, Feb. 12 (including Glow Tubing with an outdoor DJ); and the resort's 55th Annual Ski Carnival on Saturday and Sunday, Feb. 20-21, including the Bikini and Chippendale Slalom race, Slush Cup and Kids Challenge, as well as live music from Shucking Bubba Deluxe.