Park City, UT – The U.S. swept both men's and women's halfpipe titles at the Visa U.S. Freeskiing Grand Prix at Park City on Friday, with Maddie Bowman leading the way for the women and Aaron Blunck earning the top spot for the men. The victories also earned them each U.S. National Championship titles.
Bowman, of South Lake Tahoe, Calif., won gold at X Games Aspen last week on the strength of a trick never that had never been landed by a woman in competition: the switch 900. She used that trick again in Park City on Friday, along with a bit of mental fortitude. As the top qualifier from Wednesday, Bowman had the final run of the competition to have her say, and she was in second when she dropped in for her third and final run that scored an 89.80 with a right 900, left 900, right 540 high safety, left 540 tail, right 720, and switch 900.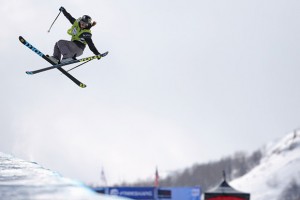 "Going into that third run I was just thinking 'I needed to go out there and do the best that I could do,'" Bowman said after the competition. "Me and my coach, Ben, mixed things up my last run and put in the rightside 540 and it seemed to help."
Japan's Ayana Onozuka took second, while Marie Martinod rounded out the podium in third. U.S. Pro Halfpipe Team members Annalisa Drew (Andover, Mass.) and Devin Logan (West Dover, Vt.) finished fourth and sixth, respectively.
Blunck, who finished on the podium in third at the first stop of the U.S. Grand Prix at Mammoth Mountain, said he went into Friday's final with a lighthearted attitude en route to his win for the men.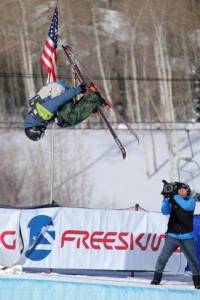 "Coming into today I was thinking, 'I'm not going to stress about this. I'm going to have some fun, just ski and just not stress about it,'" said Blunck, whose first run consisting of a right 720 stalefish, switch left double 900 Japan, switch right double 1080 Japan, left 900 tail, and right double 1260 mute earned a score of 94.20. "All through practice I was really focusing on that and sure enough…"
Benoit Valentin will return to France with second place, followed by Valentin's countryman Kevin Rolland in third.
"I put it down first run and then I had to watch everybody go two more times and Kevin (Rolland) three times," Blunck added. "Kevin is one guy who can for sure do that last run under pressure every time, so I was just happy this wasn't the day."
Alex Ferreira (Aspen, Colo.) finished fifth, Taylor Seaton (Avon, Colo.) was sixth and Lyman Currier (Boulder, Colo.) was ninth.
Grand Prix action continues with the snowboarders in the Park City halfpipe tomorrow.
OFFICIAL RESULTS
FIS Freestyle Ski World Cup
U.S. Grand Prix – Park City, UT – Feb. 5, 2016
Women's Halfpipe
| | | | |
| --- | --- | --- | --- |
| Rank | Nation | Name | Score |
| 1 | USA | BOWMAN Maddie | 89.80 |
| 2 | JPN | ONOZUKA Ayana | 88.80 |
| 3 | FRA | MARTINOD Marie | 84.20 |
| 4 | USA | DREW Annalisa | 79.80 |
| 5 | NZL | KUZMA Janina | 74.60 |
| 6 | USA | LOGAN Devin | 73.80 |
| 7 | USA | SIGOURNEY Brita | 70.00 |
| 8 | JPN | WATABE Yurie | 68.60 |
| 9 | FRA | CARADEUX Anais | 67.80 |
| 10 | USA | MARGULIES Carly | 65.00 |
Men's Halfpipe
| | | | |
| --- | --- | --- | --- |
| Rank | Nation | Name | Score |
| 1 | USA | BLUNCK Aaron | 94.20 |
| 2 | FRA | VALENTIN Benoit | 92.80 |
| 3 | FRA | ROLLAND Kevin | 88.80 |
| 4 | CAN | BOWMAN Noah | 87.20 |
| 5 | USA | FERREIRA Alex | 86.20 |
| 6 | USA | SEATON Taylor | 80.80 |
| 7 | SUI | GISLER Joel | 78.80 |
| 8 | FRA | POLLET-VILLARD Joffrey | 73.80 |
| 9 | USA | CURRIER Lyman | 71.00 |
| 10 | CAN | RIDDLE Mike | 63.00 |