Hancock, MA – Every ski resort would of course appreciate a heavy snowfall a few times per month. But it's cold weather that Jiminy Peak really wants this season, below 27ºF, which would allow the resort to unleash a barrage of new high-efficiency snowmaking and groom slopes with satellite-assisted snowcats.
This winter, over 450 snowguns – 100 percent of Jiminy's snowmaking system – have been upgraded to the new LPX-Y Gen 3 head designs invented by an engineer contracted by the resort in the Berkshire Mountains of western Massachusetts. It can spray twice as much water for half the amount of compressed air. Given the right temperature, these so-called "sledgehammers" can create a machine-made blizzard of snow that can be seen on weather radar, as the mountain proved during a low snowfall season last year.
Now this advanced snowmaking technology is being sold by the Jiminy Peak owner The Fairbank Group's Snowgun Technologies to other ski resorts.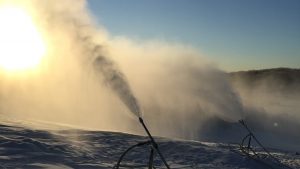 "Snowmaking is in our DNA," says CEO Tyler Fairbank. "Every flake of snow, whether natural or manmade, is carefully manicured to perform double duty. We ski on it once it falls, manufacture it if it doesn't, then borrow snow from little-used and shady trails to be pushed, groomed and tilled where and when we need it," Fairbank adds.
Jiminy Peak has equipped two PistenBully groomers with digital mapping and GPS to tell drivers exactly how much snow is beneath their treads, blades and rollers. The maps are based on aerial photography captured during summer, and are accurate to within two inches (5 cm).
"Rather than eyeball it, the SNOWSat technology allows us to more precisely gauge depth and place more snow where the cover is thin, and less where the cover is already sufficient for skiing or riding," Fairbank explains, noting that Jiminy Peak is one of only a few resorts in the U.S. using the new technology.
What's more, over 230 slopeside lights have been replaced this winter with lighter, brighter, more energy efficient LED lighting covering 60 percent of the mountain. The difference has been likened to that between a manila envelope and a white envelope. Nighttime skiers and riders will see snow more realistically this coming season, just as nature intended.
Jiminy Peak will be one of the few ski resorts in the nation to be powered this winter by 100 percent renewable energy. A wind turbine, solar field and co-generation facility all located on the western Massachusetts property makes the resort energy self-sufficient.
The emphasis on renewable energy, besides being environmentally friendly, makes good business sense as well, says Fairbank.
"People care about the environment. When they see a business like ours getting granular about saving energy, right down to the waterless urinals, paperless hiring procedures, and using compressor heat to melt ice on walkways, it makes them feel good to ski or ride here," Fairbank says.
"We're a business venture with a social conscious making a difference in this world. The purpose of our business is to enhance people's lives. Our vision is to become among the most admired, and most respected winter resorts in America."