Lake Louise (AB), Canada – It's the first avalanche fatality we've heard of thus far this season in North America.
Officials with Parks Canada have confirmed that the body of a man in his 20s from Golden, B.C., has been recovered at the scene of an avalanche on Sunday on Mount Victoria, within Banff National Park near Lake Louise. The victim and another experienced skier, also in his 20s but from Lake Louise, was ascending Mount Victoria when deteriorating weather conditions turned the pair back. The two were descending via their ascent route when the slab avalanche struck and swept the victim over a 300-foot cliff.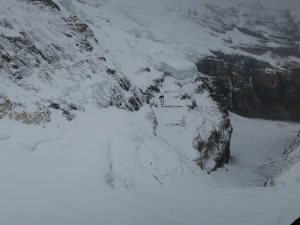 Those same weather conditions prohibited an aerial search on Sunday. The body of the victim was recovered on Monday morning following a search that lasted less than an hour.
"Parks Canada's deepest sympathies go out to the family and friends of the deceased skier," Parks Canada said in a press release.
The Association of Canadian Mountain Guides had posted an avalanche warning for the area on its website over the weekend. The crown on Sunday's deadly slide on Mt. Victoria was estimated at 20 to 30 meters wide and 10 to 15 centimeters deep.
Update 9 a.m. MDT Sept. 27, 2016:
Family members have identified the victim as Trevor Sexsmith, 27, of Golden, B.C. and originally from Toronto, Ontario. He was employed by CP Rail in Golden. He was the author of a backcountry skiing blog called Perpetual Ski.