Mt. Ruapehu, New Zealand – With the renewal of its operating permit in hand, Ruapehu Alpine Lifts (RAL) is moving forward with a NZ$100 million upgrade plan at its Whakapapa Ski Field that will include a new gondola for winter 2018.
RAL's previous permit to operate Whakapapa lasted through 2019. However, last December it was renewed by New Zealand's Minister of Conservation for another 30 years, plus six five-year extensions.
"The licence includes all the existing activities, buildings and structures and new plans that have previously been approved for construction," explained Murray Gribben, Chair of RAL. "This is a fantastic result for RAL, Whakapapa, and our community, the term structure enables our performance to be reviewed at regular intervals, and is a powerful tool to enable us to provide the ongoing investment in the major infrastructure required to operate a ski area to a high standard and deliver a unique customer experience."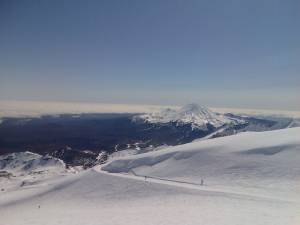 With that kind of security in hand, RAL has moved forward with its significant investment plans at the ski area. First up was a replacement of Whakapapa's Centennial and Rockgarden double chairlifts with a single new quad Rangatira Express Chairlift that follows the same path as the old Centennial double chairlift. This NZ$7.5 million upgrade was completed in time for the current season. This summer, workers will replace the Waterfall T-bar with a used fixed grip quad that will also follow the same line. That new lift will greet skiers and riders in 2017.
However, the big news is a new 1.8 km long eight-passenger gondola that will cost an estimated NZ$37 million. The new lift, set to operate year-round, will run from the base of Whakapapa to Delta Corner. That project is expected to be completed by winter 2018.
To help fund these extensive improvements, Whakapapa has begun selling lifetime season passes for the first time since 2006. Only available until October 10, non-transferable editions are priced at NZ$3950 each, while one transferable after 10 years costs NZ$5150.
RAL anticipates that its permit to operate Turoa Ski Field, also on Mt. Ruapehu, will be renewed sometime in 2017.