Boulder, CO – Three models of Dynafit alpine touring ski boots have been recalled in the U.S. and Canada, as incidents have occurred where the boots have inadvertently switched from "ski" to "walk" mode. Additionally, the boots' upper cuffs can separate, and in one model the boot shell can crack, posing a fall hazard and risk of injury to the skier.
The recall was announced on Friday by both the U.S. Consumer Product Safety Commission (CPSC) and Health Canada, in conjunction with Dynafit. The three Dynafit Khion models affected by the recall — men's, women's and carbon — were manufactured in Italy and sold at retailers throughout North America since October 2015.  In all, some 1,300 pairs have been sold in the U.S., and an estimated 300 pairs in Canada are affected.
Dynafit has thus far received four reports of the boot's ski/walk mechanism malfunctioning, seven reports of the upper cuff separating and five reports of the carbon boot shell cracking. No injuries have been reported.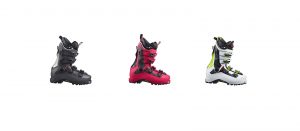 The men's Khion boot is dark gray with gray and black boot buckles, and shows model number 08-0000061502. The women's Khion boot is red with black and red boot buckles, and model number 08-0000061503. The Khion Carbon boot is a white boot with green, white andblack boot buckles and model number 08-0000061504. Additionally, all of the recalled ski boots have the word "KHION" printed across the toe of the boot. The model number is printed on a UPC sticker affixed to the inside of the tongue of the ski boot liner.
The recall was conducted voluntarily by Dynafit, under the CPSC's Fast Track Recall process. Fast Track recalls are initiated by firms who commit to work with CPSC to quickly announce the recall and remedy to protect consumers.
Consumers should immediately stop using the recalled ski boots and contact Dynafit for a full refund or a free replacement, officials indicate. The company may be dialed toll-free at (844) 412-7013 from 8 a.m. to 5 p.m. MT Monday through Friday, or reached via email at khion@dynafit.com. Go online at www.dynafit.com and click on "Khion Recall" for more information.