Durango, CO – Mere weeks after purchasing Hesperus ski area near Durango, Purgatory Resort owner James Coleman is adding Colorado's largest snowcat skiing operator to further expand his winter resort portfolio.
As managing partner of a group that owns Purgatory, Sipapu Ski and Summer Resort, N.M., Pajarito Ski Area, N.M., Arizona Snowbowl, Ariz., and Hesperus, Coleman is acquiring San Juan Untracked, which operates on 35,000 acres of permitted terrain just outside of Purgatory Resort's boundaries, and will rename it Purgatory Snowcat Adventures. Single-seat prices will drop to $350 per day, and Power Pass holders will get a 10 percent discount on reservations. Prior owners Dennis and Amanda Martin will stay on to operate Purgatory Snowcat Adventures this season.
"Amanda and I are very grateful for the opportunity to be part of the new Purgatory team that has been consistently dedicated to the betterment of Durango and the San Juan mountains skier experience," said Martin. "We are excited about the collaboration with James (Coleman) and his team. James and I both love skiing and love Durango, so this merger will help both of us accomplish what is important to me, and that's putting Durango on the map for amazing backcountry skiing."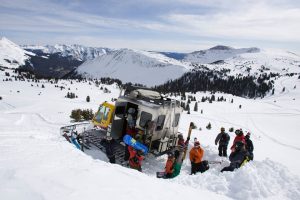 "I'm pleased that Dennis and his team agreed to run Purgatory Snowcat Adventures this season," said Coleman. "His experience, energy and dedication to delivering a top-notch, memorable guest experience in the backcountry is essential to making this a success."
Purgatory Snowcat Adventures operates on land that stretches between Durango, Silverton and Telluride — from Purgatory Resort to Rico, Colo., to Cascade Creek on the southwest side of Engineer Mountain, and includes 12,504-foot Grayrock Peak and 12,029-foot Graysill Mountain.
To reach the company's three snowcats, guests ride a chairlift from the Purgatory Resort base area, and then take a 15-minute ride aboard one of two Mattrack vans into the San Juan backcountry. Runs in both open bowls and the trees vary from 500 to 2,500 feet of vertical, with an elevation range between 10,000 and 12,500 feet. The package includes powder skis or snowboards, backcountry safety gear, lunch, and guide service.