Squaw Valley, CA – Placer County supervisors approved a controversial expansion to Squaw Valley's base village following a day-long hearing on Tuesday.
Most of the roughly 100 people who spoke at Tuesday's 10-hour hearing did so in opposition to the project, arguing that the expansion calling for an additional 1,500 residential units and hotel rooms, another 30,000 square feet of commercial space and a new Mountain Adventure Center will result in a further disconnect with the natural environment of Squaw Valley, increase traffic and threaten to pollute nearby Lake Tahoe.  Nevertheless, the Placer County Board of Supervisors approved the project by a vote of 4 to 1 at the conclusion of the hearing, after Squaw Valley agreed to pay $2.5 million toward a regional planning effort and provide land for a fire station and a transit center, as well as commit to utility upgrades.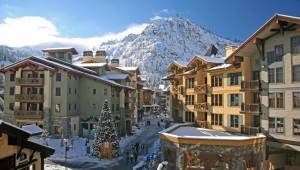 The expansion was first proposed five years ago by KSL Capital Partners, shortly after the real estate investment trust first acquired the Village at Squaw Valley. The proposed expansion, to be built on the site of the resort's existing parking lot, was since cut in size by more than half in an effort to accommodate the opposition.
Plans call for a build-out of the expansion over the next 25 years.