Jay, VT –  Vermont's Jay Peak Resort is reporting historic business levels during the recent holiday week.
For the Christmas to New Year's Day time frame, the resort averaged a 97% occupancy rate across all of its properties with the final two nights of the year being completely sold out. Overnight guests, along with strong day visits caused by several snow storms, pushed the resort's skier days over their historic levels as well.
"We knew the week as a whole was going to see strong (lodging) compression because package revenue had been pacing well for the past four to six weeks," said General Manager Steve Wright, referring to the holiday frame. "But the combination of snow and getting to 100% open really drove the day markets as well. This has been the strongest seven-day period in our history, but we're only in the second inning of things. We have a ways to go."
Jay Peak owns and operates three hotels and over 200 mountain cottages around the 5,000-acre resort. Its bed base can accommodate approximately 3,000 a night.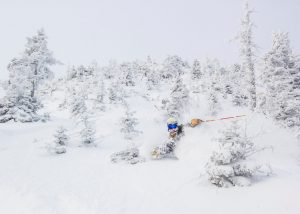 Wright said the week turned into the perfect storm from a business perspective when several snow squalls along with a Nor'easter dumped close to four feet of snow on the resort. One day in particular stands out.
"Last Friday really brought out the best in our team," said Wright referring to December 30th, a day he said was the busiest in the resort's 60-year history. He said the snow was falling at a blinding pace and at one point there was a solid line of cars climbing up to the mountain from both the Montgomery Center and Jay sides, the two towns that flank the resort. "For as many lift tickets, burger and beers that were sold that day, you wouldn't have known that several thousand people were here. The (Jay Peak) staff really stepped it up. Cars got parked quickly, lift lines were almost non-existent, and our food & beverage team did a great job making sure the wait for a table was never too long. It was a great effort on everyone's part."
While the resort doesn't share specific revenue figures, Wright said the total number for the holiday week beat the previous revenue record set during the 2012-13 winter by 10%. The year-on-year jump was around 35-40% over last winter's disastrous holiday week throughout the Northeast. Jay's Ski and Ride school sold out every day for eight consecutive days.
Jay Peak was (and still is) the only Vermont ski resort 100% open.