North Conway, NH – Yesterday we told you that the Christmas/New Year's holiday week broke records at Jay Peak Resort in Vermont. Reports are now trickling in that indicate strong holiday business across the White Mountains of New Hampshire and Maine as well.
Businesses throughout New Hampshire's Mt. Washington Valley say that Christmas week and New Year's Eve weekend 2016 were among their most successful in a long time.  Last year, a dearth of snow and warm temperatures throughout the Northeast translated to less traffic in the Valley. Yet this holiday season, the December 29th snow storm, described as a "Bombogenesis", delivered just the weather bomb needed by the Valley's downhill ski resorts and cross-country ski centers to start 2017 out right and expand terrain significantly.
"If success can be measured by the smiles on Chamber members' faces, then it's clear that we had a very successful holiday week in Mt. Washington Valley," observed Janice Crawford, Executive Director of the Mt. Washington Valley Chamber of Commerce.  "We're delighted that we go into 2017 with a white winter landscape offering skiers, riders, snowmobilers, skaters, climbers, sleighriders, dogsledders and snowshoers all the terrain they need for exploring our scenic corner of the White Mountains."
John D. Lowell, President of Attitash Mountain Resort and Wildcat Mountain, shared that "there is no comparison between last year and this year. Last year, Christmas week was a real challenge for all resorts in the Northeast. This year was phenomenal. The 20 to 26 inches of snow we received at Attitash and Wildcat right before the weekend caused an explosion of interest. Attitash recorded its busiest day in history and Wildcat was overflowing with smiling faces. We plowed additional parking areas and they filled up as soon as we pulled out."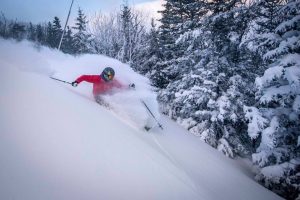 When asked about the New Year's Eve weekend, Lowell responded, "New Year's Eve weekend was a blockbuster. Monday, being a holiday, was a real bonus to the end of a historic and very successful week. Obviously, the big news was the bombogenesis, a unique weather event that caused the low pressure to become a 'weather bomb' dumping large amounts of snow on the Mount Washington Valley and then clearing out in time for the weekend. Who could ask for more?"
Becca Deschenes, Director of Marketing for Cranmore Mountain Resort, agreed. "We had quite the vacation week, having two record breaking days, one being New Year's Eve (busiest days since 2007/08 season)," Deschenes said. "We received 14-18 inches of fresh snow from Thursday night's storm, allowing us to open up more trails and glades, too."
Thomas Prindle, Director of Marketing for King Pine Ski Area and Purity Spring Resort, added to the good news. "Visit numbers at King Pine Ski Area for the Christmas week and New Year's Eve weekend, including the Monday, January 2 holiday, were up significantly over last year," Prindle said. "That's understandable, of course, considering how good conditions are this season thanks to great snowmaking temps and natural snow, and King Pine being first in New Hampshire to be 100 percent open for the holiday week. This season's holiday week period, however, also surpassed total lift ticket and season passholder numbers for the previous five years. Bob Hoyt, President of King Pine Ski Area and Hoyt Family businesses, conveyed that this was among the busiest holiday weeks he can recall."
Charlie Mallar at the 1785 Inn in North Conway confirmed that travelers were anxious about spending the holiday week in the Valley even before the storm hit. "We were sold out in advance for New Year's weekend. The Monday holiday probably helped some, but the great natural snow conditions was the major factor. Even though our cross-country trails were open last year, there was so little snow that most people assumed that they were not even open," shared Mallar.
Christopher Bellis and Eddie Bennett, co-owners of the Cranmore Inn in North Conway, also felt the holiday week was successful. "Revenue at the inn was up 31 percent over last year and room nights were up 20 percent," they said, adding that the inn ended the year with none-percent growth in revenue and room nights despite a challenging winter last year. Bellis and Bennett conveyed that the increase in bookings can be attributed to better weather this winter season for skiing and outdoor activities compared to last year.
And not only did visitors to Mt. Washington Valley ski and play, but they also dined. Bud Selmi from Margarita Grill said that sales were up 25 percent over last year for the Christmas week, and that New Year's Eve weekend was up, too.  Bellis and Bennett, who also own Chef's Bistro in North Conway, countered that their restaurant sales this holiday week were even with last year, speculating that more people dined in restaurants last year because there were fewer outdoor activities available then.
Elsewhere around New Hampshire, Cannon Mountain officials reported that Dec. 30, 2016 was the third-largest single day at the resort in the past decade. Last year, Cannon had only nine trails and four lifts open during the holiday week, whereas last Sunday Cannon offered 86 trails and nine open lifts. Last Friday was also the best single day at Loon Mountain in five years, exhausting available parking spaces at the resort, and it was the best single day at nearby Waterville Valley in two years.
Across the border in Maine, totals from the Christmas week storm included nearly 30 inches at Mt. Abram and Sugarloaf, and a solid two feet at other ski mountains in the state's interior. Coastal areas picked up a half foot of snow, kicking Powderhouse Hill into gear and provide stunning ocean views through snow covered trees at the Camden Snow Bowl. Big Squaw, Lonesome Pine Trails, Quoggy Jo Ski Center, and Bigrock Mountain had a fast start to the season with three feet falling earlier in the month, opening 100 percent of their terrain prior to the vacation week. Nordic ski centers rely heavily on natural snow, so the vacation blizzard ensured operations at all 17 Ski Maine Association member Nordic Centers. One-day attendance records were broken at nearly each Nordic Center.
The 30 inches of fresh snow contributed to 100% lodging occupancy through Christmas week at Sugarloaf, where skier visits through the holiday period were up 20%, and 15% year-to-date. The 20 inches that fell upon Sunday River delivered skiers in record numbers. The resort sold more lift tickets on Saturday, Dec. 31, 2016 than on any other day in its history.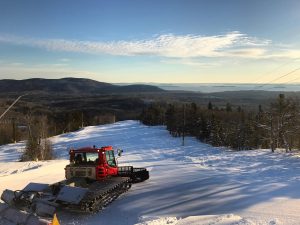 Cars spilled into overflow parking on Dec. 31 at Mt. Abram in Greenwood. Lost Valley's new owner, Scott Shanaman, was excited to see a capacity crowd enjoying the rejuvenation of his popular community area in Auburn. Camden Snow Bowl, overlooking Penobscot Bay, enjoyed one of its earliest openings in history as a result of their mountain redevelopment of its lifts, trails, and snowmaking. The ski area opened to the summit before Christmas and the excitement of the new snow gave a boost in ticket sales, lessons and rentals.
Ski resorts throughout the region are now optimistic about the remainder of the season. According to Greg Sweetser, Executive Director of the Ski Maine Association, "This storm has put its stamp on the winter. A solid snow base exists across the state, including everyone's backyard. People are seeing snow and thinking about skiing and snowboarding. The conversations when folks got back to work and to school has been about how fabulous the snow has been. Those conversations only fuel the excitement for winter."
In New Hampshire, Attitash and Wildcat's Lowell agreed. "Advanced reservations are very strong and interest is rising. There is a great deal of pent-up demand after last year," he said. "The economy is strong, the election is over and people are planning winter vacations. It should be a very good year!"