Aspen, CO – Aspen Skiing Company (ASC) has released the 11th edition of its bi-annual Sustainability Report, this year celebrating 20 years of work on sustainability issues. The report is an accounting of progress, both operationally and on broader policy issues, and a statement of future strategy at the company's four ski and snowboard resorts: Aspen Mountain (Ajax), Buttermilk, Aspen Highlands and Snowmass.
Aspen Skiing Company was the first ski resort to launch a sustainability division. Auden Schendler, ASC's vice president of sustainability, notes that "over time, our program has evolved radically. We used to focus entirely on our own operations. But then we realized two things: that those actions would not alone solve the bigger problems in the world (climate change) and that we had bigger levers with which to address those problems. So we became more political than technical, though we still change light bulbs and boilers like in the old days."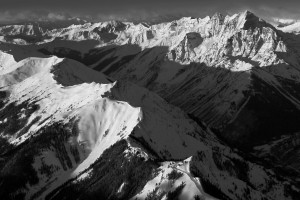 The Sustainability Report shows that Aspen Skiing Company's carbon footprint has continued to decline, despite the addition of new lifts and hotels. That decline can be attributed to energy efficiency measures, but more importantly to the greening of Holy Cross Energy, ASC's main power supplier, which has reduced the carbon intensity of its power significantly, in part through the participation and support of ASC. While the overall reductions at ASC are encouraging, they "aren't close to what we, or society, need to achieve to slow and eventually stop global warming, the primary threat to skiing and Aspen's economy," according to Schendler. "That's why the report focuses on big-picture policy and Aspen's potential influence."
An important part of the report is a discussion about hypocrisy, contradiction, and corporate philosophy. Can a ski resort that is ultimately superfluous even talk about sustainability? How does a business reconcile or align what its employees and guests care about as parents and citizens with what it does in the workplace? Aspen Skiing Company CEO Mike Kaplan offers an answer: "We're increasingly convinced a business has to stand for something in the modern marketplace," he says. "And on climate and the environment, if we don't stand up we won't be around for long."
The report also covers: carbon accounting; ASC philanthropic activities; expansion to Ketchum, Idaho, through a new Limelight hotel; and new work in community engagement, including a new employee-funded and -run foundation dedicated to community well-being.
The report is available in hard copy at the Aspen Mountain Ticket Office and online at aspensnowmass.com/we-are- different/sustainability- reports.