Solitude, UT – It was Canadian domination on the skicross course at Friday's Toyota U.S. Grand Prix at Solitude Mountain Resort.
The Canadian women swept the podium: Marielle Thompson took the win, Brittany Phelan was second and India Sherret was third. They also took two of the top three spots for the men: David Duncan took the win and Brady Leman was third, while Armin Niederer of Switzerland was second.
The Americans skied well though, and Tania Prymak (Goshen, N.Y.) took a win in the women's small final, finishing fifth overall. Tyler Wallasch (Mammoth Lakes, Calif.) was the top finisher for the American men, skiing his way to a seventh-place finish. Prymak and Wallasch also won this season's U.S. national titles for skicross.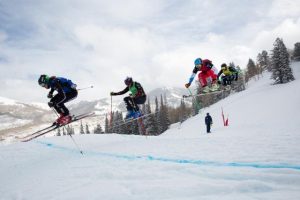 The course, a test event for the 2019 World Championships, was in excellent condition and well-liked by the skicross athletes, but a tough weather day with varying conditions made it hard to gauge speed. "Today was really a mixed bag with this weather," Prymak said after the race. "(It was) dumping snow in the beginning, it cleared up, and then as we were coming out for heats it looked like sunshine but now it's snowing. It's a big adjustment trying to figure out what to do on the course."
Prymak is in the midst of a break-out season, having already posted the two best World Cup finishes ever by an American skicross woman (seventh at both Innichen and Arosa in December). "I'm trying to stay focused on just skiing better," Prymak said after the race. "I know that the better I am, the results will follow."
Wallasch, who suffered a season-ending knee injury in March of 2016, was happy with his seventh-place finish. "Obviously I want to win," Wallasch said, "but coming back from injury, the goal has been delayed…I have to take it a little slower (but) the goal still remains the same: win races and try to get an Olympic medal."
Also making the final brackets for the U.S. in skicross at the Toyota U.S. Grand Prix: Whitney Gardner (South Lake Tahoe, Calif.) was sixth; Leah Emaus (Ontario, N.Y.) was seventh and Mazie Hayden (Pittsfield, Vt.) was eighth.
Solitude is an elite venue for both the 2017 Toyota U.S. Grand Prix and the upcoming 2019 World Championships. Friday's event was the first international contest staged at the Utah resort.