Aspen, CO – Young Hailey Langland put down an historical performance in Thursday night's big air competition at X Games, winning gold with a trick that had never before been landed by a female in competition.
Sixteen-year-old Langland, of San Clamente, Calif. stomped a Cab double cork 1080 off the 80-foot big air jump at Aspen to earn the highest score of the competition (49 out of 50). It was a trick that only one woman had landed before—Langland herself, when she did so in warm ups just before the comp.
"Tonight was the first time I tried (the Cab double cork 1080)," Langland said after the competition. "It happened totally by accident in practice. I'm so stoked."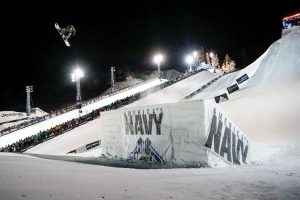 Langland adds X Games big air gold to the slopestyle bronze she earned at Aspen in 2016. It's a notable start to a career that is clearly just beginning. Langland will make her second start in women's X Games slopestyle on Saturday.
Julia Marino, of Westport, Conn. joined Langland on the podium, earning bronze at her first X Games appearance behind Anna Gasser of Innsbruck, Austria, the current overall World Cup points leader. Marino demonstrated nerves of steel on one of action sports' biggest stages, laying down two solid tricks to earn bronze, including what is becoming a signature Cab double underflip.
Gasser has yet to finish outside the top two in six competition starts this season.
Jamie Anderson, of South Lake Tahoe, Calif., ended up just off the podium in fourth with a Cab 720 tailgrab and frontside 720 mute.
Up next for the snowboarding athletes at X Games is men's big air on Friday night.
OFFICIAL RESULTS
X Games Aspen
Aspen, CO – Jan. 26, 2017
Women's Snowboard Big Air
| Rank | Name | NATION | Top 1 | Top 2 | Top 3 | Top 4 | Best 2 |
| --- | --- | --- | --- | --- | --- | --- | --- |
| 1 | Hailey Langland | USA | 49.00 | 17.00 | 15.00 | 11.00 | 66.00 |
| 2 | Anna Gasser | AUT | 38.00 | 26.00 | 10.00 | 10.00 | 64.00 |
| 3 | Julia Marino | USA | 35.00 | 26.00 | 20.00 | 8.00 | 61.00 |
| 4 | Jamie Anderson | USA | 29.00 | 28.00 | 23.00 | 8.00 | 57.00 |
| 5 | Katie Ormerod | GBR | 32.00 | 21.00 | 16.00 | 8.00 | 53.00 |
| 6 | Kjersti Østgaard Buaas | NOR | 26.00 | 9.00 | 9.00 | 9.00 | 35.00 |
| 7 | Cheryl Maas | NOR | 26.00 | 9.00 | 9.00 | 8.00 | 35.00 |
| 8 | Klaudia Medlova | SVK | 9.00 | | | | 9.00 |