Tannersville, PA – A 21-year-old snowboarder died on Thursday evening at Camelback Mountain Resort in eastern Pennsylvania.
Ryan Wasson, from nearby Stroudsburg, Penn., was riding Camelback's Hump trail, rated with a black diamond and illuminated for night skiing, at about 7 p.m. when he left the trail and is believed to have struck a rock, according to the Monroe County Coroner's Office.
Camelback Ski Patrol responded to the scene and transported the victim to an ambulance, which transferred him to Lehigh Valley Pocono Medical Center, where he was pronounced dead. He was reportedly not wearing a helmet.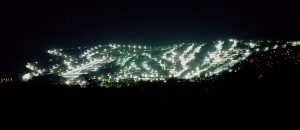 "Our entire team at Camelback Resort is profoundly saddened by this tragic event," said Brian Czarnecki, vice president of marketing and public relations at Camelback. "We extend our deepest sympathies to the family and friends who are affected by this loss and we ask that you hold them all in your hearts and prayers."
The Monroe County Coroner has scheduled an autopsy to determine the exact cause of Wasson's death.
Thursday night's accident is the second fatality reported thus far this season at a Pocono resort. Earlier this month, a 15-year-old student from Singapore died on the slopes at nearby Shawnee Mountain.