Portland, OR – Abom, Inc., manufacturer of the world's first anti-fogging heated ski and snowboard goggles, has refined its technology in announcing the newest addition to its product line, the Abom Heet. The Heet features the second generation of Abom's heated goggle technology, with a new environmental sensor that automatically heats the lens to eliminate fog.
Additionally, a lower-profile, lightweight design offers a versatile fit for both men and women as well as compatibility with snowmobile helmets. The Abom Heet also features a reduced-weight elastopolymer frame and a polycarbonate inner lens with anti-scratch coating. Consumers can choose from nine different lenses.
"We're excited to introduce the Abom Heet to the world," said Jack Cornelius, Abom CEO. "We are confident that consumers will appreciate the sleek new look and feel."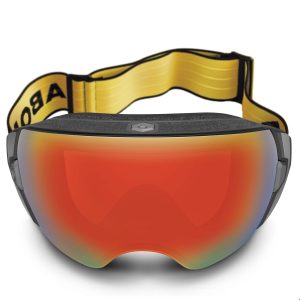 Abom's first-generation goggles – the Abom One – were selected as a 2016/2017 ISPO category award-winner, as well as a gold medal winner in the 2016 Edison Awards. At the 2017 Winter Outdoor Retailer show, the Abom Heet was chosen for Gear Institute's "Best New Gear Award" and Digital Trend's "Best of Show" Award. The brand was also recently named Portland Business Journal's "Small Business Innovation" award winner.
Abom has built a portfolio of 15 issued and 46 pending patents in three groupings (structural, environmental and power management) to provide a comprehensive and rapid solution to fogging. In addition to its snowsports offerings, Abom has also launched eyewear products that eradicate foggy lenses for the military, tactical and safety markets. Abom's ballistic-rated military winter goggles were recently tested by the U.S. Army with positive results.