St. Moritz, Switzerland – Canada's Erik Guay became the oldest World Champion in alpine skiing history on Wednesday, winning the men's super G at the FIS Alpine World Ski Championships in St. Moritz.
For Guay – the 35-year-old veteran of the Canadian Ski Team and one of only three athletes competing at these World Championships who also competed in the 2003 World Championships in St. Moritz – this victory was made even more special by sharing the podium with his teammate Manuel Osborne-Paradis, who finished third. Norway's Kjetil Jansrud was second. Wednesday's race was the first time that two Canadian men have finished on the podium in World Championship history.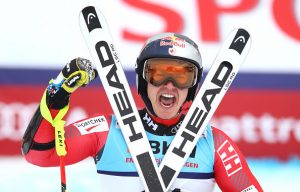 "I'm happy to be healthy; happy to be here," said Guay, of Mont-Tremblant, Que.,who took an acrobatic, hard fall at last week's downhill at Garmisch-Partenkirchen, Germany. "It's absolutely incredible, and the only thing that can make a victory better is to share it with friends."
Jansrud looked to be poised for gold after a great run gave him the lead as the ninth skier down the hill. His toughest competition came when his teammate Aleksander Kilde stormed down the mountain and looked to take over the lead, but came out 0.09 seconds shy. But before the Norwegian duo could get too comfortable in the leader's box, Guay was the next skier down with a flawless run which survived as the rest of the field could not come close to the gold-medal pace. Then Osborne-Paradis knocked Kilde off the podium.
"I made a big mistake in the middle and I knew if I wasn't perfect the rest of the way down that I had no chance," said Vancouver's Osborne-Paradis, who celebrated his 33rd birthday on Wednesday's podium. "But that's the great thing with racing, you never know until you cross the line. Erik called me just before I raced and said, 'Don't think, just go', which is what I did and it worked."
Guay, who started bib 14, Jansrud with bib 9 and Osborne-Paradis bib 26 enjoyed a slight advantage of watching earlier racers tackle the fast, technical and challenging course.
"When you go early like that, you don't really know how the course is going to run. You don't get the course reports," said Travis Ganong, of Squaw Valley, Calif., who started bib 4 and was the top American in 14th. "It was an open, fast set. The jumps were actually bigger than the downhill training yesterday. It was a really tricky set, really fast speeds, and it's a World Championship event, so everybody is pushing super hard."
Starting early, though, Ganong did provide crucial course information for his teammates, including Ryan Cochran-Siegle (Starksboro, Vt.), who finished 28th, and Tommy Biesemeyer (Keene, N.Y.), who posted top-five times at the first three intermediate splits before leaning in and booting out on a tough left-footer, and not finishing.
Wednesday's race came at the one-year mark away from the first day of the 2018 Olympic Winter Games in PyeongChang, South Korea. The 2017 FIS Alpine World Ski Championships continue Friday with the women's alpine combined, followed by men's downhill Saturday and women's downhill Sunday.
OFFICIAL RESULTS
FIS Alpine World Ski Championships
St. Moritz, Switzerland – Feb. 8, 2017
Men's Super G
| Rank | NATION | Name | Tot. Time | Diff. Time |
| --- | --- | --- | --- | --- |
| 1 | CAN | GUAY Erik | 1:25.38 | |
| 2 | NOR | JANSRUD Kjetil | 1:25.83 | +0.45 |
| 3 | CAN | OSBORNE-PARADIS Manuel | 1:25.89 | +0.51 |
| 4 | NOR | KILDE Aleksander Aamodt | 1:25.92 | +0.54 |
| 5 | AUT | KRIECHMAYR Vincent | 1:26.26 | +0.88 |
| 6 | FRA | PINTURAULT Alexis | 1:26.28 | +0.90 |
| 7 | GER | SANDER Andreas | 1:26.35 | +0.97 |
| 8 | SUI | JANKA Carlo | 1:26.37 | +0.99 |
| 9 | ITA | PARIS Dominik | 1:26.40 | +1.02 |
| 10 | AUT | REICHELT Hannes | 1:26.47 | +1.09 |