Stoneham (QC), Canada – America's Julia Marino and host country favorite Sebastien Toutant claimed victory in the penultimate slopestyle World Cup event of the 2016-17 season, which was staged at Stoneham Mountain Resort on SUnday as part of the 2017 Jamboree presented by Vidéotron Mobile.
Facing flat light and some challenging conditions, Marino — who placed second in Saturday night's big air final in nearby Quebec City — secured her career's second victory and her first in slopestyle, thanks to her first run in the two runs, best one counts finals to earn a score of 76.43.
"I had a really fun time today although we had some flat light, but as the conditions were consistent it was good," said Marino, of Westport, Conn. "However, it definitely wasn't easy. All the girls put down their hardest runs. But its cool, we push each other."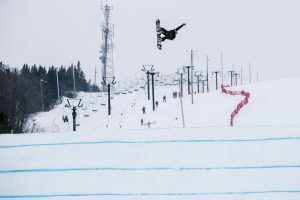 Marino led a 1-2-punch from the U.S. team, with Olympic champion and new slopestyle World Cup leader Jamie Anderson sitting in second position (72.78). Local favorite Brooke Voigt of Canada earned a 67.43 to round out the women's podium in third.
"I'm super happy to put one down after a super tough week here," added South Lake Tahoe, Calif.'s Anderson. "I lost my bags which just showed up yesterday. So it was all new gear with which I wasn't comfortable with."
For the men, Canadians Sebastien Toutant (84.81) and Mark McMorris (84.60) did their home country proud by claiming a 1-2 double for Canada. Seb Toots took his career's third victory thanks to his second run that bumped off McMorris, who won Saturday's big air in downtown Quebec City. Norway's Marcus Kleveland completed the podium in third.
"I was looking forward to competing here. Last time I was able to compete in Quebec was back in 2011, and that was way too long ago," Toutant confided. "Not making the cut in yesterday's big air was for sure a bummer with all my friends and family here. And then I fell on the first jump in my first run, I couldn't believe it.  I had a ton of pressure in my second run for sure but I tried to stay focused. I knew I had that run which I landed a couple of times in practice. I'm super happy that I put it down. Taking a win in Quebec in front of my home crowd is awesome."
The snowboard freestyle World Cup tour will continue this weekend with the Olympic halfpipe test event staged in the Bokwang Phoenix Park Resort in South Korea, from February 17 to 19.
OFFICIAL RESULTS
FIS Snowboard World Cup
2017 Jamboree – Stoneham Mountain Resort – Stoneham (QC), Canada
Feb. 12, 2017
Women's Slopestyle
Rank
Name
Nation
Result
FIS Points
WC Points
 1
MARINO Julia
USA
 76.43
 1000.00
 1000.00
 2
ANDERSON Jamie
USA
 72.78
 800.00
 800.00
 3
VOIGT Brooke
CAN
 67.43
 600.00
 600.00
 4
ORMEROD Katie
GBR
 64.93
 500.00
 500.00
 5
NORENDAL Silje
NOR
 64.18
 450.00
 450.00
 6
GASSER Anna
AUT
 56.00
 400.00
 400.00
 7
FUJIMORI Yuka
JPN
 50.15
 360.00
 360.00
 8
MAAS Cheryl
NED
 11.06
 320.00
 320.00
 9
RICH Jessica
AUS
 72.50
 290.00
 290.00
 10
BUAAS Kjersti
NOR
 69.75
 260.00
 260.00
Men's Slopestyle
Rank
Name
Nation
Result
FIS Points
WC Points
 1
TOUTANT Sebastien
CAN
 84.81
 1000.00
 1000.00
 2
MCMORRIS Mark
CAN
 84.60
 800.00
 800.00
 3
KLEVELAND Marcus
NOR
 84.16
 600.00
 600.00
 4
BERGREM Torgeir
NOR
 81.25
 500.00
 500.00
 5
THORGREN Sven
SWE
 76.13
 450.00
 450.00
 6
SANDBECH Staale
NOR
 75.06
 400.00
 400.00
 7
SMITS Seppe
BEL
 73.21
 360.00
 360.00
 8
CICCARELLI Michael
CAN
 72.93
 320.00
 320.00
 9
NICHOLLS Jamie
GBR
 71.46
 290.00
 290.00
 10
CROUCH Brock
USA
 69.18
 260.00
 260.00