Aspen, CO – The City of Aspen and Aspen Skiing Company are partnering to extend the season for uphilling by hosting a full weekend of free access at Buttermilk Mountain the weekend of Apr. 8-9.
Although the lifts will not be running, crews will groom 70% of the terrain to all three mountain portals — Tiehack, Main and West — for all-mountain access.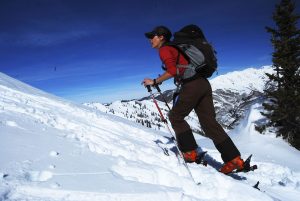 "An event like this helps build the foundation of the Uphill Economy initiative, but the goals are higher than this climb," says Aspen Mayor Steven Skadron. "The city is creating a platform where as a community we can build on our ski roots, capture, develop and grow an emerging market, and blaze the trail to connect Colorado's outdoor recreation industry with its manufacturing capability in Aspen and our region. Uphill is not just a direction, it's a movement.  I am grateful to Aspen Skiing Company for its support and partnership. Together, Aspen is moving on up!"
This will be a free event and open to the public. All athletes, abilities and non-motorized equipment are welcome to participate. Options for uphilling include ski touring, trail running, snowshoeing, split boarding and hiking. Hours of operation will be 9 a.m. to 4 p.m. on Apr. 8, and 9 a.m. to 1 p.m. on Apr. 9.
Food and beverage options will be available throughout the weekend at the top and the bottom of the mountain, where there will be an array of food and drink services for purchase. Four Mountain Sports will be open with rental options, gear and end-of-season specials. The base of Buttermilk Mountain will turn into a "Festival Village" with vendors, demo booths, guides, and clinics for the public. Beginners are welcome to demo equipment on Panda Peak.