Kvitfjell, Norway – Slovenia's Bostjan Kline took his first career World Cup victory in Friday's Audi FIS Ski World Cup downhill, a make-up race from the canceled December event at Lake Louise, Canada. Kline nipped Austria's Matthias Mayer by just 0.19 seconds and Norway's Kjetil Jansrud by 0.20 in second and third, respectively.
It was a historic day for Slovenia on the Olympiabakken track in Kvitfjell, as Kline, 26, finally made good after finishing second on the podium twice last season.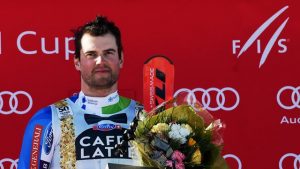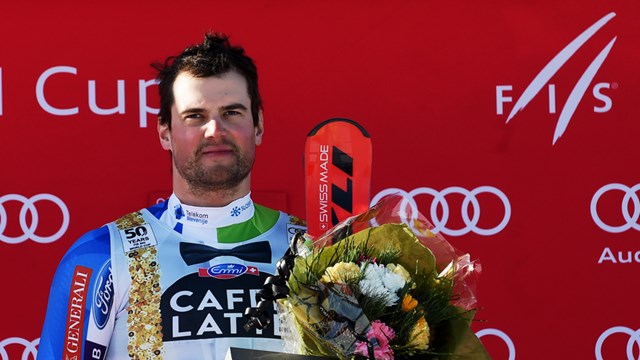 "It feels good. The whole season I knew that I can ski good, that I can ski fast. You know, I just had to be patient and today, everything came together with the skiing, the start routine, warmup and everything," Kline said. "It was ups and downs during this season. Hot and cold. There were things that were really good but I had some mistakes in my runs but now it was good."
Mayer had good results this season in super G, with a win in Kitzbuehel, but had yet to reach the downhill podium thus far this winter.
"I really needed the time in downhill to give everything, to risk everything," Mayer explained. "If you don't do that, you can't be on the podium. I'm very happy about my run today because it feels great to be back with these guys, to be one of the fastest here."
Local hero Jansrud was weakened by a case of bronchitis at the World Championships two weeks ago, but he came back in great shape, claiming third place and taking over the red bib of the downhill standings leader.
"It felt good," he said. "It's home field advantage so you kind of wanna win, but today was a tight race and third place is good and that makes it even better when you look at the overall (downhill title) and I grab the red jersey back, which is always a good thing even though it's still very tight between (Italian Peter) Fill and I. It's a good start to the week. I feel much better, the biggest thing is I had bronchitis in the World Champs. Now that's way better, now I don't have any problems."
Travis Ganong, of Squaw Valley, Calif., felt all the good sensations of solid run, leading the U.S. in eighth place.Seeing and feeling the course are the two critical components of good ski racing. So when one sensation goes wrong, the other sensation of a finely tuned athlete usually picks up the slack. For Ganong, he felt like he put down a great run Friday, and indeed he did, but the seeing part didn't go so well.
"I skied really well and it easily could have been a winning run," Ganong said. "But on the third gate, I hit the gate and got snow in my goggles somehow. So it was like I was skiing in a blizzard. Every time I would hit a bump, the snow would go up and down inside my goggles. It was just kind of distracting the whole way down. But it was still really good skiing."
Jared Goldberg, of Holladay, Utah, put down his second top-20 result of the season, finishing 14th. Bryce Bennett (Squaw Valley, Calif.) and Andrew Weibrecht (Lake Placid, N.Y.) also snuck into the points, finishing 27th and 30th, respectively. Brennan Rubie (Salt Lake City, Utah) was 43rd and Tommy Biesemeyer (Keene, N.Y.) was 49th.
Austria's Marcel Hirscher, who did not race Friday, continues to lead the overall World cup standings with 1,275 points. Jansrud overtook Italy's Peter Fill in the overall World Cup downhill standings with his second-place finish. Jansrud (307 points) leads Fill (294), who finished 16th Friday, by 13 points.
Up next, the men race another downhill Saturday in Kvitfjell, followed by super G on Sunday.
"Tomorrow if I can avoid stuff like (snow in goggles) and have a solid top-to-bottom run, I think I can do really well," Ganong said.
OFFICIAL RESULTS
Audi FIS Alpine Ski World Cup
Kvitfjell, Norway – Feb. 24, 2017
Men's Downhill
| Rank | Name | Nation | Total Time | Diff. | FIS Points | WC Points |
| --- | --- | --- | --- | --- | --- | --- |
|  1 | KLINE Bostjan | SLO |  1:29.20 | |  0.00 |  100.00 |
|  2 | MAYER Matthias | AUT |  1:29.39 |  +0.19 |  2.66 |  80.00 |
|  3 | JANSRUD Kjetil | NOR |  1:29.40 |  +0.20 |  2.80 |  60.00 |
|  4 | GUAY Erik | CAN |  1:29.45 |  +0.25 |  3.50 |  50.00 |
|  5 | OSBORNE-PARADIS Manuel | CAN |  1:29.54 |  +0.34 |  4.76 |  45.00 |
|  6 | DRESSEN Thomas | GER |  1:29.58 |  +0.38 |  5.33 |  40.00 |
|  7 | FEUZ Beat | SUI |  1:29.61 |  +0.41 |  5.75 |  36.00 |
|  8 | GANONG Travis | USA |  1:29.63 |  +0.43 |  6.03 |  32.00 |
|  9 | REICHELT Hannes | AUT |  1:29.80 |  +0.60 |  8.41 |  29.00 |
|  10 | CAVIEZEL Mauro | SUI |  1:29.82 |  +0.62 |  8.69 |  26.00 |